Mekong Delta to expand shrimp-rice farming
Farmers adopting the shrimp-rice model in the Mekong Delta should seek to adapt to climate change by using advanced techniques and linking up with processing companies to develop value chains, experts have said.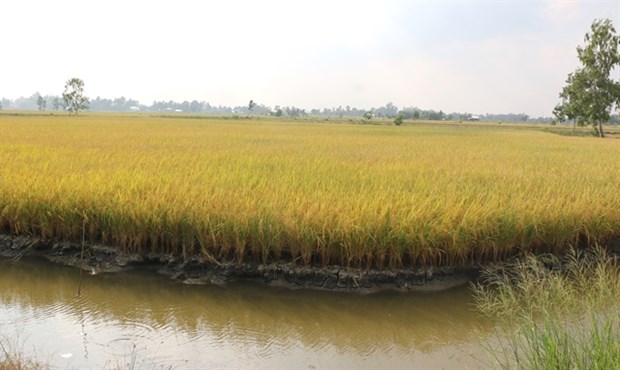 Shrimp-rice farming fields in Bac Lieu province. (Photo: VNA)
The delta, the country's largest producer of rice and seafood, has been using the model for decades since it is suitable for application in coastal areas, which are normally affected by saltwater intrusion in the dry season.
Farmers grow rice in the wet season and breed shrimp in the dry season on the same fields.
There were nearly 190,000ha under shrimp-rice farming last year, mostly in Bac Lieu, Ca Mau and Kien Giang provinces, according to the Directorate of Fisheries.
The coastal areas have optimal conditions for the model and farmers earn 60 – 70 million VND (2,600-3,000 USD) per hectare from it annually.
Both the shrimp and rice harvested under the model are clean and preferred by consumers because farmers use few chemicals.
Speaking at a seminar held in Bac Lieu last week, Nguyen Trung Hieu, deputy director of the province's Department of Agriculture and Rural Development, said the positive results notwithstanding there were lingering difficulties such as the impacts of climate change, small scale of production and lack of infrastructure.
Linkages had been created between stakeholders in the model but the process is tardy, he said.
Participants told the seminar about other problems like the lack of irrigation works, advanced farming techniques, brand names, and reliable markets.
The delta did not have a sufficient supply of shrimp seeds for the model and had to be bought from outside, they said.
Speaking about the expansion of the model, they said it depended on the Government's plans, investment by local provinces and the participation of companies in developing value chains for it.
The delta, which comprises 12 provinces and Can Tho city, plans to have 300,000ha under the model by 2030.
Tran Cong Khoi, deputy head of the directorate's fisheries department, said to achieve the target, besides having quality seeds, farmers should also use quality farming techniques and have effective linkages with other stakeholders.
The provinces should build sufficient irrigation works to meet the requirements of the model, he added./.
VNA