Minister of Natural Resources and Environment - Tran Hong Ha works at Long An Department of NRE
On July 6, Minister of Natural Reources and Environment (NRE) - Tran Hong Ha worked at the Long An Department of NRE. Permanent Deputy Secretary of the Provincial Party Committee - Nguyen Van Duoc, Vice Chairman of the Provincial People's Committee - Nguyen Van Ut attended the meeting.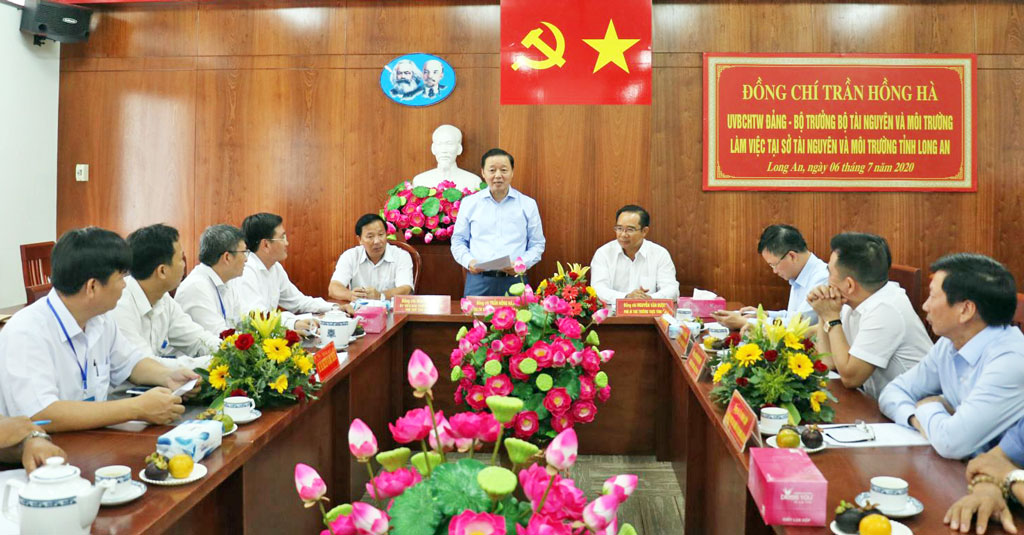 Minister of NRE - Tran Hong Ha highly appreciates the results achieved by Long An NRE.
According to the Director of Long An Department of NRE - Vo Minh Thanh, the department has currently 7 affiliated units, 59 out of 62 staff members, 562 officials and employees.
Recently, Department of NRE has strived to fulfill the tasks assigned by the province with the timely attention and guidance from higher levels. Many results are highly appreciated by the province, they contribute to the overall development of the province.
However, the provincial NRE sector still encountered some obstacles and difficulties during the implementation process. The Department proposes to Ministry of NRE to adjust targets of land use planning (partial adjustment of land use planning for the final period, period 2011-2020), and propose land use planning targets for the period 2021-2030. The Ministry guides and supports Long An some procedures, mechanisms and policies that still concern the lease of land when implementing some projects.
In addition, the Department proposes to the Ministry of NRE to provide financial support to the province to handle open landfill sites in Duc Hue district, to renovate and upgrade the environmental monitoring system.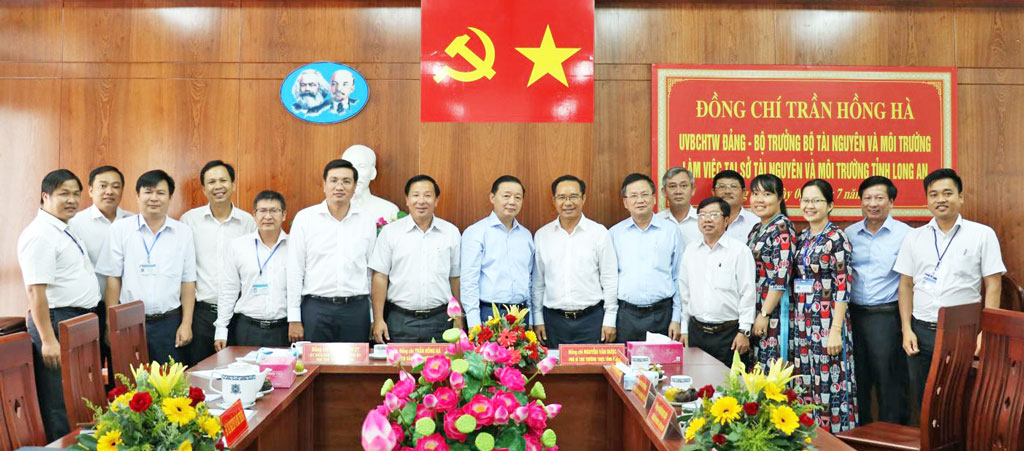 Participants take memorial photos
Minister of NRE - Tran Hong Ha highly appreciated the results achieved by the Long An NRE sector. The Ministry acknowledges the recommendations and proposals of the department to summarize and submit to the superior to consider and adjust accordingly, creating favorable conditions for the units during the implementation process. Besides, the Minister answered and clarified a few more questions for the industry to perform the assigned tasks well.
At the same time, the Minister suggested that the Long An Department of NRE should coordinate with the Ministry's units in the process of implementing tasks, promoting the role and effectiveness of state management in the field, contributing to the development of the locality./.
By Chau Son – Translated by Duc Tam
Source: http://baolongan.vn/bo-truong-bo-tn-mt-tran-hong-ha-lam-viec-tai-so-tn-mt-long-an-a98248.html