Ministry asked to speed up administrative reform
Standing Deputy Prime Minister Truong Hoa Binh urged the Ministry of Industry and Trade (MoIT) to accelerate administrative reform, focusing on institutional development and ensuring a uniform institutional system to meet State management requirements in the fields that it is responsible for.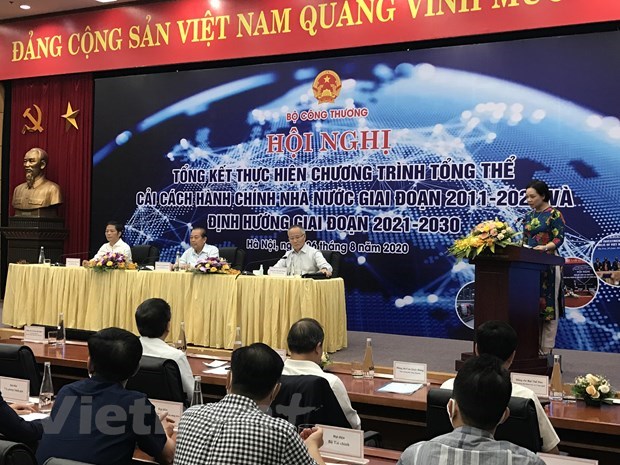 At the meeting (Photo: VNA)
Speaking at a meeting to review the implementation of the State administrative reform programme at the ministry in the 2011-2020 period on August 6, Binh ordered the ministry to promote the reform of public services, well implement the building of the structure of civil servants and public employees in accordance with working positions.
Attention should be paid to completing the development of job description, build the working capacity framework as a basis for recruiting, employing and managing officials and public employees, he stressed.
Minister Tran Tuan Anh said the MoIT is one of the leading ministries in building and implementing plans to simplify and cut administrative procedures, business and investment conditions, and reform specialized inspection.
The ministry's administrative reform in the period of 2011-2020 closely followed the set plans, while legal documents have been built and promulgated in the spirit of thorough adherence to the Government's resolutions and guidelines.
It also made remarkable achievements in simplifying administrative procedures, developing e-government, applying information technology in administrative management, he said, adding that those have contributed to improving Vietnam's Doing Business Ranking by the World Bank.
According to the minister, the MoIT is also leading in information technology application and speeding up the building of e-government and e-ministry. It has issued many policies, programmes, and plans to apply IT and achieved positive results.
By June 2020, all 295 central administrative procedures under the management of the ministry have been implemented via online public service platforms at level 2 and above; while 129 out of 206 online public services have been integrated with the National Public Service Portal.
The ministry has seriously conducted the impact assessment of regulations on administrative procedures and administrative procedure simplification annually in line with a clear roadmap./.
VNA