More efforts needed to boost logistics manpower development: forum
Difficulties in terms of human resources of the logistics industry will increase further when Vietnam integrates deeply into the world, especially in the ASEAN economic community, and joins new-generation free trade agreements (FTAs), requiring an improvement in logistics manpower development, said Minister of Industry and Trade Nguyen Hong Dien.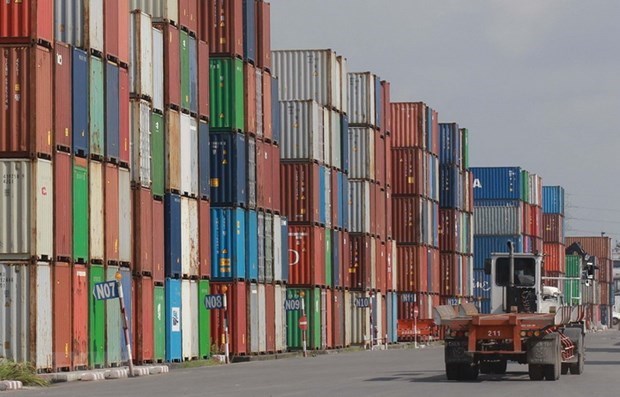 Illustrative image (Photo: VNA)
Addressing the Vietnam Logistics Forum 2021 on December 14, Dien said that logistics is a service industry that is considered as a "blood vessel" of the national economy, and plays an important role in connecting, supporting and promoting socio-economic development.
The logistics market in Vietnam is assessed as a potential market for stronger development by the business community and international organisations, especially after the COVID-19 pandemic is under control and production activities are resumed, he said.
According to the minister, Vietnam's logistics industry has enjoyed rapid development, with an average annual growth rate of 10-15 percent. It has basically met requirements of both domestic and foreign customers, contributing to the two-digit growth rate in the country's total trade turnover in the first 11 months of 2021.
However, Dien pointed out several shortcomings of the industry, including low competitiveness, high costs, and limited linkages between import-export businesses and logistics service providers.
Sharing the same view, Chairman of the Party Central Committee's Economic Commission Tran Tuan Anh said that digital transformation in the logistics industry remains slow, and human resources are also weak and insufficient, which currently meet only about 10 percent of the market's demand.
He stressed the need for the industry to map out solutions to maintain goods and service supply chains, and change the mindset to catch up with the world trends, and create breakthroughs to boost socio-economic recovery in 2022-2023.
As an annual event hosted by the Ministry of Industry and Trade, the Vietnam Logistics Forum aims to promote the development of logistics services, create linkages between logistics and manufacturing and import-export industries, and serve as a venue to discuss and update information about urgent issues related to logistics services in Vietnam and the world./.
VNA