Museum devotes room to portraits of heroic Vietnamese mothers
The Southern Women's Museum in Ho Chi Minh City on November 1 inaugurated a room dedicated to heroic Vietnamese mothers in the southern region, with 70 portraits and 60 objects on display.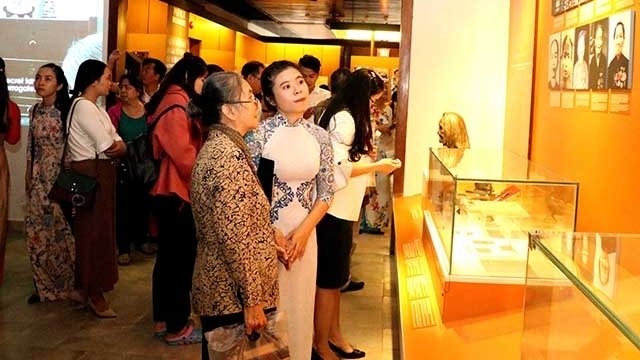 Visitors at the room dedicated to heroic Vietnamese mothers. (Photo: NDO/Manh Hao)
Nguyen Thi Thanh Thuy, Deputy Director of the municipal Department of Culture and Sports, said the launch of the room demonstrates people's sentiments to and respect for the heroic mothers who contributed greatly to the nation's revolutionary cause.
Using smart-museum technology, the room has vividly captured images of the mothers during their past struggle for national independence and reunification, said the museum's Director Nguyen Thi Tham.
On this occasion, the museum also showcased 150 big-bellied jars from ethnic minority groups in the Central Highlands region, which have been collected over the past 20 years.
Last July, HCM City presented the title of Heroic Vietnamese Mother to 44 women on the occasion of the 71st anniversary of the Wounded and Fallen Soldiers' Day (July 27, 2018), for their sacrifices towards national independence and reunification.
The city currently has around 5,500 Heroic Vietnamese Mothers./.
NDO