Policy beneficiary families to receive gifts on Fallen Soldiers' Day
President Tran Dai Quang recently inked decisions to bestow the title of Heroic Vietnamese Mother, Resistance War Medal and Order, Independence Order, and present gifts to beneficiary families on the occasion of the Wounded and Fallen Soldiers' Day (July 27).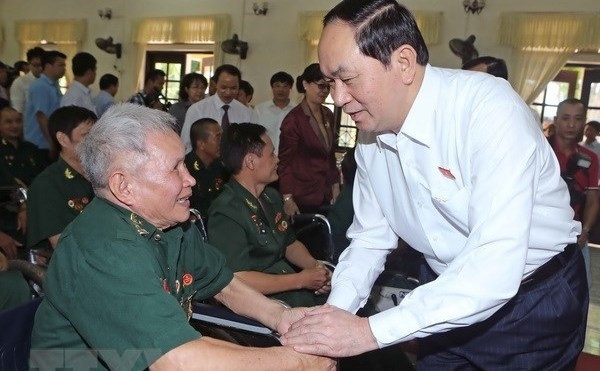 President Tran Dai Quang visits Vietnamese war invalids on the occasion of War Invalids and Martyrs' Day. (Photo: VNA)
The State President ordered relevant sectors, organisations, and localities to take care of people who rendered their services to the nation, war invalids, as well as relatives of martyrs.
Social resources should be mobilised to ensure that all of the policy beneficiary households have decent living standards.
It was instructed that activities to mark the 71st anniversary of the Wounded and Fallen Soldiers' Day must be thoroughly organised, and involve all officials, party members, and people from all walks of life.
From the outset this year, 102 organisations and 126 individuals received the "Hero of the People's Armed Forces" title, and 1,409 women have been conferred the Heroic Vietnamese Mother title. Meanwhile, Independence Orders have been given to 1,327 fallen soldiers' families, and 1,999 individuals have been awarded various kinds of Resistance War medals and orders./.
NDO