Portal on war martyr-related information to open in July
The first portal on war martyrs, war martyrs' graves and cemeteries nationwide is set to make debut this July, expected to facilitate the public's access to relevant information and search for the graves of their relatives who laid down their lives for the sake of the country.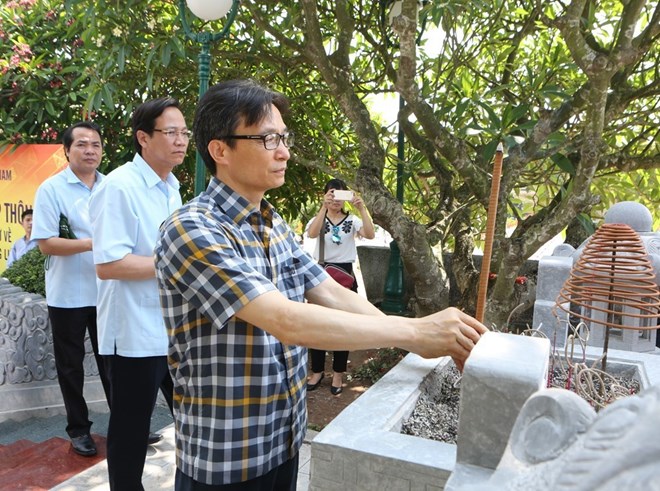 Deputy Prime Minister Vu Duc Dam pays homage to heroic martyrs at the Kim Son martyr cemetery in Gia Lam district, Hanoi, on May 20 (Photo: VNA)
Deputy Prime Minister Vu Duc Dam paid homage to heroic martyrs at the Kim Son martyr cemetery in Gia Lam district, Hanoi, and examined the portal building progress on May 20.
He said the database of martyrs and their graves has been compiled on paper by the Ministry of Labour, Invalids and Social Affairs (MOLISA) and the Ministry of National Defence. However, there haven't been any ways to identify hundreds of thousands of graves that lack information.
With a widespread network of more than 12,000 transaction points and 43,000 post office workers, the Vietnam Post Corporation (Vietnam Post) was assigned to coordinate with authorised agencies to collect data about war martyrs and their graves and cemeteries across the country and build the portal.
Post office workers have been taking photos of graves at local war martyrs' cemeteries. The image and information about the graves will be sent to the portal.
Deputy PM Dam said by using information technology, the information, images and coordinates of each grave will be compared and connected with the existing database of the two ministries and then made available on the portal.
Information about martyrs will also help find their family members, which will make it easier for relevant agencies to carry out preferential treatment policy, he said.
A representative of MOLISA said since the portal building began, 800,000 or 91 percent of the 900,000 graves in war martyrs' cemeteries across the country have had their information added. Many localities have completed this work, including northern Hai Phong city, central Quang Tri and Quang Ngai provinces, and southern Tien Giang and Ben Tre provinces.
Chairman of the Vietnam Post's member council Pham Anh Tuan said information about martyrs' graves will continually be updated to ensure accuracy. The Vietnam Post is making efforts to finish collecting data by the end of May.
According to the MOLISA, more than 300,000 martyrs' remains have been reburied in cemeteries nationwide but still lack information. Meanwhile, the remains of over 200,000 other martyrs haven't been found.
In 2017, about 2,370 sets of remains of fallen soldiers were discovered, including some 1,160 found in Vietnam and the remaining in other countries like Laos and Cambodia./.
VNA