Promoting digital transformation to create development breakthroughs
The implementation of digital transformation in Long An province initially brought positive effects, especially in the management and administration of the State; production and business activities; equality between urban and rural areas in enjoying digital technology services, contributing to creating "lever" for socio-economic development of the locality.
Enhance digital transformation
Deputy Director of the Department of Information and Communications - Bui Nguyen Khoi said: "One of the outstanding achievements of the province in 2022 is the focus on implementing e-government and digital transformation. Up to now, information and communication infrastructure has been invested and operated stably and effectively. Important information systems are deployed synchronously and interconnected at 4 levels. The percentage of applications received online at level 3 and 4 is getting higher and higher.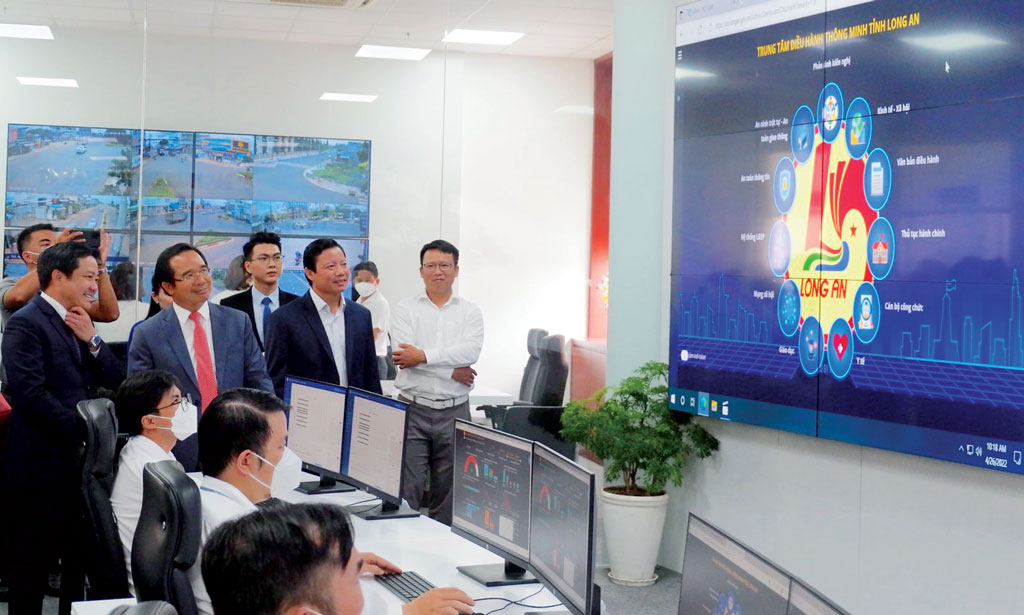 Delegates visit the IOC Center (Photo BLA)
In order to strongly promote the digital transformation process, the province built a shared database of the province, the province's open data portal (https://data.longan.gov.vn); put into operation the Intelligent Operation Center (IOC), the "Long An IOC" application to serve the direction and administration of leaders, the "Long An Digital" application to serve people, businesses, Call Center 1022 (via the number 0272 1022), the system to receive and handle complaints and petitions of people and businesses (https://1022.longan.gov.vn) and comply with regulations on coordination in receiving, processing and responding to complaints and recommendations of organizations and individuals through interactive channels in the digital environment.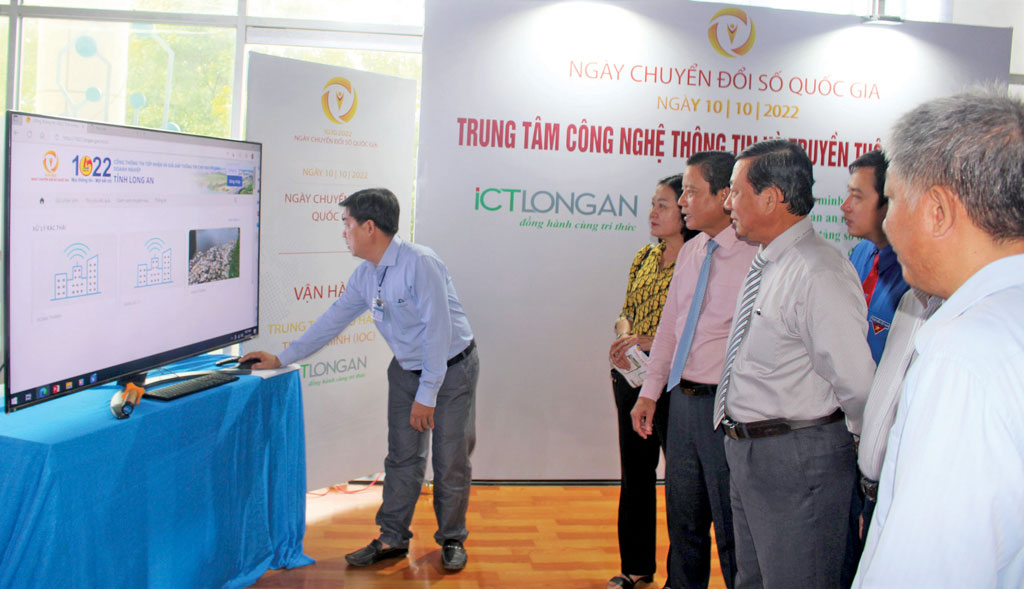 1022 Long An Call Center was established to serve, receive, process and respond to information of people and businesses quickly, promptly and accurately
Along with building and deploying digital platforms, shared databases and developing smart city services, the province strengthens applications in state agencies such as document management and administration software, electronic One-Stop software; uses specialized digital signatures and e-mail. "Up to now, 100% of provincial departments, branches, People's Committees of districts and communes have received, rotated, and handled documents and administrative procedures online. Administrative records and procedures are stored and circulated from public administrative centers to specialized agencies at provincial, district and commune levels through the electronic one-stop system. The dossiers of timely settlement that are published on the Provincial Public Service Portal every year reach nearly 100%," said Mr. Bui Nguyen Khoi.
According to Chairman of the People's Committee of Tan An City - Nguyen Minh Hung, in order for the digital transformation to turn Tan An city into a smart, modern, friendly, ecologically sustainable city, the city has maintained and well exploited the software for managing officials, public servants and public employees; implemented classes to update knowledge on digital transformation and train digital skills, digital technology; guided the use of digital products and platforms for officials and civil servants in the area.
At the same time, the city has piloted digital transformation for the Ward 4 People's Committee; in which, the city has focused on using the commune-level digital government platform to operate and manage tasks, serve the monitoring, direction and administration of ward leaders; promote e-payment at stores and restaurants, combined with instructions on using e-commerce platforms for people and businesses in the area.
Initial efficiency in digital transformation
"Digital transformation in the province has initially brought positive results, contributing to improving the operational efficiency of State agencies; helped farmers to trace the origin of agricultural products, supported electronic stamps for traceability by QR codes; people have gradually changed their habits from buying and selling directly to buying and selling online and making non-cash payments," said Deputy Director of the Department of Home Affairs - Tran Hai Tuan.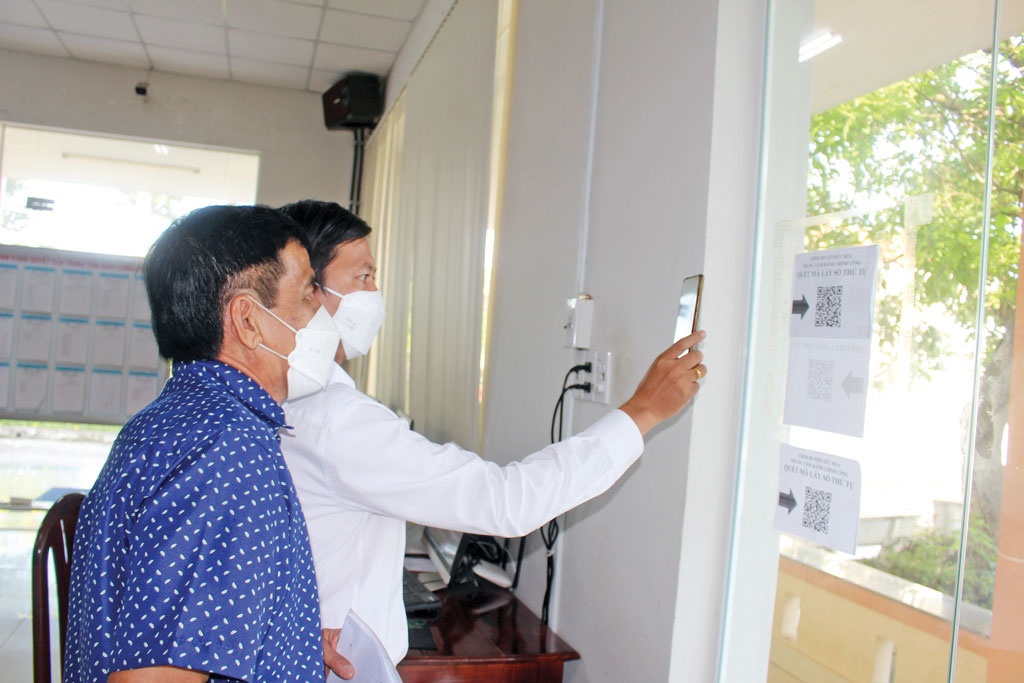 At Duc Hoa District Public Administration Center, customers can easily submit documents and administrative procedures by scanning QR codes
According to Deputy Director of the Department of Industry and Trade - Chau Thi Le, over the past time, the departments and localities in the province coordinated with digital technology enterprises such as Viettel and VNPT to pilot non-cash payments at markets, commercial centers and business establishments. Currently, the province has 1 commercial center, 7 supermarkets, and 241 convenience stores deploying non-cash payment (payment by credit card, ATM card); 8 markets deploying Mobile Money payment service. "Most of the small traders in the market have the VNPT Mobile Money app installed. Therefore, when I go to the market, I rarely bring cash. "Most of the small traders in the market have the VNPT Mobile Money app installed. Therefore, when I go to the market, I rarely bring cash. With just a smartphone, I can transfer money safely and conveniently," said Mr. Nguyen Son Tung, a customer of the market in Ward 2, Tan An City.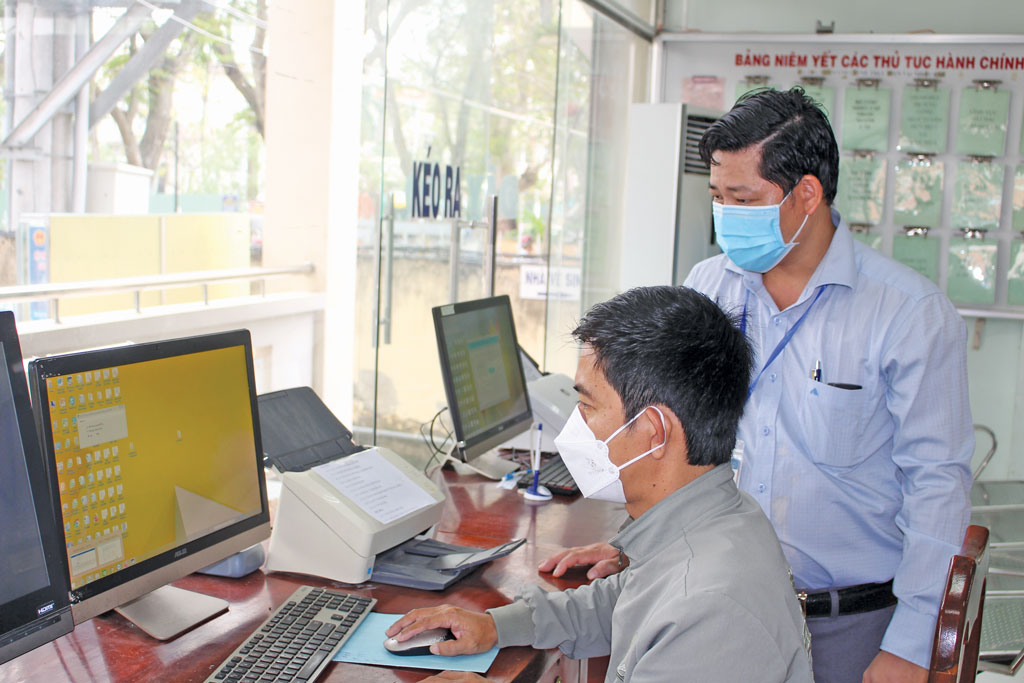 People in Can Duoc district are guided on how to submit documents and administrative procedures online
As one of three localities selected by the province to pilot digital transformation, Can Giuoc town (Can Giuoc district) has effectively implemented digital government building applications such as document management and administration systems, e-mail, public service portal system and electronic one-stop shop; used specialized digital signatures. Vice Chairman of Can Giuoc Town People's Committee - Tran Lam Viet Trung said: "Besides deploying software systems and new technology platforms, the town has invested in security and order surveillance camera systems, telecommunications infrastructure, information technology and network optimization, ensuring 100% of neighborhoods in the area have 3G and 4G networks, contributing to the effective implementation of the task of digital transformation on all three pillars of digital government, digital economy and digital society."
"In order to improve the efficiency of digital transformation, the province promotes communication; strengthens propaganda in many forms; guides the submission of documents to handle administrative procedures in the electronic environment; expands the shared and shared Database Warehouse on the Provincial Open Data Portal; effectively operates the digital platforms "Long An Digital" and "Long An ID"; strengthen the application of digital signatures in direction and administration at agencies and units and in sending and receiving electronic documents" - Mr. Bui Nguyen Khoi added.
With the goal of joining the group of localities with good digital transformation and becoming a province with a high index of digital government, digital society and digital economy, Long An currently focuses on many solutions in different fields to contribute to better serving the requirements of people and businesses. This is also the key to growth and helping people lead happier lives.
By Phong Nha - Translated by P.Ngan
Source: https://baolongan.vn/thuc-day-chuyen-doi-so-tao-dot-pha-phat-trien-a147977.html