Record flooding kills 84 in central region so far
The death toll during recent severe flooding in the central region reached 84 while 38 others were missing as of 6pm of October 18, reported the Office of the Steering Committee on Natural Disaster Prevention and Control.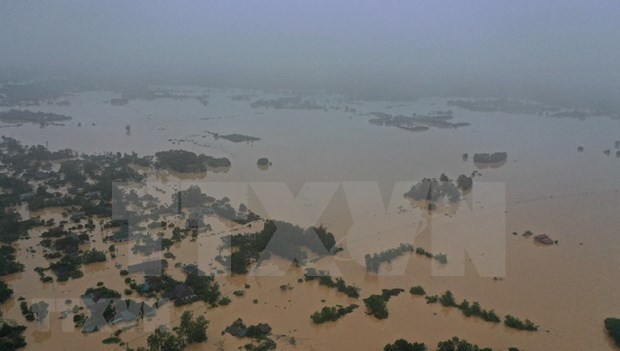 Flooding drowns Dong Ha city of Quang Tri (Photo: VNA)
According to the committee, 52,933 houses were submerged, while 24,734 others were seriously damaged. Floods also damaged over 107,500 hectares of rice and food crops and more than 461,000 cattle and poultry were dead or swept away in floodwaters.
At the same time, 12 national highways and 17,409m of local roads were damaged. More than 11,500 households with 35,787 people from Quang Binh to Thua Thien-Hue provinces had to evacuate.
As of 5:30pm of October 18, rescuers in Quang Tri found 14 bodies out of the 22 officers and soldiers buried by the landslide at the Defence - Economic Division 337 under Military Zone 4 in Huong Phung commune, Huong Hoa district. Rescuers are working hard to search for the remaining victims.
So far, the death toll in Quang Tri had risen to 37, along with 19 missing and 15 injured.
In Ha Tinh province, torrential rains and severe flooding forced more than 200,000 students to stay home. Many schools in the neighbouring Nghe An province also closed from October 19 until the weather condition is safe again.
The devastated flooding, which has lasted for more than 10 days since October 6, was caused by record rainfalls in 30 years.
Amidst the situation, Prime Minister Nguyen Xuan Phuc on October 18 decided to assign the Ministry of Finance to provide 4,000 tonnes rice from the national rice reserve to Quang Binh, Quang Tri, Thua Thien-Hue and Quang Nam, with each receiving 1,000 tonnes, to support flood-affected people.
The same day, he sent a dispatch to Quang Tri and Thua Thien-Hue province, urging local authorities to focus on search and rescue activities and overcoming landslides consequences in Rao Trang 3 hydropower plant in Thua Thien-Hue and Defence - Economic Division 337 under Military Zone 4 in Quang Tri.
Deputy Prime Minister Trinh Dinh Dung and leaders of relevant ministries and agencies also arrived in Quang Tri and Thua Thien Hue to direct the activities./.
VNA