Security minister answers issues on criminal offense
Minister of Public Security To Lam has answered questions on major issues of public concern such as black credit activities, hi-tech crime, online gambling, organised crime and violations committed by officers working in the security sector.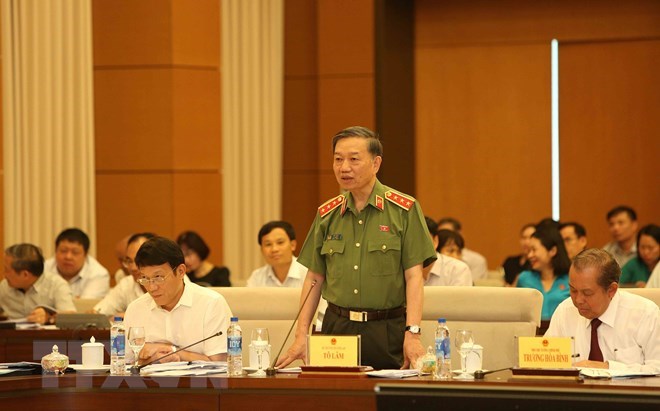 Minister of Public Security To Lam speaks at the Q&A session (Source: VNA)
At a question and answer (Q&A) session on August 13 during the 26th meeting of the 14th National Assembly Standing Committee, Sen. Lt. Gen. To Lam said the police force has learned costly lessons in personnel management after recent law violations in the sector.
He affirmed that "there will definitely be no longer the situation where individuals and organisations take advantage of their functions and powers to commit violations."
Deputy Luu Binh Nhuong from Ben Tre province said people were very upset about the organised crime related to some officers working in the ministry, like the case of Phan Van Anh Vu, who was charged with "deliberately disclosing State secrets", "tax evasion" and "abusing position and power while performing duties.
He asked if the ministry had considered whether there were any similar cases and it would do to prevent this kind of crime in the future.
Meanwhile, Deputy Quach The Tan from Hoa Binh province pointed out that more and more crimes involved high technology, causing serious consequences and reducing the prestige of the police sector, particularly a transnational gambling ring worth trillions of Vietnamese dong.
He asked the Minister of Public Security to explain the causes and solutions to the situation.
In his replies, Lam said the ministry is making every effort to prevent similar cases, adding that the police sector has examined and corrected the situation.
After these case, the ministry uncovered several football betting operations valued at trillions of Vietnamese dong, especially during the World Cup, Lam noted.
Regarding black credit-related crimes, Lam said the ministry determined this was one of the reasons for the increase of criminal violations.
He stressed it was necessary to strictly deal with it, saying that the ministry is focusing on fighting those who lead black credit rings.
The ministry also proposed the Government, credit systems and banks devise measures to mobilise idle money among people and develop credit systems for people and businesses to easier access capital to eliminate the black credit, Lam said.
Regarding the situation, Governor of the State Bank of Vietnam Le Minh Hung said in terms of State management of monetary and banking issues, in recent years, the Government has directed the bank to resolutely handle problems nationwide, especially in rural areas.
The Government and SBV have devised solutions and regulations on interest rates to sectors, especially the agriculture and rural areas, while making it easy for individuals and organisations to access preferential loans through social policy banks and people's credit funds, he claimed.
The SBV will continue to create favorable conditions for banks and people's credit funds to open branches and provide mobile banking services, Hung affirmed./.
VNA