Singaporean daily spotlights PM Chinh's official visit
The Straits Times of Singapore, in an article published on February 7, highlighted the upcoming three-day official visit to the city state by Vietnamese Prime Minister Pham Minh Chinh.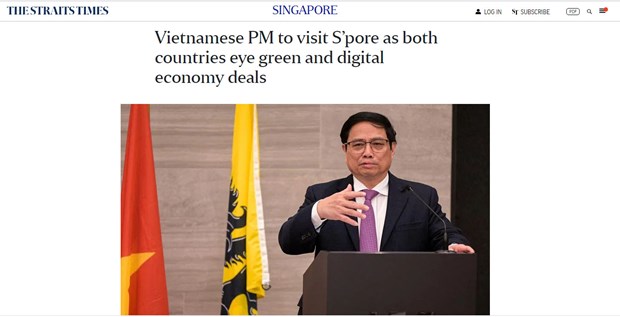 The article on The Straits Times highlights the coming visit to Singapore by PM Pham Minh Chinh. (Source: straitstimes.com)
The writing, titled "Vietnamese PM to visit S'pore as both countries eye green and digital economy deals", cited Singapore's Ministry of Foreign Affairs (MFA) as saying that the visit takes place as both countries celebrate 50 years of diplomatic relations in 2023. It also marks the 10th anniversary of a strategic partnership agreement signed in 2013, which had upgraded ties and opened new areas of cooperation.
This is Chinh's first official visit to Singapore since he took office in 2021.
Both PMs will witness the signing of bilateral agreements that will further strengthen the multifaceted cooperation between Singapore and Vietnam, particularly in the digital and green economies, said the MFA.
The trip comes on the back of high-level meetings between the two sides in 2022, such as the visits to Vietnam by President Halimah Yacob in October and Deputy PM Heng Swee Keat in September.
The article noted Singapore and Vietnam have strong economic ties, with bilateral trade growing steadily over the past decade to reach 31.3 billion SGD (2.3 billion USD) in 2022. As of May 2022, Singapore was the second-largest cumulative investor in Vietnam, with investments totalling 94.5 billion SGD.
A major component of economic engagement is the Vietnam-Singapore Industrial Parks (VSIPs). There are now 12 such parks which have attracted 17 billion USD of investments and created 300,000 jobs.
Technical cooperation through the Singapore Cooperation Programme is another key area of engagement. So far, more than 20,900 Vietnamese officials have attended courses under the programme on various development topics, The Straits Times reported./.
VNA