Southern districts: Winter Spring rice crop 2020-2021 focused on harvesting
At this time, farmers in the southern districts of Long An province such as Thu Thua, Tan Tru, Chau Thanh and Tan An city, and so on are entering the stage of harvesting the Winter-Spring (WS) rice crop 2020-2021. According to the local agriculture sector and farmers, taking advantage of early seeding and using short-term rice varieties has helped avoid saline intrusion, farmers can safely harvest rice and achieve high profits.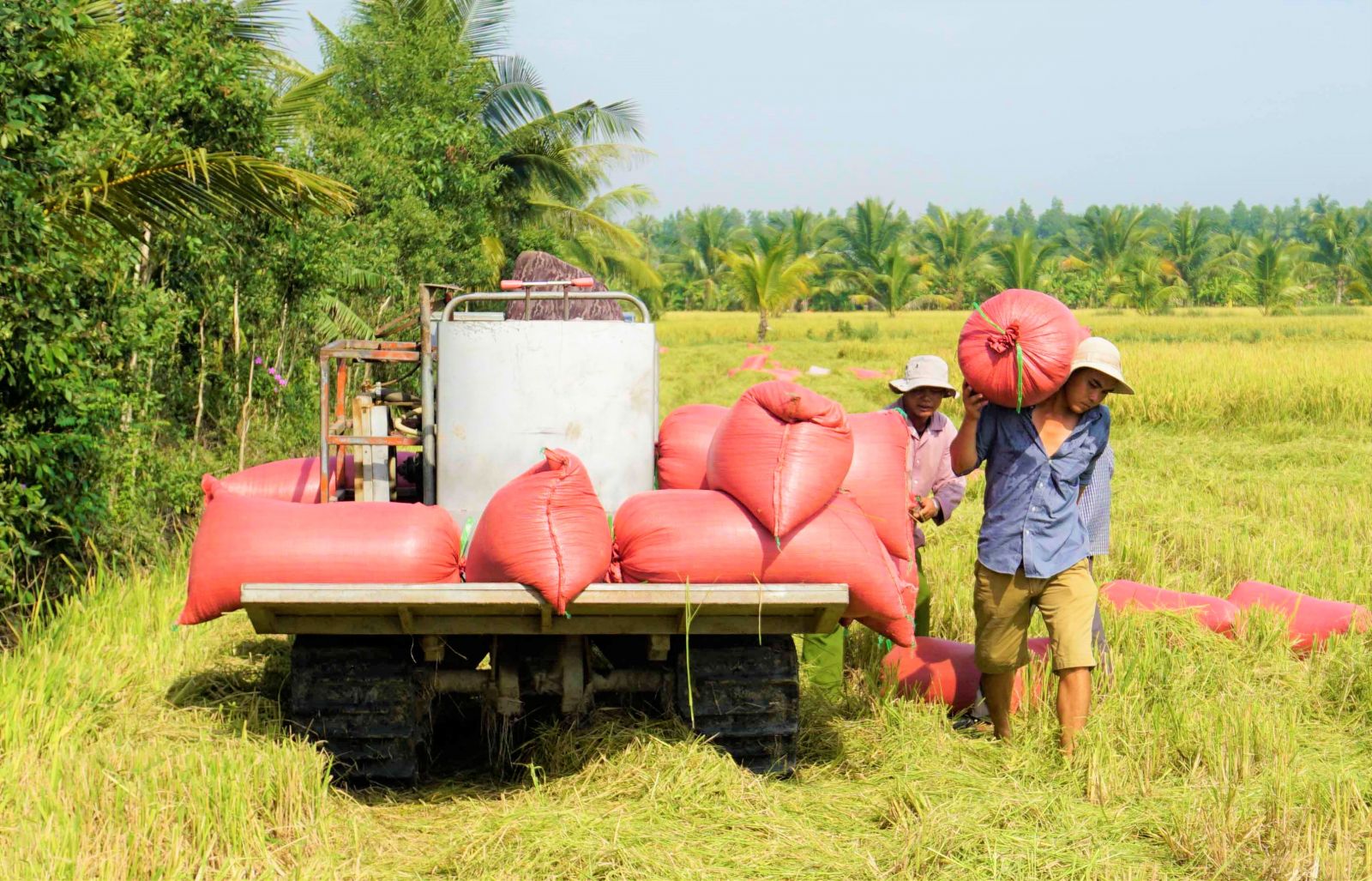 Farmers harvest WS rice crop
Farmers have high profits
According to the statistics of the Division of Agriculture and Rural Development (ARD) Tan Tru district, in the crop year 2020-2021, farmers in the district down to 3,265 hectares, currently harvested over 1,600 hectares. According to the assessment, the harvested rice areas achieved an average yield of 7-7.5 tons per hectare. The price of rice purchased by traders in the field is higher than WS 2019-2020 rice crop, and farmers have a profit of 30-35 million VND per hectare.
Just finished harvesting 1.2 hectares of WS with rice variety OM5451, Mr. Nguyen Van Ta (Binh Tinh commune, Tan Tru district) said, to avoid drought, salt, this year's WS crop, his family sowed seed nearly 20 days earlier with the WS last year. Besides, his family chose OM5451 for sowing because it has good resistance to drought and salinity.
Mr. Le Tan Yen (Thanh Phong hamlet, Binh Lang commune, Tan Tru district) has just finished harvesting the WS rice crop. Mr. Yen said: "In this year's crop, the weather is quite favorable, there is no water shortage like last year. Rice prices have decreased but remained high, rice yields are also high, over 7 tons per hectare. In this case, with more than 2 hectares of OM7347 rice, my family has a profit of more than 50 million VND".
Head of Division of ARD of Tan Tru district - Dang Van Tay Lo informed: "In the WS rice crop 2020-2021, farmers in the district sow drought-resistant, salty and high-quality rice varieties: OM 5451, OM 576, OM 7347 and Some areas are sowing IR 50404. The good news is that with farmers' efforts, weather and hydrology are generally quite favorable, helping farmers to have a good harvest.
In Thu Thua district, according to the district Division of ARD, up to now, farmers have harvested over 15,400 hectares of WS rice, while about 1,600 hectares will be harvested completely within the next 7-10 days. Mr. Le Minh Thanh, living in Nhi Thanh commune, Thu Thua district, said: "I am preparing to harvest 1.6 hectares of WS rice. Although quite worried when the weather has started to change seasons and rains appear, but only 2-3 days left, my family will harvest so the weather will not have a big impact on rice yield".
According to the report of the Department of ARD, in the WS rice crop 2020-2021, the southern districts of the province seeded 34,413 hectares, harvested 28,683 hectares, the average yield (dried) reached 53 quintals per hectare, the output reached about 151,300 tons. According to the general assessment of the Department, in this year's WS rice crop, farmers won the season and had high profits.
Summer-Autumn rice needs to be sown following the seasonal schedule
In addition to focusing on harvesting WS rice crop, localities also need to prepare well for the Summer-Autumn (SA) rice crop 2021. According to statistics of the Department of ARD, so far, the whole province sows over 45,172 hectares of SA rice (plan 215,000 hectares). In order for the SA rice crop to be effective, the province's agriculture sector focused on advising farmers to sow following seasonal schedule, especially concentrated seeding to avoid hoppers and floods.
Deputy Director of the Department of ARD - Nguyen Chi Thien said that the Department suggested localities focus on directing the review and arrangement of plans to properly sow the cooperative rice varieties, ensuring the isolation period from the WS crop was at least 3 weeks, adapting and flexibly with changes in water resources in areas with water initiative, areas at risk of water shortage, areas likely to be affected by early floods in association with seasonal structure maps and hopping schedules.
It is expected sowing season for the following specific regions: Phase 1: From April 18 to 28, 2021 in low-land areas of the districts of Dong Thap Muoi region; Phase 2: From May 15 to 25, 2021, all districts and towns in the province; Phase 3: From June 13 to June 25, 2021 in areas where water sources are not active, southern districts and Autumn-Winter rice in districts of Dong Thap Muoi region.
Areas affected by salinity before sowing need to pay attention to plowing, cultivating salt; areas that cannot take initiative in water sources, use rain water, resolutely not sow seedlings before the rainy season starts to avoid damage. To give priority to the production of rice varieties suitable to the crop structure and export markets, to pay attention to varieties suitable to the changes of water sources and the situation of saline water intrusion. Major rice varieties: OM 4900, OM 5451, sticky rice, Dai Thom 8, RVT, etc. Use drought-resistant rice varieties, salt alum: AS996, OM 5451, OM 6976, and so on for difficult areas towels on water for irrigation, affected by alum and salinity.
"In addition, the Department also requested the local agriculture sector to strengthen the light-trap system, monitor the series of migratory brown planthoppers and deepening situation; strengthening field inspection and timely guide measures to care for rice plants, prevent and treat harmful organisms. Guide the synchronous implementation of rat-killing measures such as digging, catching, trapping rats and using biological rat poison; minimize the use of harmful drugs and chemicals; absolutely do not use banned drugs, drugs outside the list, use electricity and other measures that endanger humans and animals to kill rats"- Mr. Thien added./.
By Bui Tung – Translated by Duc Tam
Source: https://baolongan.vn/cac-huyen-phia-nam-tap-trung-thu-hoach-lua-dong-xuan-2020-2021-a113730.html