Vietnam, Cambodia enjoy flourishing relations
Vietnam and Cambodia are enjoying flourishing friendship and cooperation, which have been nurtured by generations of the two countries' leaders and people.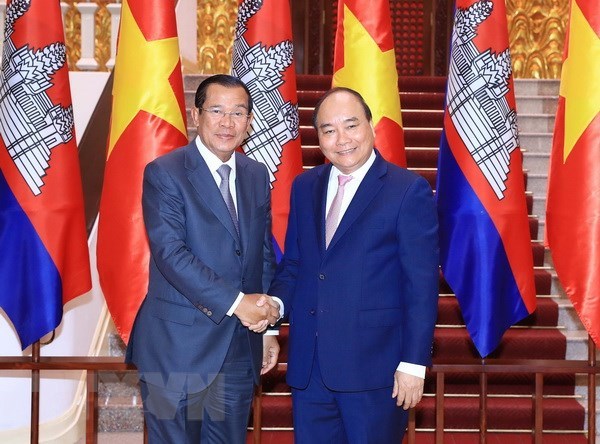 Prime Minister Nguyen Xuan Phuc (R) welcomes his Cambodian counterpart Hun Sen on the sidelines of the World Economic Forum on ASEAN in Hanoi last September (Photo: VNA)
Cambodian Prime Minister Samdech Akka Moha Sena Padei Techo Hun Sen will pay an official visit to Vietnam from December 6 to 8 at the invitation of his Vietnamese counterpart Nguyen Xuan Phuc.
This will be the first official trip to Vietnam by PM Hun Sen since Cambodia set up its sixth-tenure Government last September. It is also on the threshold of the 40th anniversary of the victory over the genocidal Khmer Rouge regime (January 7, 1979), which Cambodia won with Vietnam's support.
The visit will help Vietnam reiterate its foreign policy of independence, self-reliance and diversification and multilateralisation of foreign relations, with a focus on developing relations with Cambodia.
With diplomatic ties established on June 24, 1967, the two countries have maintained mutual high-ranking visits as well as delegation exchanges between their ministries, sectors and localities.
The two prime ministers have also discussed bilateral cooperation at many events, including the 10th Cambodia-Laos-Vietnam Summit on Development Triangle Area in Hanoi in April, the 27th World Economic Forum on ASEAN in Hanoi in September and the ASEAN leaders' gathering in Indonesia's Bali in October 2018.
In the Friendship Year 2017, the countries worked together to repair and inaugurate 13 monuments to the Vietnam-Cambodia friendship. They also organised activities marking 50 years of their diplomatic relations last year.
Cooperation between ministries, sectors and localities, along with people-to-people exchange have been promoted. The two sides have coordinated in sharing information, resolving incidents along their border and stepping up joint patrols at sea.
The countries have been consistent in the principle of not allowing hostile forces to use one country's territory to sabotage the other's security and stability. They have also worked closely to search for and repatriate remains of Vietnam's soldiers who died in Cambodia during wartime.
While realising their foreign policies of multilateralising and diversifying foreign relations, Vietnam and Cambodia have coordinated at international and regional mechanisms like the Cambodia-Laos-Vietnam Development Triangle Area, the Cambodia-Laos-Myanmar-Vietnam Cooperation, the Ayeyawady-Chao Phraya-Mekong Economic Cooperation Strategy, the Association of Southeast Asian Nations, the Asia-Europe Meeting and the United Nations, thereby helping to improve each country's stature in the region and the world.
Encouraging outcomes have also been recorded in bilateral economic links.
Two-way trade reached 3.8 billion USD in 2017, up 30 percent year on year. The figure topped 3.8 billion USD in the first 10 months of 2018, up 21 percent from a year earlier.
Vietnam has invested in 206 projects worth 3.02 billion USD in Cambodia, making it one of the five biggest foreign direct investors in the latter. Meanwhile, Cambodian investment in Vietnam has also been rising, with 18 projects worth 58.12 million USD.
Investment and business activities of Vietnamese firms have been highly valued by Cambodian leaders, and they have helped with local social welfare and development.
In 2017, more than 835,000 Vietnamese visited Cambodia, making Vietnam the country's second largest source of foreign tourists./.
VNA