Vietnam to promote ASEAN – UK cooperation: ambassador
Vietnamese Ambassador to the UK Tran Ngoc An has affirmed that Vietnam, as Chair of ASEAN in 2020, supports stronger collaboration between ASEAN and the UK across trade and investment, as well as cooperation for peace, security and development.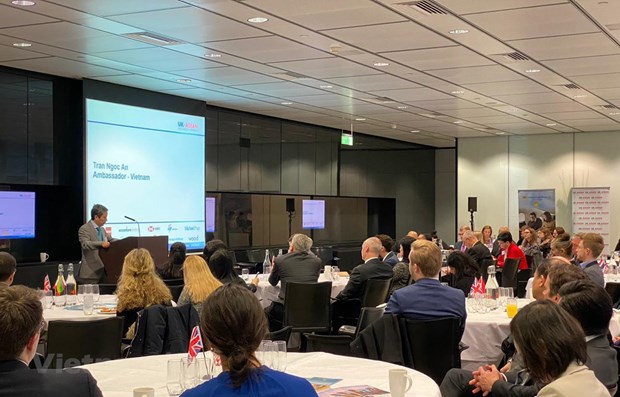 At the UK – ASEAN Business Council (UKABC) Business Breakfast Forum on ASEAN 2020 (Photo: VNA)
In his remarks at the UK – ASEAN Business Council (UKABC) Business Breakfast Forum on ASEAN 2020 held in London on January 14, Ambassador An said that the ASEAN member states welcomes the UK's goodwill and efforts in boosting cooperation with the ASEAN.
As the ASEAN Chair 2020, Vietnam will work closely with other ASEAN countries for the bloc's benefits and prosperity, he stressed.
Hailing the work and initiatives of previous ASEAN Chairs, such as smart city system of Singapore and sustainable development of Thailand, the diplomat informed that Vietnam has set the theme "Cohesive and Responsive" for ASEAN during the year it serves as Chair of the bloc.
The ambassador noted that this year, Vietnam also began to its tenure as a non-permanent member at the UN Security Council (UNSC); therefore, the country will work to promote ASEAN's interests at the council, and will serve as a bridge between ASEAN and the UN so that the bloc can carry out its plan in accordance with the UN's targets.
The forum drew the participation of representatives from the UK Foreign & Commonwealth Office, Department for International Trade, and prestigious organisations and businesses such as ACCA, Asia House, HSBC, Shell, Vietnam Airlines, along with embassies of ASEAN member countries, among others. Delegates at the event also discussed ASEAN's prospects as well as the UK's priorities for engaging ASEAN in 2020 and later years./.
VNA