Vietnam wins 17 prizes at International Robothon 2023
The Vietnamese team won 17 prizes at the International Robothon 2023 held in Kuala Lumpur, Malaysia, on March 26.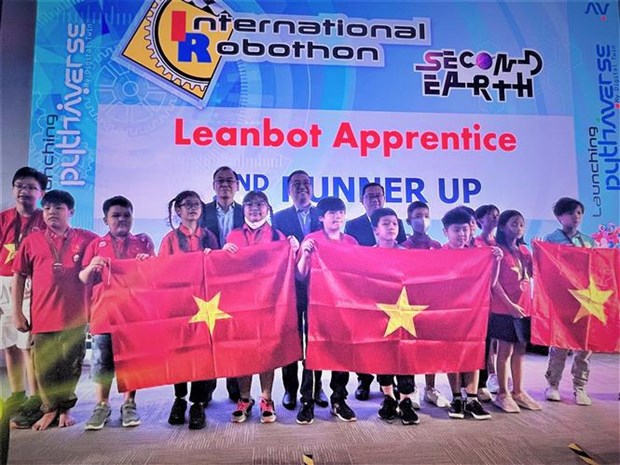 The Vietnamese team wins 17 prizes at the International Robothon 2023. (Photo: VNA)
Accordingly, 35 Vietnamese contestants, divided into 18 groups all competing in the Leanbot category, brought home the championship title, one first, one second, eight third and six consolation prizes. Notably, the championship went to Binh Thuy Primary School in the Mekong Delta city of Can Tho.
The STEM Robotics toolkit Leanbot was introduced in this year's competition for the first time after it was developed by a team of experts and engineers of DTT Vietnam Technology Joint Stock Company.
Themed "Second Earth", this year's event drew the participation of 258 contestants from primary and secondary schools in Malaysia, Thailand, the Philippines, and Vietnam.
The Malaysian team won the title at the Lego EV3 category, while the championship in the VEX IQ category came to the Philippine team.
Robothon, a thematic challenge competition platform for students to explore real-world issues of today, with creative solutions, was first held 17 years ago. This year, it was resumed after three years of suspension due to the COVID-19 pandemic.
The contest will go to Thailand next year./.
VNA