Da Nang ready for international firework festival
The central city of Da Nang is finalising preparations for the Da Nang International Fireworks Festival (DIFF 2023) slated for June 2.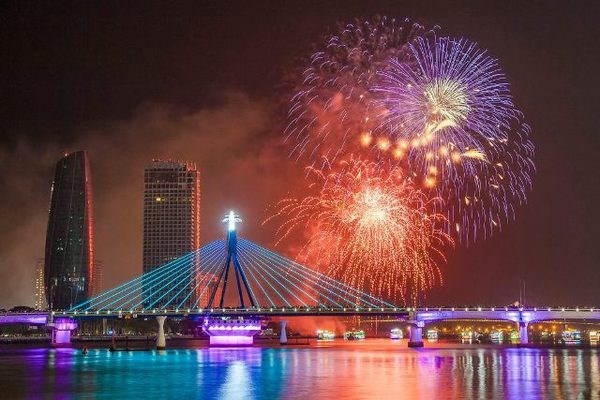 Da Nang was recognised as Asia's Leading Festival & Event Destination in 2016 and 2022 by the World Travel Awards (Photo: VNA)
Currently, the stage for the festival has basically been completed, said Tran Xuan Hung, leader of the DIFF 2023 stage construction team. He said that the construction has taken place for over 2 months, a shorter time compared to previous festivals.
This year, the stage is decorated with a modern led laser lighting system, bringing the best views of the entire fireworks area, he said.
This year, the DIFF stage covers1,050 sq.m on the Han River bank on Tran Hung Dao street of Son Tra district, along with a 5,000-seat grandstand.
Themed "The World Without Distance", the festival is scheduled to take place from June 2 to July 8.
This year's event will feature eight teams from the UK, Italy, Poland, France, Australia, Canada, Finland, and Vietnam competing over five nights across two months.
Each team will put on a 20-minute performance based on five themes: No Distance Love, Peace for the World, Equality for Human Being, No Limits Innovation, and Sustainable Tourism Development. The two best teams will compete to take the top prize on the final night - July 8.
The latest festival in 2019, seen as the most successful performance with more than 1 million visitors, was completed with victory for Finland's Joho Pyro Fireworks.
Da Nang is the only place in Vietnam to have hosted a fireworks festival, making it a magnet for the best fireworks producers from around the world each year since 2008. It has been building a "Fireworks Festival City" reputation to promote it as a top destination in central Vietnam and Asia.
The DIFF has helped the city win recognition as Asia's Leading Festival & Event Destination in 2016 and 2022 by the World Travel Awards./.
VNA