Deputy PM: Cooperatives must connect farmers with businesses
Deputy Prime Minister Vương Đình Huệ has highlighted the leading role of cooperatives ìn connecting farmers with businesses, towards promoting strong and effective agricultural production and consumption.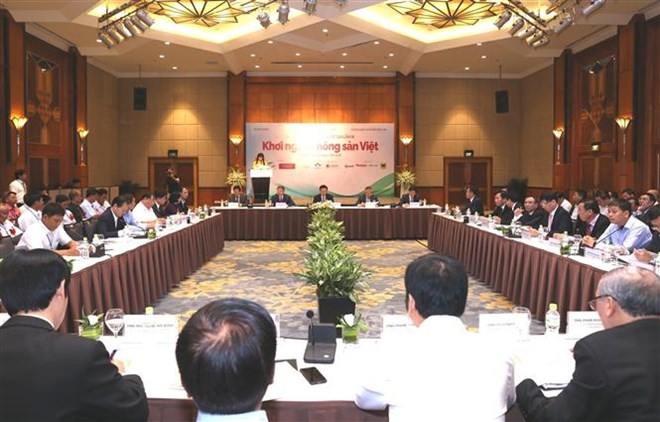 At the forum (Source: VNA)
Addressing the 3rd National Farmers Forum in Hanoi on October 14 which was part of activities in the "Proud of Vietnamese farmers" programme, the Deputy PM stressed that it is necessary to fully tap potential of each regions and localities, and enhance links between the domestic and foreign markets.
The Government promises to perfect policies to foster agricultural development, trade and investment promotion, he said.
Hue praised the organisation of the forum and its theme, saying that Vietnam currently has 10 farm products with export turnover of 1 billion USD upwards.
Vietnam has also witnessed remarkable events of the agriculture sector, especially as the country held the world rice conference for the first time.
Meanwhile, Chairman of the Vietnam Farmers' Union Thao Xuan Sung emphasised the great and proud achievements of the agriculture sector over the past 32 years of reform.
The export of farm products has recorded continuous growth, creating impressive breakthroughs, he said.
In the first four months of this year, Vietnam's export value of vegetables and fruits surpassed those of crude oil. The country's agro-forestry-aquatic product exports are forecast to reach 40 billion USD in 2018.
However, Sung also mentioned challenges facing Vietnam's agriculture sector such as climate change and internal difficulties of the national economy.
At the forum, participants voiced their concern about how to improve the quality and image of Vietnamese agricultural products, and expand more markets for and reduce production cost and prices of farm produce. They also discussed policies to cope with the protection of agricultural products in importing countries.
Deputy Minister of Agriculture and Rural Development Le Quoc Doanh underlined the need to build brand names for Vietnamese farm produce, saying that it is necessary for Vietnam to improve the quality and ensure food safety of agricultural products if it wants to build sustainable trademarks for those.
He added that the ministry has built a project to develop 15,000 new-style cooperatives, which are hoped to help farmers develop their production and make it easier for them in selling their products.
Director of the Trade Promotion Department under the Ministry of Industry and Trade (MoIT) Vu Ba Phu said through programmes to support farmers and enterprises in building brand names for their farm produce, the MoIT and other relevant ministries will promote Vietnamese trademarks to international markets through Vietnam's agencies abroad./.
VNA