Destinations to go in Long An on holidays
Long An has long been known as a peaceful and poetic land with Vam Co rivers as inspiration in famous poems and songs. In addition, the province has many attractive and entertaining destinations, attracting near and far tourists.
In this long holidays on the occasion of April 30 (liberation of the South, reunification of the country), if you and your family have not decided where to go yet, how about visiting Long An? Trust us, this place will leave an indelible mark in the hearts of visitors.
1. The ideal stopover for your family is Phuoc Loc Tho Ancient Village (Huu Thanh Commune, Duc Hoa District). The whole area is a place to display ancient houses of over a hundred years old with thousands of antiques to help us learn about the typical culture in daily activities of the people of the 3 regions as well as ancient and unique architectures.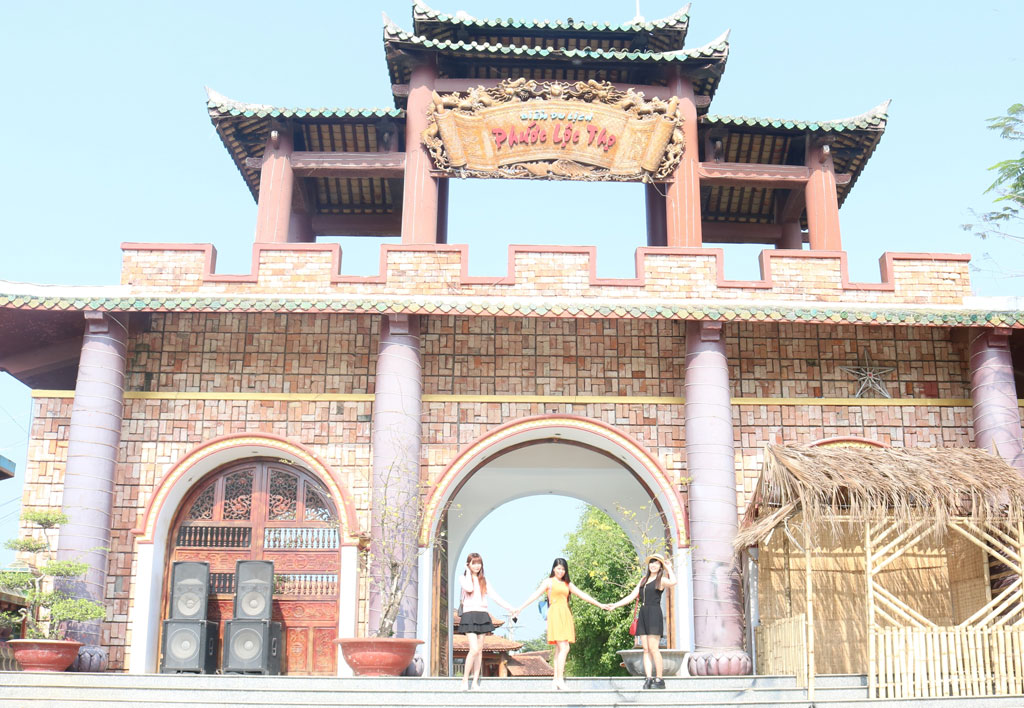 In Phuoc Loc Tho Ancient Village, visitors have the opportunity to learn about ancient houses all over the country
According to the representative of Phuoc Loc Tho Ancient Village - Nguyen Duy Thao, at present, in addition to visiting ancient houses, tourists can also experience many folk games, swimming pools in an area of about 5 hectares. Besides, they also organize picnic parties, camping,etc for tourists traveling in groups. The area serves a full range of specialties: Ground chicken, river crayfish, fish, pot rice,etc.
In particular, on the occasion of April 30, visitors can also participate in singing together, outdoor food activities, folk games, swimming pool, statue painting,etc.
2. Located in a very convenient location near National Highway 1, Happyland Tourist Area (Thanh Duc Commune, Ben Luc District) is an attractive stopover during a trip in Long An. Happyland was built along the Vam Co Dong river, is one large-scale tourism and entertainment complexe known as a miniature Vietnam. Here, many architectural works reproduce the scenic spots, typical works throughout the provinces and cities of the country.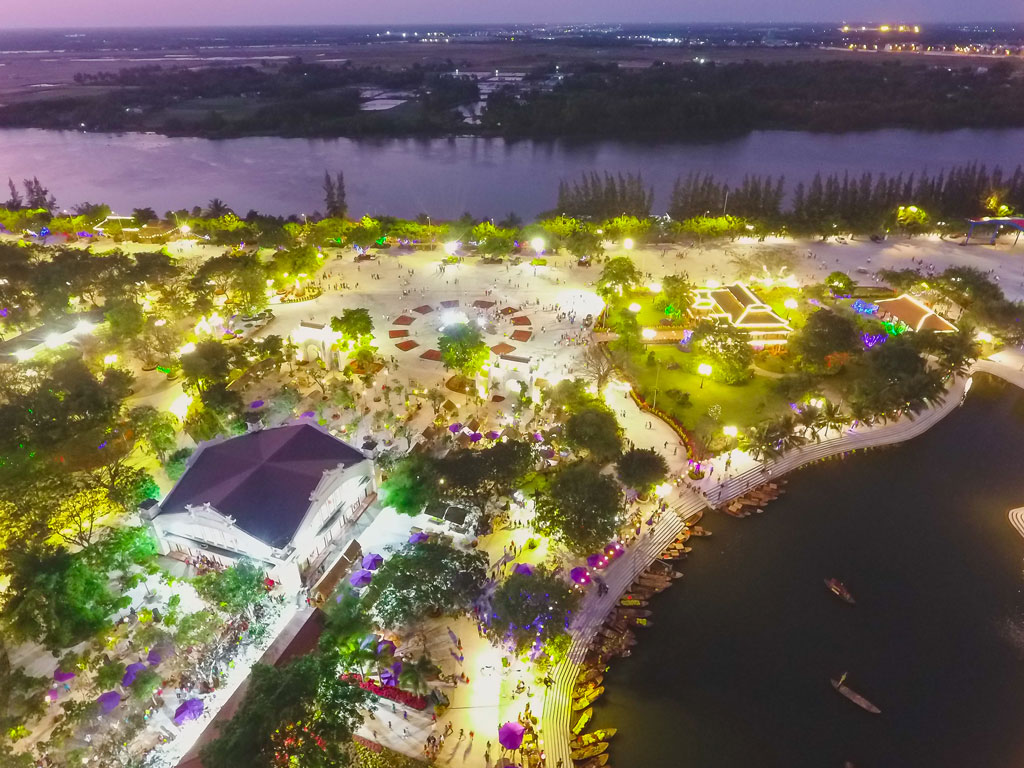 Happyland is an attractive destination for tourist on holidays
Happyland brings you an image of Vietnam from the past to present through the Vietnamese cultural zone - an area that recreates and displays the country's architectural works and artifacts in the North, Central, and South regions of the country.
Not only the scenery, Happyland also helps visitors learn about the culture - art of all parts of the country through extremely unique performances: Traditional water puppetry, Quan ho Bac Ninh folk song, musicals re-enact the heroic historical anecdotes of the nation,etc.
Coming to Happyland, visitors can directly participate in interesting activities:droping floating flower lanterns, flower lantern festival, kite flying festival, folk games,etc.
Happyland tourism representative - Pham Quoc Khanh said: The tourist resort aims to recreate traditional cultural values of the nation, including the Vietnamese cultural area, folklore, art, cuisine, and traditional craft villages of 3 regions of the country. In particular, a cluster of floating markets characterized by rivers helps visitors understand deeply about the Mekong Delta.
On this occasion of April 30, the tourist area will organize many programs and activities to learn about cultural values, enjoy the sweet melodies of the South through the presentation of many folk songs teams, groups and clubs in the province. Visitors will be immersed in nature and able to take souvenir photos with family and friends,etc. Happyland promises to be an ideal destination for visitors on this holiday.
3. A "check-in" point when coming to Long An that cannot be ignored is the Endless Field Eco-tourism and health care area (Dong Thap Muoi Pharmaceutical Research, Conservation and Development Joint Stock Company) in Moc Hoa district. This destination is suitable for tourists who are passionate about exploring nature and learning about medicinal herbs and precious products used to improve health.
The wild features of the land with melaleuca forests, precious birds and abundant fish, give us a feeling of being in harmony with nature, relaxing after hard working days, avoiding the hustle and bustle of the city. This location is also the main setting in the film Endless Field by director Nguyen Phan Quang Binh, based on the work of the same name by writer Nguyen Ngoc Tu.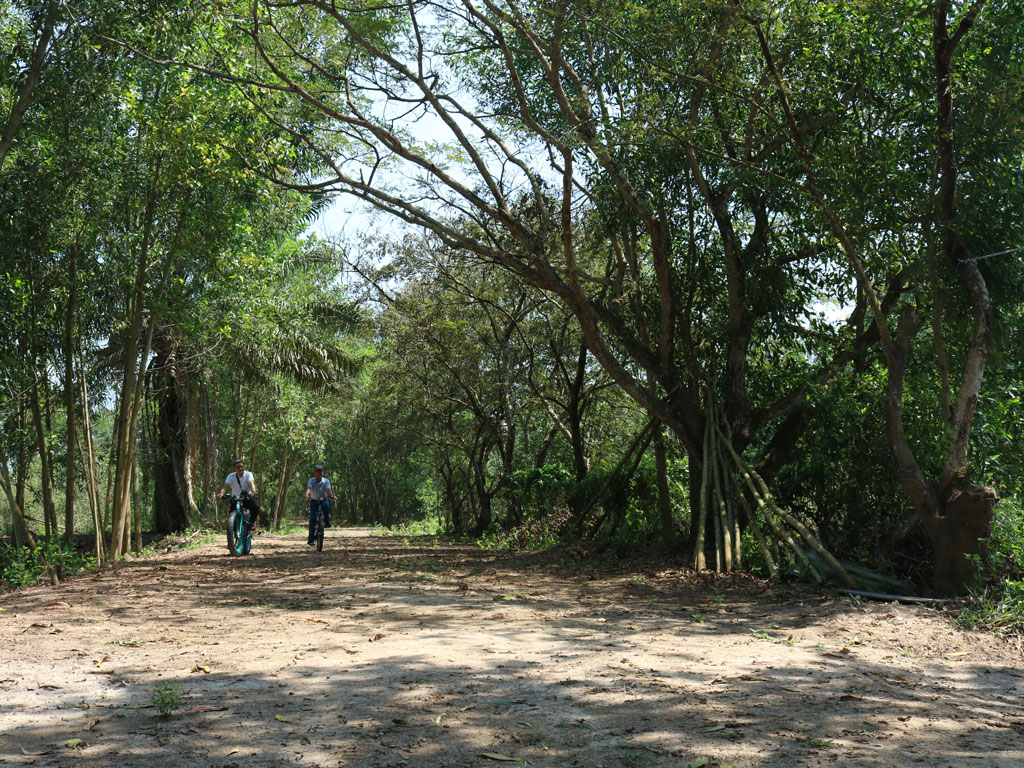 Endless Field Eco-tourism and health care area
General Director of Dong Thap Muoi Pharmaceutical Research, Conservation and Development Joint Stock Company - pharmacist Bui Dac Thang shared: Our view is that tourism development must be associated with the conservation of precious genetic resources, maintaining the landscape, contributing to raising people's awareness in preserving and protecting nature so that our lives become better, more meaningful and healthier.
Currently, the area is both for conservation and tourism development. The area meets the needs of discovery, being close to nature with primeval Melaleuca forests, Melaleuca trees nearly a hundred years old, over 80 precious genetic resources and diverse flora and fauna. Visitors will have the opportunity to enjoy rustic dishes and specialties of floating waters area, dishes and drinks made from clean medicinal herbs suitable for convalescent diners or vegans.
Visitors can take a sauna, soak in precious herbs, visit special-use forests by road and river, visit cleanly grown medicinal plants, preserved animals and plants. Besides, people can spend the night here to enjoy the light natural medicinal scent to put them to sleep and return from the trip with pharmaceuticals, health care cosmetics, and handmade products, seedlings, ornamental flowers,etc as gifts for relatives and friends./.
By Thanh My - Translated by Q. Thien
Source: https://baolongan.vn/le-di-dau-tai-long-an-a154222.html