Dong Thap Muoi region: Localities are ready to respond to natural disasters
Currently, the upstream districts of Long An province actively respond to floods and natural disasters caused by climate change.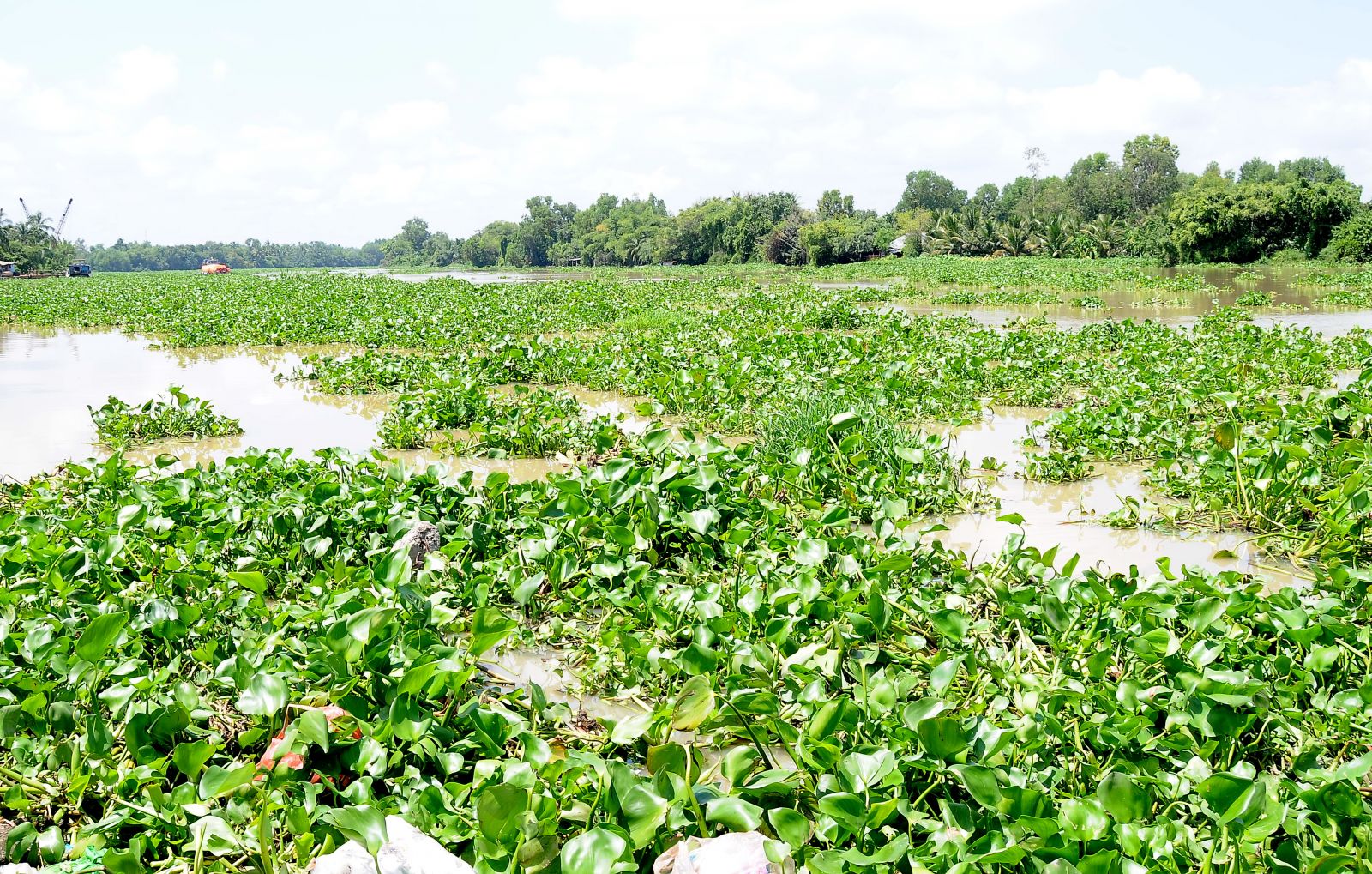 Water hyacinth on Vam Co Tay river is still a problem affecting production in some communes of Thanh Hoa and Moc Hoa districts
Head of the Division of Agriculture and Rural Development (ARD) cum the standing agency for Natural Disaster Prevention and Control - Search and Rescue (NDPC-SR) of Thanh Hoa District - Nguyen Kinh Kha said: "In July 2021, a tornado occurred in Thanh Phu commune and damaged 7 houses. The district has promptly assisted the families affected by the tornado. The district Steering Committee for NDPC-SR has strengthened to direct, propagandize and mobilize people to raise their awareness of vigilance and protect their houses during the rainy and stormy seasons. Currently, relevant sectors and commune People's Committees are actively directing units to strengthen dikes and sluices to prevent salinity intrusion, reminding people to brace their houses to ensure life and production".
It is known that Thanh Hoa district has a complete system of dikes and sluices to prevent salinity along National Highway 62 invested by the Ministry of ARD, ensuring specialized production areas for rice, pineapple and yams in the two provinces of Long An and Tien Giang, including Thanh Hoa district. In addition, Thuan Binh commune was also proposed by the province to the Ministry of ARD to consider investing in the largest freshwater reservoir in the region to prevent and combat drought and salinity intrusion and to serve forest fire prevention and fighting.
In Moc Hoa district, according to the forecast, this year the flood will come late. Head of the Department of ARD of Moc Hoa district - Nguyen Thanh Nam said that the district Steering Committee for NDPC-SR has issued a document directing the communes, especially those communes that have finished harvesting the summer-autumn rice and are taking care of the autumn-winter rice (in communes of Tan Lap and Tan Thanh), strengthen the dike reinforcement, take measures to treat water hyacinth to ensure navigation and agricultural production. In some communes, traffic and irrigation works are also rushing to be completed before the flood season.
According to Chairman of the People's Committee cum Head of the Steering Committee for NDPC-SR of Moc Hoa District - Nguyen Van Minh, the goal of for NDPC-SR in 2021 is to minimize damage caused by natural disasters, especially human and financial losses products and important works; promptly relocate and evacuate people in key, high-risk areas to permanent places of residence, especially for the elderly, disabled, children and pregnant women. The district Steering Committee for NDPC-SR requires all departments, branches, district mass organizations and People's Committees of communes and townships to thoroughly grasp and strictly implement the motto "4 on the site" (on-site command, on- site force; on- site means and supplies; on- site logistics) and the principle of "proactive prevention, timely response, prompt and effective remedy".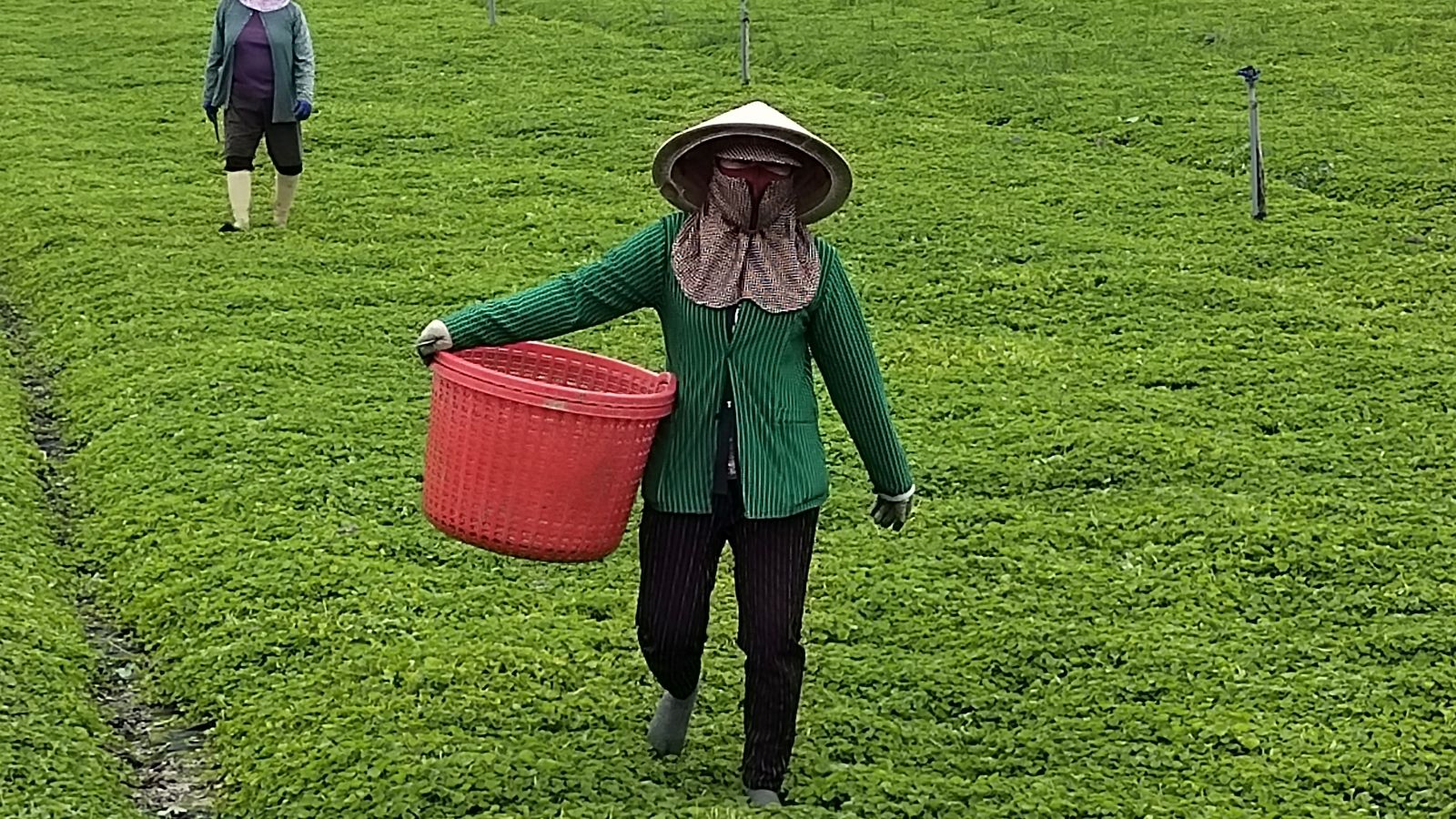 Thanks to the dike system, the crop is protected (Photo: Farmers in Moc Hoa district harvest gotu kola)
According to forecasts from professional sector, in the localities of the Dong Thap Muoi region of the province, there is a possibility of storms, tropical depressions and heavy rain, causing flood and water rising. In addition, due to the open field, there may be thunderstorms, lightning, hail; climate change, rising tides lead to drought and salinity intrusion. In some areas, landslides and subsidence may occur due to water flows, rain and floods. The easy landslide-causing areas are river banks with strong currents, surrounding dikes and areas with soft ground, etc.
The Steering Committee for NDPC-SR of Moc Hoa district requested branches and commune authorities to organize on duty, review, evacuate and relocate people out of dangerous areas where safety is not guaranteed if natural disasters happen; regularly propagate solutions to prevent and respond to storms and floods; take measures to ensure the safety of houses, offices, hospitals, schools and so on in areas directly affected by storms and tropical depressions.
In addition, local authorities actively take measures to protect production, pruning branches of trees around the house to avoid breaking or falling, causing unsafety when storms occur; proactively stockpile food, foodstuffs and essential necessities for the family. Functional branches organize inspection, detection and troubleshooting of works for natural disaster prevention (such as dykes, irrigation works, storm shelters, antenna towers, so on); key projects on socio-economic, security and defense.
The electricity sector reviews and inspects unsafe electrical locations, has a scheldue and plan for timely remedy when incidents occur; mobilize human resources, supplies, means, equipment and necessities to promptly respond to natural disasters.
The area has weak soil, the risk of landslides during heavy rain, it is necessary to have a plan to prevent heavy rains combined with deep tides to recede, affecting the lives and properties of the State and people. The anti-flood pump must prepare fuel, check the electrical system to prevent flooding; regular make culverts and trenches clear to prevent local flood when there is heavy rain. At the same time, organizations and individuals are notified and recommended to check and preserve hazardous chemicals to ensure safety, not to release and cause environmental pollution when there is heavy rain or flood./.
By Minh Dang – Translated by Duc Tam
Source: https://baolongan.vn/cac-dia-phuong-vung-dong-thap-muoi-s-n-sang-ung-pho-thien-tai-a121361.html