Flood-affected school students get scholarships
A total of 220 school students whose families were affected by floods and storms from Nghe An to Quang Ngai provinces received scholarships worth 2.2 billion VND (95,000 USD) from the Vietnam Central Disaster Prevention Support Fund (QPT) for continuing their education.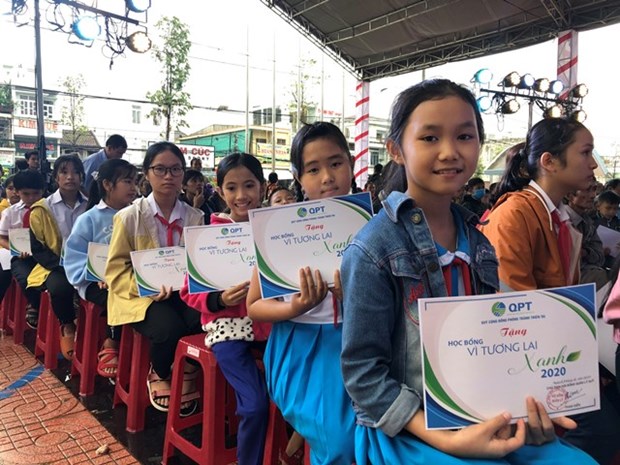 School students from Quang Ngai province receive scholarships from the Vietnam Central Disaster Prevention Support Fund (QPT)'s 'Green Future' programme. A total of 220 students from Nghe An to Binh Dinh were granted scholarships from the fund between November and December of 2020. (Photo courtesy QPT)
QPT said each student was given aid from 2 million VND (87 USD) to 3 million VND (130 USD) for books and educational equipment damaged by floods and storms in the region from the Fund's 'Green Future' programme.
Up to 431 scholarships have been given to students in 17 provinces nationwide through the programme since 2018.
The programme also donated 20 billion VND (870,000 USD) to help restart education at flood-damaged schools in the region between November and December.
According to QPT, 89 billion VND (3.9 million USD) was raised from donors to help local people in the flood-affected provinces in the central region in 2020.
The fund helped build 71 swimming pools throughout the country between 2008-2020, and built community flood shelters, provided life-jackets and implemented rescue education programmes in central provinces.
The fund helped a plant mangrove forest in Thanh Hoa and set up voluntary rescue teams in provinces from Thanh Hoa to Binh Thuan.
Four storms, including typhoons Molave and Goni, triggered floods and landslides that devastated central provinces in Vietnam from October to December, with 249 people either killed or missing and 11,700 houses damaged or destroyed./.
VNA