Former State President - Truong Tan Sang visits Ben Luc district
On March 19, Former State President - Truong Tan Sang visited and worked with the Standing Committee of Ben Luc District Party Committee, Long An Province. Standing Deputy Secretary of the Provincial Party Committee - Nguyen Van Duoc attended the meeting.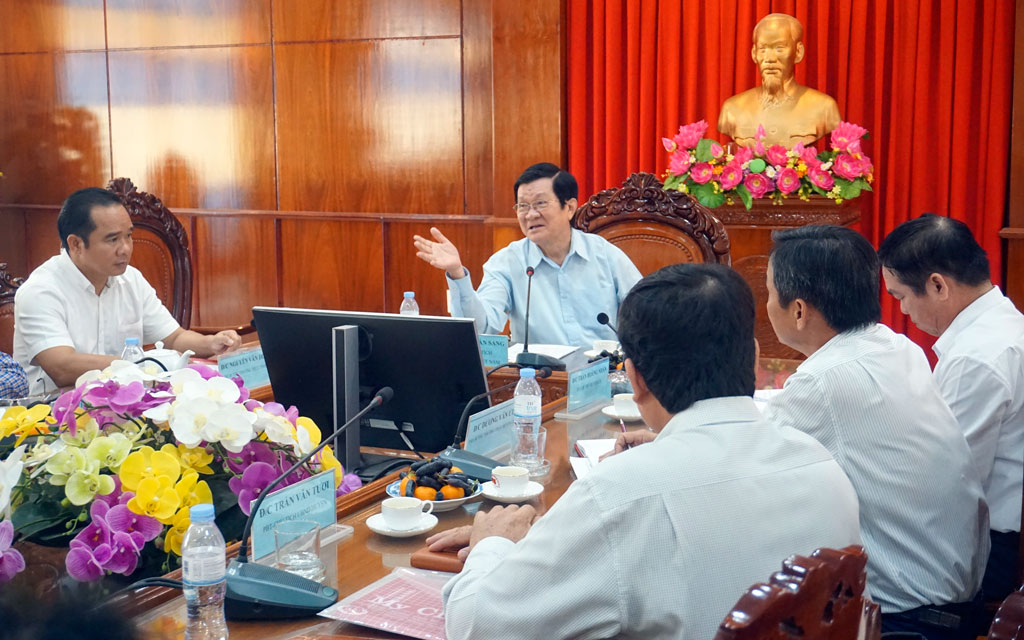 Former State President - Truong Tan Sang visits Ben Luc district
Chairman of the District People's Committee - Tran Van Tuoi briefly introduced the situation of socio-economic development of the district in 2019 and the orientation of receiving investment in the period of 2020 - 2025.
Regarding the socio-economic development tasks in 2019, the district has exceeded the set targets. In particular, the total production value reached 98,721 billion VND, reaching 100.7 percent of the plan and up 18.7 percent over the same period.
From early 2020 until now, the district has attracted 35 branches and enterprises with a registered capital of 222.8 billion VND. The district has 6 industrial zones and 5 industrial clusters with a total area of 1,283 hectares, the occupancy rate of industrial parks reaches more than 88 percent. The land use allocation to 2020 in the North of the district and the industrial project accounted for 1,054.15 hectares, the residential project accounted for 446 hectares.
Former State President - Truong Tan Sang was very excited and highly appreciated the efforts of Ben Luc Party Committee, authorities and people in the past year. The district has made many innovations, breakthroughs and creations to become a modernity-oriented industrial district.
In order to develop more sustainably, he reminded the district to pay attention to the agricultural space; local leaders should have deep thinking in determining specific steps in the coming years. The district should arrange cadres to learn from experience in localities that have many similarities with the district to have a quick and effective approach, especially focusing on public administration, urban management and investment attraction.
The provincial and district leaders respectfully perceived Mr. Truong Tan Sang's comments to direct concretize the tasks in the coming years./.
By Staff writers - Translated by Pham Ngan
Source: http://baolongan.vn/nguyen-chu-tich-nuoc-truong-tan-sang-den-tham-huyen-ben-luc-a92102.html