Korean SMEs' exports to Vietnam soar in 2017
Small- and medium-sized enterprises (SMEs) of the Republic of Korea (RoK) exported 12.6 billion USD worth of goods to Vietnam in 2017, up 33.4 percent over the previous year, reported the Korea Small Business Institute (KOSBI).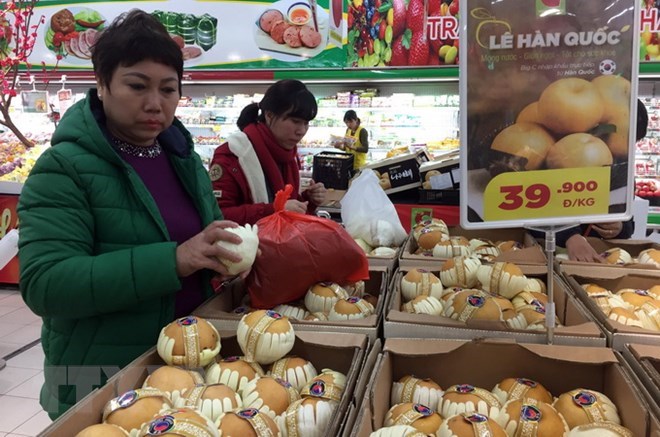 Pears from the RoK sold at Vietnam's supermarket (Photo: VNA)
Vietnam was the second largest overseas market for Korean SMEs, only after China. Main export products to Vietnam were wireless telecommunications equipment, knitted textiles and plastics.
KOSBI, which works to facilitate the sustainable development of SMEs, said Vietnam is an attractive market with a population of more than 90 million people and annual economic growth of 6-7 percent.
The institute added that Vietnamese consumers have favourable impressions of products from the RoK because of the popularity of "Korean Wave" and the strong presence of companies like LG, Samsung and Hyundai Motor.
KOSBI said that for SMEs to expand their presence in the country and the rest of Southeast Asia, it is advisable to make full use of Vietnam's special economic zones.
In addition, SMEs should also follow a so-called multi-product, small-sized production strategy when selling consumer goods in the country./.
VNA