Long An: Drastically handling smuggled cigarettes sold in the market
Director of the Long An Market Surveillance Department - Pham Duc Chinh directed at the propaganda conference against smuggled cigarettes held in Tan An city of Long An province on November 4. Accordingly, after propagating Decree 98/2020/ND-CP for business establishments, the market surveillance force will increase inspection and control of shops, medicine cabinets, restaurants, hotels, etc. It also organized for business establishments to sign commitments not to trade in smuggled imported cigarettes.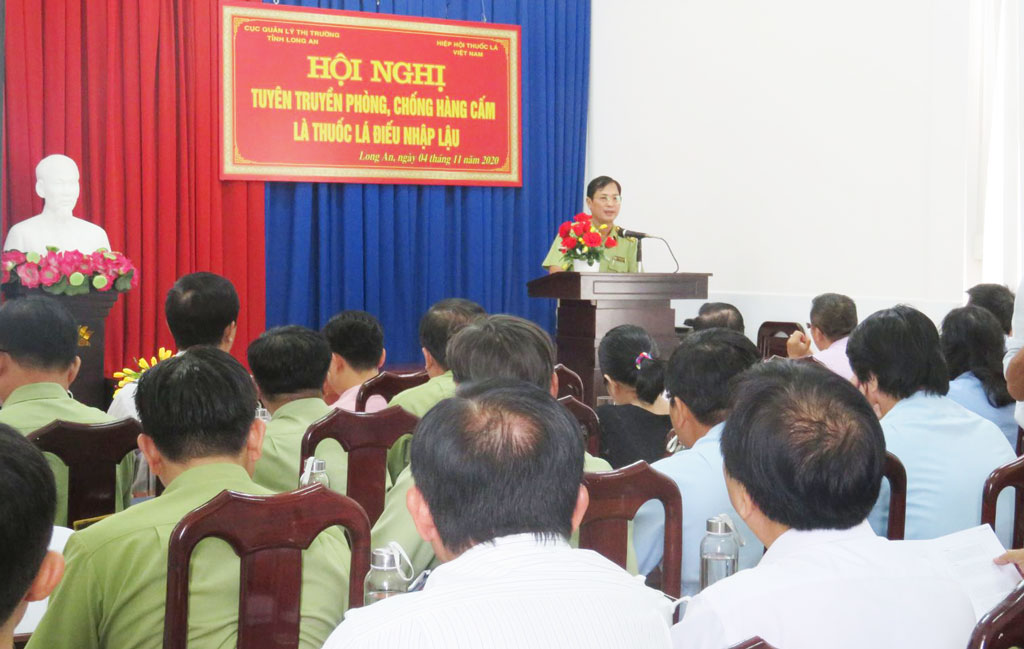 Mr. Pham Duc Chinh emphasized: "For individuals who sell, store and transport smuggled cigarettes with only 1 pack or more, they will be sanctioned by the competent forces from 3 million VND to 100 million VND, even some can be prosecuted for criminal liability if there is recidivism".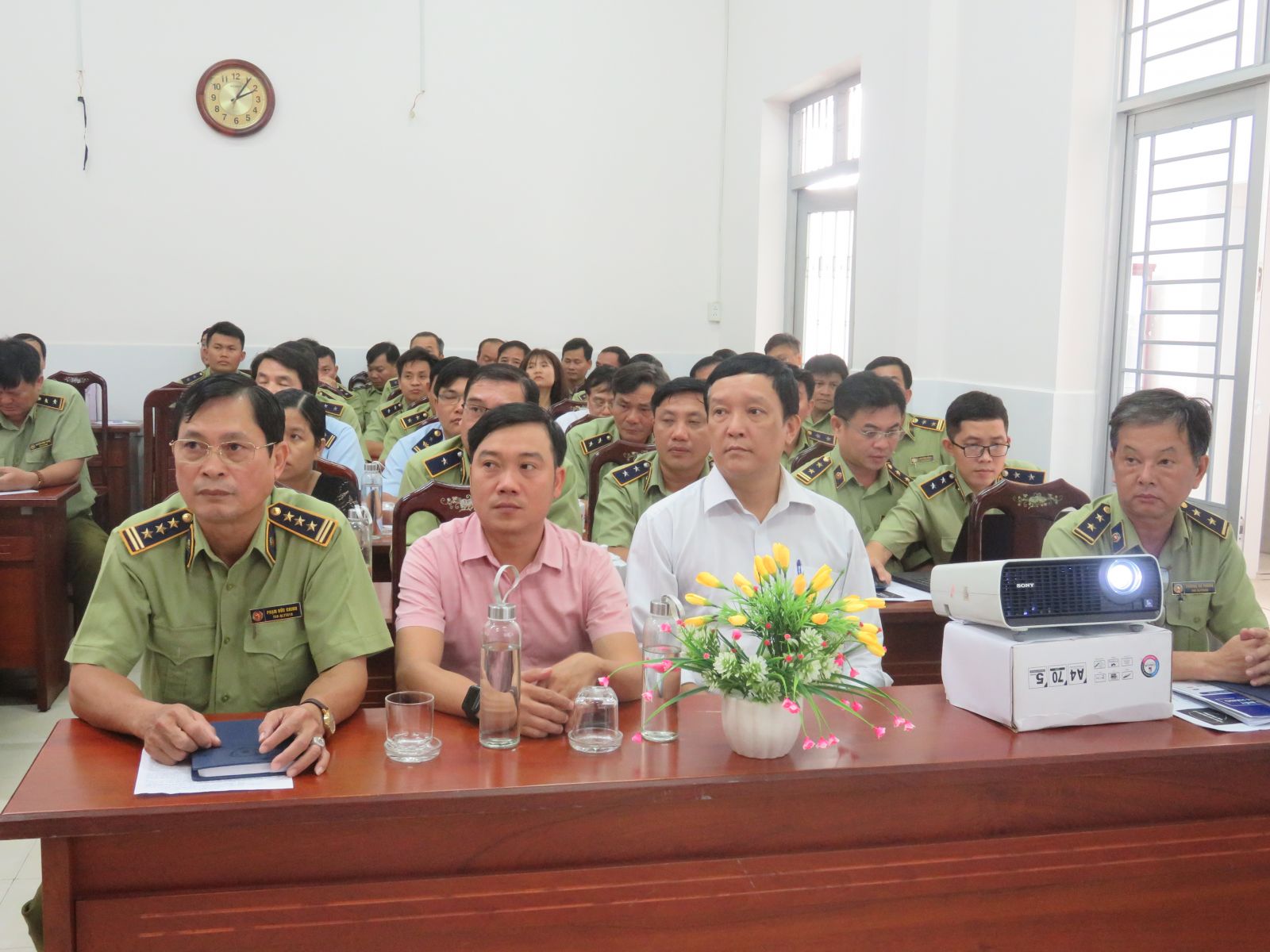 Delegates attend the propaganda conference
Decree 98/2020/ND-CP dated August 26, 2020 by the Government stipulating the sanction of administrative violations in commercial activities, production and trading of counterfeit goods, banned goods and protection of consumers' interests. The Decree consists of 4 chapters and 91 articles, and takes effect from October 15, 2020. In this Decree, all forms of sanctions against violations of trading and storing smuggled cigarettes are all increased.
According to the Provincial Steering Committee 389, Long An has a long border with many shortcuts, trails and open paths, so the control of people and vehicles crossing the border is sometimes lacking. Some subjects took advantage of the night, sneakily carried goods across the border, then put them on two-wheeled motorbikes and cars to be transported inland to provinces of Binh Duong, Dong Nai, Ba Ria - Vung Tau, Ho Chi Minh City, and so on for consumption. In 10 months, the provincial authorities arrested over 1.8 million packages. Typically, in the third quarter, Long An market surveillance force discovered 79 cases of transporting and trading smuggled cigarettes, temporarily seizing 23,912 packages of foreign cigarettes.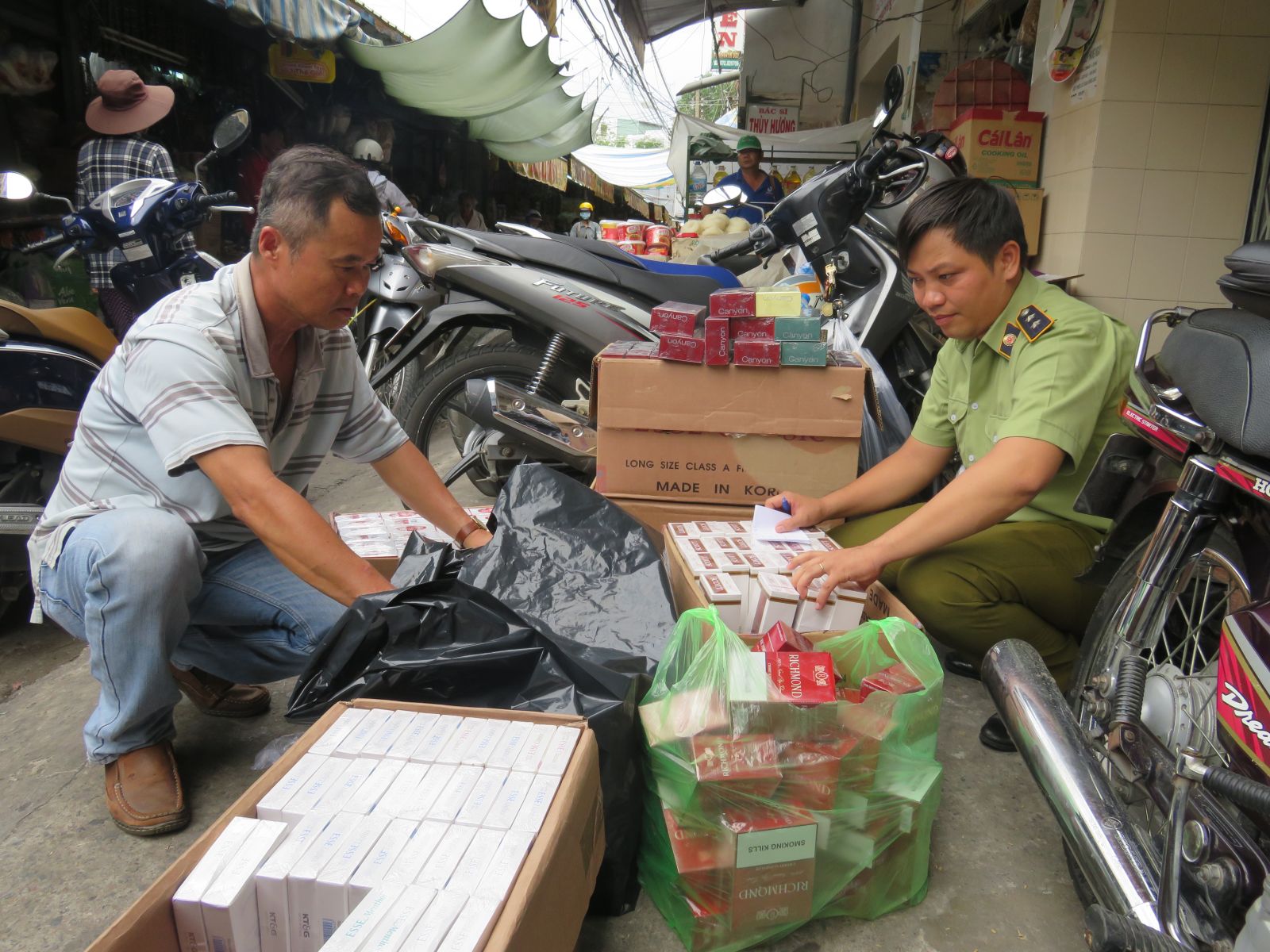 The Long An Market Surveillance Force counts and confiscates cigarettes smuggled and sold in the wholesale market
Leaders of the Steering Committee 389 of Long An province said that domestic consumption demand will increase in the coming time, so cigarette smuggling will continue to develop complicatedly. To control the market well, the Steering Committee 389 Long An will advise the Provincial People's Committee to implement the peak phase of combating cigarette smuggling. In particular, the functional forces will base on the newly issued provisions of Decree 98 to strictly punish those who trade even one package, in order to effectively prevent tobacco smuggling in new situation.
Sharing the same points of view, General Secretary of the Vietnam Tobacco Association - Nguyen Triet proposed functional forces, especially the market management force, to strengthen domestic market management, regularly check cigarette wholesale and retail shops. illegally importing in order to promptly detect and handle violating organizations and individuals. At the same time, it checks, resolutely and thoroughly deals with shops selling illegal cigarettes; to step up propagation, dissemination and advocacy to deter and prevent anyone who are easily dragged into the illegal transportation and storage of smuggled cigarettes. Then, violators will change their perceptions and behaviors, there will be more positive effects in preventing and controlling smuggled cigarettes, reducing the losses of state budget collection and ensuring security and social order in the long term.
It was also a joint commitment at the conference of representatives of the Public security, Border Guard and the authorities of Long An province to strengthen the prevention and control of smuggled cigarettes in the spirit of Decree 98. Director of Professional Department - General Department of Information Management - Than Duc Cong expected: "Decree 98 came into effect from October 15 with higher sanctions than the old decree will create deterrence for smugglers. However, it is necessary to have the participation of many branches such as customs, border guards, police, and so on to control smuggled cigarettes effectively, the market surveillance force will perform this task in the most drastic way to achieve the goal of minimizing the amount of smuggled cigarettes and being consumed in the domestic market"./.
By Mai Huong – Translated by Duc Tam
Source: https://baolongan.vn/long-an-quyet-liet-xu-ly-thuoc-la-lau-bay-ban-tren-thi-truong-a105054.html