Mekong Delta to increase forest cover
The Mekong Delta region is growing more forests to protect the environment from climate change and mitigate the impacts of natural disasters.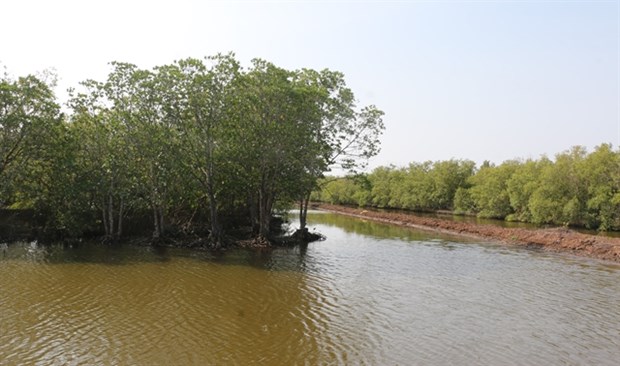 Mangrove forests in the Mekong Delta province of Bac Lieu where aquatic species are bred to bring stable incomes to households protecting them. (Photo: VNA)

Nguyen Van Ut, Chairman of the People's Committee of Long An province, said his province plans to grow 650ha new forests this year, including 150ha of special use and protective forests.

The special-use forests in particular help protect bio-diversity and conserve genetic resources and the environment, he said.

Forests also enable economic development and help create jobs and improve incomes, he said.

To achieve the afforestation target this year, the People's Committee has instructed relevant agencies to strengthen advocacy to enhance public awareness of the benefits of forests.

It has also instructed districts and forest managers to ensure they have plans in place to prevent forest fires.

Long An has more than 21,800ha of forests, including 1,800ha of special use forests and 2,000ha of protective forests with the remaining 18,000ha being commercial forests.

In Tra Vinh, authorities aim to plant 800ha of new forests, mostly mangrove, in 2021-25 to increase the province forest coverage rate to 4.2%.

Tran Van Dung, deputy director of the province's Department of Agriculture and Rural Development, said the province has preferential policies for growing new forests and protecting existing ones.

It subsidises households and organisations who manage at least 0.3ha of forest land their seedling expenses up to 37 million VND (1,600 USD) per hectare, he said.

They are paid 500,000 VND (21 USD) per hectare annually for protecting forests of to up to 15ha in the case of individuals and 30ha in the case of households.

They manage 5,000ha of mangrove forests, also breeding aquatic spices such as shrimp, mud crabs and blood cockles there and earning 60-70 million VND (2,500-3,000 USD) per hectare per year from it.

Ben Tre province plans to grow 171ha of new forests this year to add to its existing 4,470ha of mostly mangrove.

The mangrove forests are not large but play an important role in coping with climate change and provide livelihoods to locals, according the provincial Department of Agriculture and Rural Development.

But the mangroves are affected from coastal erosion and other factors, and so the province pays attention to afforestation, it said.

Last year, 140ha were planted.

Ca Mau province, home to the largest mangrove forests in the country, planted 300ha last year.

It has 94,000ha of forests, mostly mangrove.

Tran Van Thuc, deputy director of its Department of Agriculture and Rural Development, said authorities are allocating more forests to households, individuals and organisations to protect and exploit their resources.

Authorities in the Mekong Delta, home to Can Tho City and 12 provinces, also plan to grow more new trees in residential and other areas this year.

Can Tho plans to plant 1.4 million new trees along roads, rivers and canals and in parks, gardens, schools, industrial parks, and other areas.

Long An aims to plant nearly 1.6 million trees in residential and other areas./.
VNA