Moc Hoa: Over 19,000 hectares of summer-autumn rice harvested
According to the Division of Agriculture and Rural Development (DARD) of Moc Hoa district, Long An province, the whole district currently harvests 19,174 hectares of Summer-Autumn (SA) rice, the rice yield is estimated at 60-65 quintals per hectare. However, the harvest and consumption of rice faced many difficulties due to epidemic and labor shortage.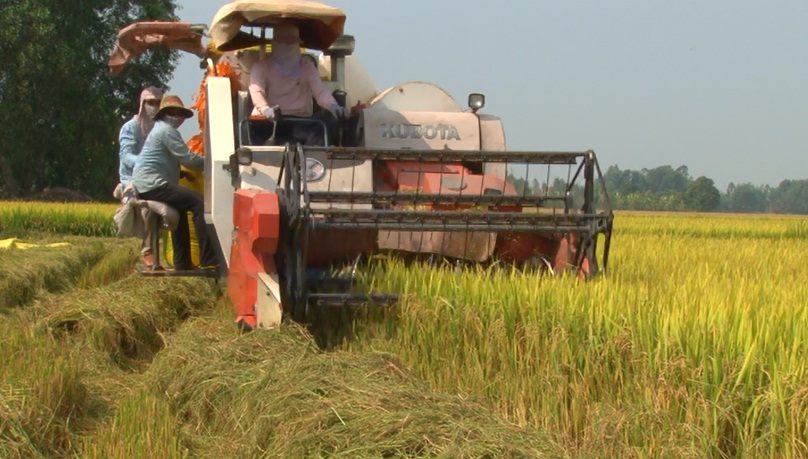 Farmers harvest rice
From the beginning of the season, the sowing area of SA rice in Moc Hoa district reached 21,679 hectares. As of the end of August 2021, the district has harvested 19,174 hectares, of which 2,505 hectares is in the ripening stage and needs to be harvested soon. Binh Hoa Tay commune harvests 3,416 out of 3,600 hectares, Binh Thanh commune harvests 2,454 out of 4,179 hectares, Binh Hoa Trung commune harvests 2,792 out of 2,939 hectares, Binh Hoa Dong commune harvests 2,600 out of 2,769 hectares and Binh Phong Thanh town commune harvests 2,200 out of 2,480 hectares, especially Tan Thanh commune harvests 2,618 hectares and Tan Lap commune harvests 3,094 hectares completely. Farmers have sowed the Autumn-Winter rice crop with an estimated area of 1,000 hectares.
The DARD of Moc Hoa district informed: "Because SA rice harvest is in the Covid-19 outbreak, it is difficult for farmers to consume commercial rice. Many traders stop buying or buy very small quantities because the milling factories only receive about 10-15 tons per day".
Head of Hamlet 7 of Tan Lap Commune - Doan Van Von informed: "Farmers faces many difficulties in consuming rice due to the lack of workers in the milling factories, and due to social distancing, the productivity at the mills also decreases. On the other hand, the freight charges increased so that traders decreased to purchase rice compared to before. Some traders still delay in purchasing, prolonging the harvest time to let the rice ripen in the field, aiming to force the farmers with low prices".
According to the epidemic prevention and control regulations, the staff of porters must have a negative test result for Covid-19 to be able to move, this also affects the progress of rice harvest due to the lack of workers. Harvesting vehicles have to go through many quarantine checkpoints to reach the rice fields, leading to high prices when harvesting. Many traders are slow to pay money after buying rice, many farmers worry because they do not have money to reinvest for the next crop.
Currently, the two communes of Tan Thanh and Tan Lap have completed the SA rice harvest and farmers continue to sow the autumn-winter crop, with an estimated area of 1,000 hectares. The DARD of Moc Hoa district advised farmers to apply technical measures and prevent floods to ensure high yield in the autumn-winter crop./.
By M.Dang – Translated by Duc Tam
Source: https://baolongan.vn/moc-hoa-thu-hoach-tren-19-000ha-lua-he-thu-a120743.html