Summer-autumn rice focused on taking care of
After the successful winter-spring (WS) rice crop in terms of yield and selling price, at this time, farmers in Long An province are urgently sowing the summer-autumn (SA) rice crop with high expectations.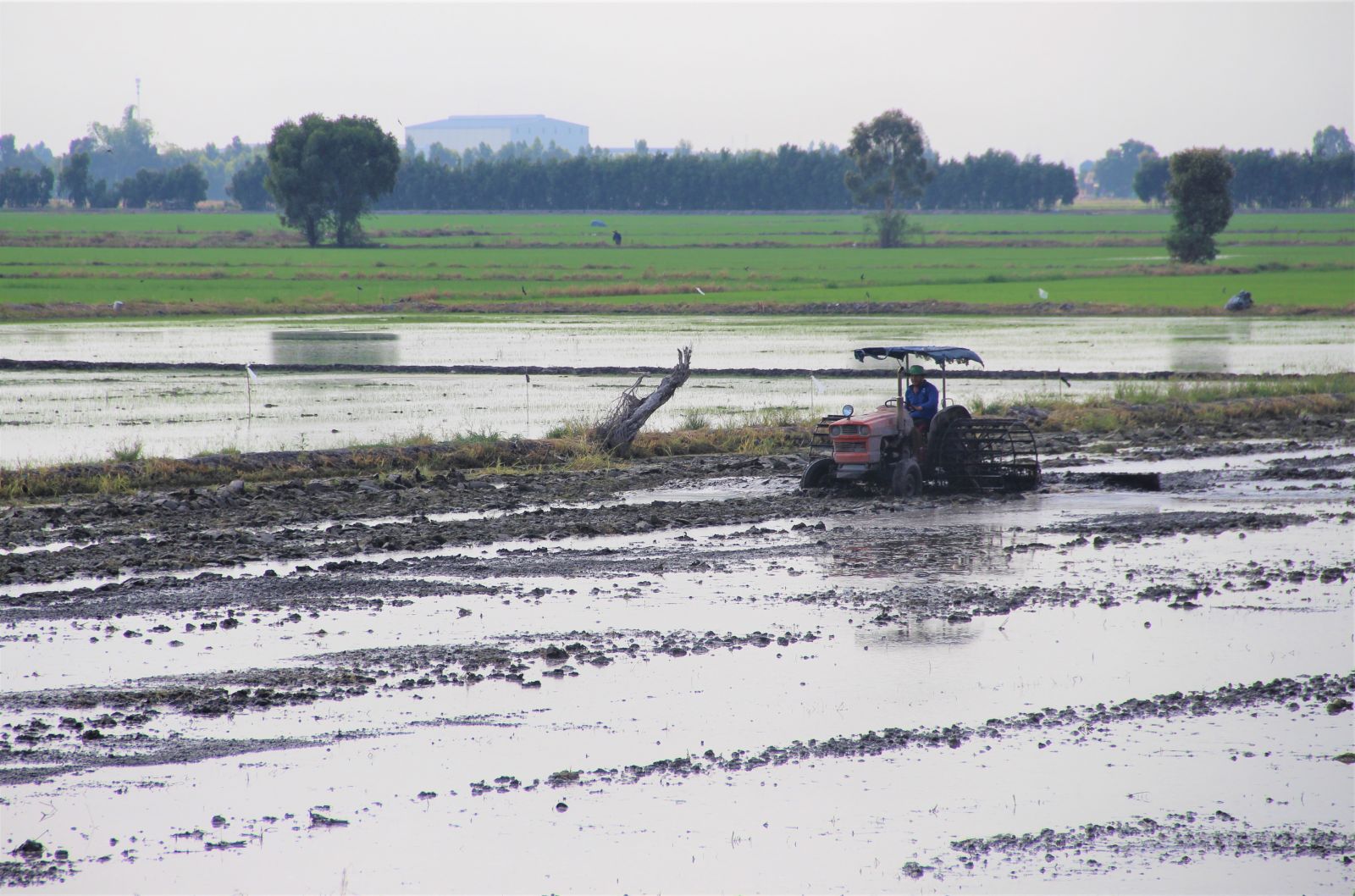 Farmers clean their fields to sow the SA rice crop 2021
Hurrying up sowing
According to the plan of the Provincial Agriculture sector, SA rice crop 2021, farmers in the province will sow 303,511 hectares. Up to now, the province has sown 194,584 hectares, reaching 64.1 of the plan, equaling 138.2 percent over the same period in 2020; in which, harvest 31,176 hectares, dry yield is estimated at 63.6 quintals per hectare, yield 198,312 tons.
It is expected that the whole province will finish sowing by the end of June. However, due to favorable weather and water resources, farmers have enlisted to sow seeds earlier than the seasonal schedule.
In Tan Tru district, up to this point, farmers have sown more than 3,050 hectares, concentrated in such communes as Lac Tan, Binh Lang, Que My Thanh, and so on with rice varieties of Dai Thong 8, Nang Hoa, RVT, etc. These are the preferred rice varieties by farmers because of their short growing time, hard plant, high yield, quality of rice seeds that are qualified for export, and resistance to some important pests and diseases such as brown planthopper, rice blast and leaf blight.
Head of the Division of Agriculture and Rural Development (ARD) of Tan Tru district - Dang Van Tay Lo informed that Tan Tru farmers harvested rice with high yield and sold it at a good price in the last winter season. Therefore, farmers have actively prepared for SA rice crop right after harvesting WS rice crop. Along with that, the first seasonal rains came early, the salinity in the Vam Co Dong and Vam Co Tay rivers also decreased rapidly, so farmers actively sowed the SA rice crop early according to the sowing schedule of the 1st and 2nd batches of the Provincial Agriculture sector. "The District Agriculture sector recommends that farmers focus on sowing seeds at the same time to avoid planthoppers, prevent pests and diseases. Farmers also do not spray pesticides when the rice plants are under 40 days old to protect the beneficial natural enemies of the crop, apply the "1 must, 5 decreases" method, apply a balanced amount of N-P-K fertilizer to ensure yield and quality of rice" - Mr. Lo added.
Spreading fertilizer for 0.8 hectare of rice that has been sown for nearly half a month, Mr. Tran Van Su, living in hamlet 5, Lac Tan commune, Tan Tru district, shared: "The last winter crop, farmers were very excited because of the rice crop. yield and selling price are quite high (from 6,000-7,000 VND per kilo, depending on variety). Therefore, when the WS rice harvest is completed, we clean the fields and sow the SA rice crop again after the first rains of the season. It is compared to the same period that this year's SA rice is about half a month earlier".
Mr. Bui Huu Ly, living in Binh Dong hamlet, Binh Trinh Dong commune, Tan Tru district, confided: "The successful WS season is a great motivation for farmers to take advantage of early sowing of SA rice. At the time of sowing, I was also worried about pest attack, especially brown planthopper migrating from WS rice being harvested to SA rice in the seedling stage. However, now the rice field here is nearly 10 days old, but when visiting the field, no pests have been detected. We are actively taking care of and managing pests to protect healthy rice for a successful crop".
In Can Duoc district, up to now, farmers have sown over 7,900 hectares of SA rice 2021 and the rice is in the seedling stage. According to statistics of the Division of Agriculture and Rural Development of Can Duoc district, this year's HT rice crop, Can Duoc farmers sowned rice varieties such as OM 4900, NH9, RVT. At the same time, the district has selected Nam Thom rice varieties in Long Huu Dong commune. Thanks to proactive sowing measures at the beginning of the crop, up to now, rice plants have grown well, with relatively few pests and diseases, farmers actively take care to have a bountiful crop.
Head of the Division of ARD of Can Duoc district - Nguyen Hong Chuong said: "In order to prevent leaf roller diseases, leaf blast, leaf blight and brown planthopper from appearing and causing harm, the district's Agriculture sector recommends that people regularly regularly visit the fields to take timely preventive measures to prevent spreading on a large scale. At the same time, people should also use fertilizers reasonably, at the right dose and apply scientific and technical measures to ensure good growth of rice, high yield and quality.
For a bountiful harvest
According to the functional sector, at present, farmers need a good plan to manage pests and planthoppers in the field. On the other hand, in rice areas under 40 days old, farmers should limit spraying pesticides and brown planthoppers to conserve natural enemies and avoid pest outbreaks at a later stage of rice plants. For localities located in drought and saline areas, farmers need to apply lime powder from 500-1,000 kilo per hectare at the beginning of the crop and increase the use of fertilizers containing calcium and silic content to help rice plants increase their strength, good resistance to pests, diseases, drought, salinity and limit falls when harvesting.
Deputy Director of the Department of ARD - Nguyen Chi Thien said that, in addition to well implementing technical solutions at the beginning of the crop, the provincial Agriculture sector also actively recommends people to use certified rice varieties for sowing, in which strive to achieve more than 85 pecent as the result in the last winter rice crop. About the structure of rice varieties, people in the province currently focus on sowing the recommended varieties such as OM 5451, OM OM 18, ST 24, RVT, Dai Thom 8, etc.
"In order to produce the SA rice crop 2021 with the highest efficiency, localities recommend that people visit the fields regularly to prevent pests and diseases that damage rice, and fertilize rice to be balanced in accordance with the technical process "3 decreases, 3 increases", "1 must, 5 decreases", "1 must, 6 decreases" and apply production technology to reduce costs, protect the environment, and increase profits. In addition, it is necessary to regularly check the water quality situation on the river routes to be proactive in production" - Mr. Thien added./.
By Bui Tung – Translated by Duc Tam
Source: https://baolongan.vn/tap-trung-cham-soc-lua-he-thu-a115178.html