Nestlé MILO holds first Walking Day in Can Tho
Nestlé MILO, in collaboration with the Department of Education and Training of Can Tho city, held the first Walking Day in the city on November 22.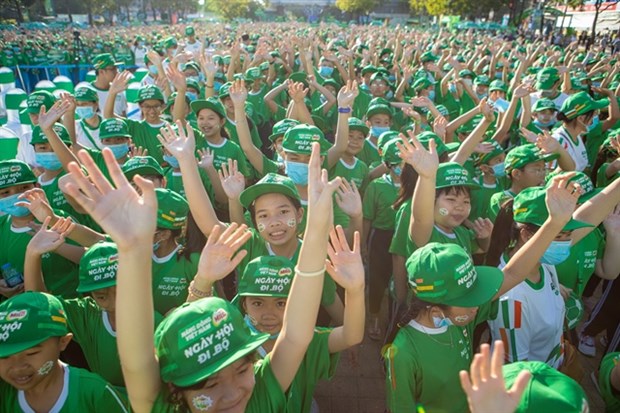 Children take part in the Walking Day event in Can Tho on November 22. (Photo courtesy of Nestlé)
Under the theme 'The first step of a dynamic journey', the programme aims to encourage children to follow an active lifestyle through sports practices.
At the event, Nestlé MILO presented 20 sets of basketball poles worth a total of 400 million VND to schools in Can Tho city to facilitate students' participation in sports and maintain their active lifestyles.
Walking Day is one of the typical annual activities under the "Active Vietnam" (Project 641) launched by Nestlé MILO, the Ministry of Education and Training, the General Department of Physical Training and Sports, which aims to improve the health and stature of Vietnamese.
Nguyen Phuc Tang, Deputy Director of the Can Tho Department of Education and Training, said: "Nestlé MILO's Active Vietnam, which expanded to the Mekong Delta in 2019, has created favourable conditions and encouraged children and people in the region to practise sports and form an active lifestyle.
"I hope the Walking Day in particular and Active Vietnam in general will continue to expand to many other provinces across the country."
Ali Abbas, Director of MILO and Dairy Products, Nestlé Vietnam, said: "In the special context of 2020, we are delighted that Walking Day can take place."
This is one of the enduring efforts of Nestlé MILO to continue promoting the Active Vietnam programme in the Mekong Delta region and across Vietnam to realise the mission: nurturing and developing a dynamic and healthy Vietnamese generation through sports practice.
Since it was first held in 2014, the programme has been organised in many localities across the country, including Bac Giang, Hanoi, HCM City and Can Tho, and has inspired more than 80,000 children across the country to participate in sports./.
VNA