No "prohibited zone" in fighting crime, smuggling, trade fraud: deputy PM
Standing deputy Prime Minister Truong Hoa Binh prompted ministries, agencies and local authorities to synchronously and drastically implement solutions to fight crime, smuggling and trade fraud without "prohibited zone".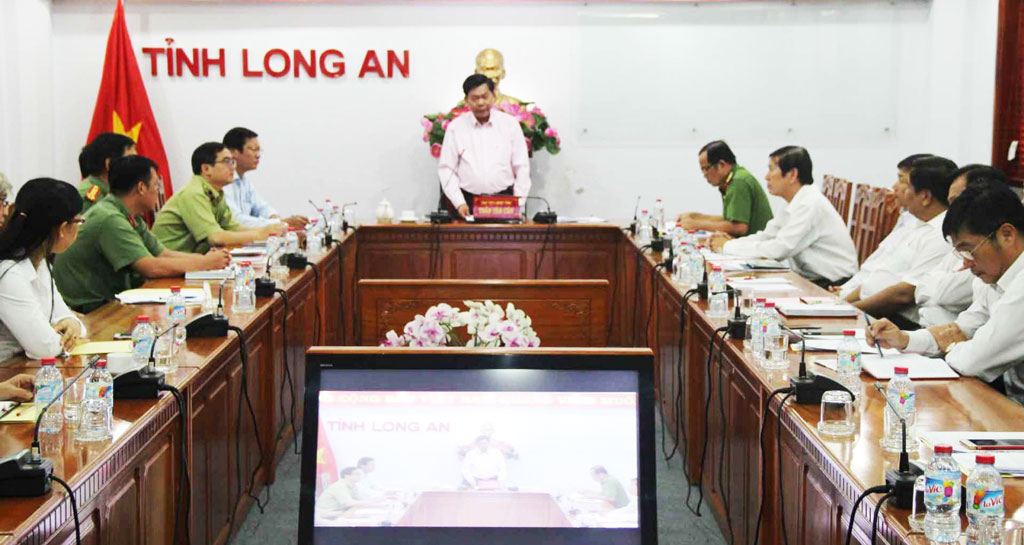 Chairman of Long An province People's Committee Tran Van Can states at the online conference
He was speaking while presiding over an online conference to review 2017 operations and implement missions in 2018 of Government Steering Board 138 and National Steering Board 389.
The deputy PM urged them to intensify inspection to spot, arrest and strictly handle smugglers and trade fraudsters; launch extraordinary supervisions over the operation efficiency of members of the steering boards and authorized agencies in fighting crime, smuggling, counterfeit and trade fraud.
They should strictly handle violations and spell out responsibilities of leaders and cadres with behaviors of shielding, colluding with, joining hands with and missing crimes and inefficiently implementing solutions to combat crime, smuggling and trade fraud in localities.
In addition, they should commend good people and good deeds, strongly criticize negative expressions and behaviors and build plans to prevent and fight crimes; inspect, handle smuggling as well as production and trading of counterfeit and low quality goods before, during and after the Tet holiday.
Last year, authorized agencies investigated 42,577 criminal cases, handled 83,475 offenders and razed 2,450 gangs; uncovered 17,159 economic cases, arrested 21,471 offenders and unveiled 32,950 drug offenders.
They discovered nearly 226,000 violations in budget collection and payment and collected the tax arrears of VND23.1 trillion, up 7 percent over the previous year.
Ministries, local and central agencies paid attention to combating trade fraud and counterfeits, coordinating with Steering Board 389 to spot and strictly handle many violations in a timely manner.
Stating at the conference, chairman of Long An province People's Committee Tran Van Can suggested Steering Board 389 to issue a document to guide the board's branches in localities to tackle trading, transport and keeping of illicit cigarette with the volume of from 500 packets and more.
He proposed to continue the policy permitting localities to use part of venues from administrative penalties in fighting smuggling, trade fraud and counterfeits according to regulations by the Ministry of Finance as before so that authorized agencies could take the initiative in supplementing funds to buy equipment and means to conduct their missions.
By Hung Anh – Translated by Kim Chung