One day going backpacking tourism in Long An
Long An - a peaceful and poetic land, has many attractive destinations, which attracts near-and-far tourists, especially the "backpacking tourists".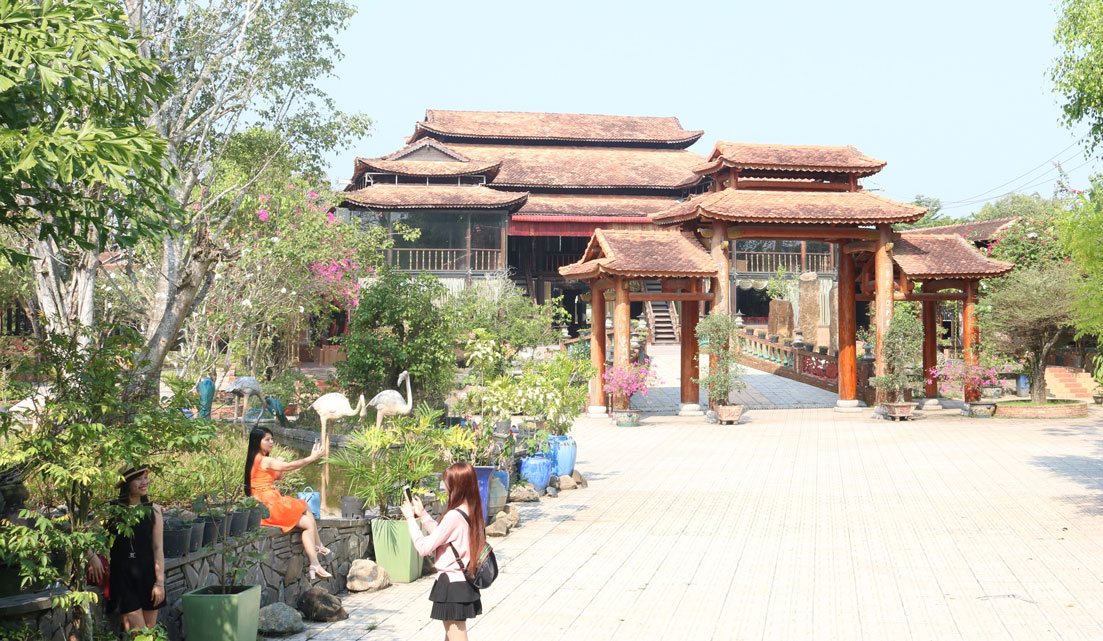 Phuoc Loc Tho ancient village displays 22 ancient houses nationwide
1. Our group gathers at a familiar coffee shop near the intersection of National Highway 1 (NH1) and Provincial Road 10 (PR10) (in Ho Chi Minh city) at 7 a.m to begin the journey to explore Long An. Following the PR10 to Duc Hoa district, one of the districts located in the key area for the provincial industrial development in the past years, the local socio-economic development has grown rapidly.
Our first destination is Phuoc Loc Tho Ancient Village (in Huu Thanh commune, Duc Hoa district). This place gathers many ancient houses all over the country, there are houses over 100 years old, experiencing many events from time to time, but still stable today. The whole area consists of 5 hectares, including 22 ancient houses and thousands of antiquities to help visitors better understand the specific culture of each region and area as well as the unique architectural art of the houses here.
2. Leaving Phuoc Loc Tho Ancient Village, following Provincial Road 830 (key project according to the Resolution of the 10th Provincial Party Congress (term 2015-2020)), we went to Happyland tourism area (Happyland) (in Ben Luc District).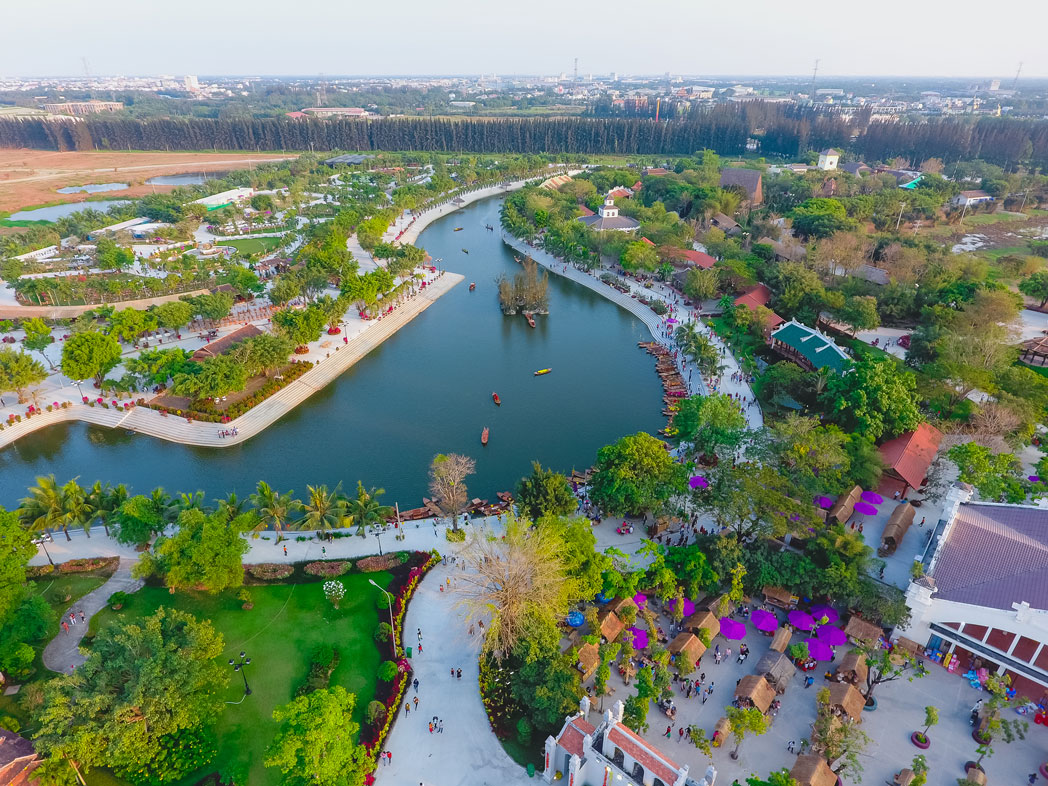 Happyland is an attractive destination for tourists
This tourism area has just been put into operation before the Lunar New Year 2019 – the Year of Pig to serve the needs of people's entertainment in the province as well as other provinces and cities in the country. Happyland aims at the traditional cultural values and spaces of the nation, including Vietnam cultural area, folk culture, arts, cuisine, traditional craft villages of the three most typical regions of Vietnam and Happyland floating market cluster is mostly characterized by the river region of the Mekong Delta.
On this April 30 occasion, the tourism area will organize the program "Three-region cuisine" with the theme "Home flavor" to recreate the image of rural countryside market in Vietnam. Besides, the tourism area also organizes cultural exchanges, singing together, performing artisan's cake-making and cake-making contest for visitors.
On this occasion, Happyland also put into operation a sunflower field - an impressive and unique highlight. In the field of flowers, there are western miniatures and huge conical hats connected from thousands of colorful conical hats, etc. promising to be an attractive destination for near-and-far tourists.
3. Following to NH1 towards the Western provinces of Vietnam, our group came to Tan An City, we stopped to visit "With loyalty and valiance, the whole people participate in fighting enemy" Long An Statue Park to understand more about the spirit of war fighting, ready to sacrifice for the independence of the army and people of Long An during the war years. We were explained about the picture boxes of the life and fight of Long An army and people.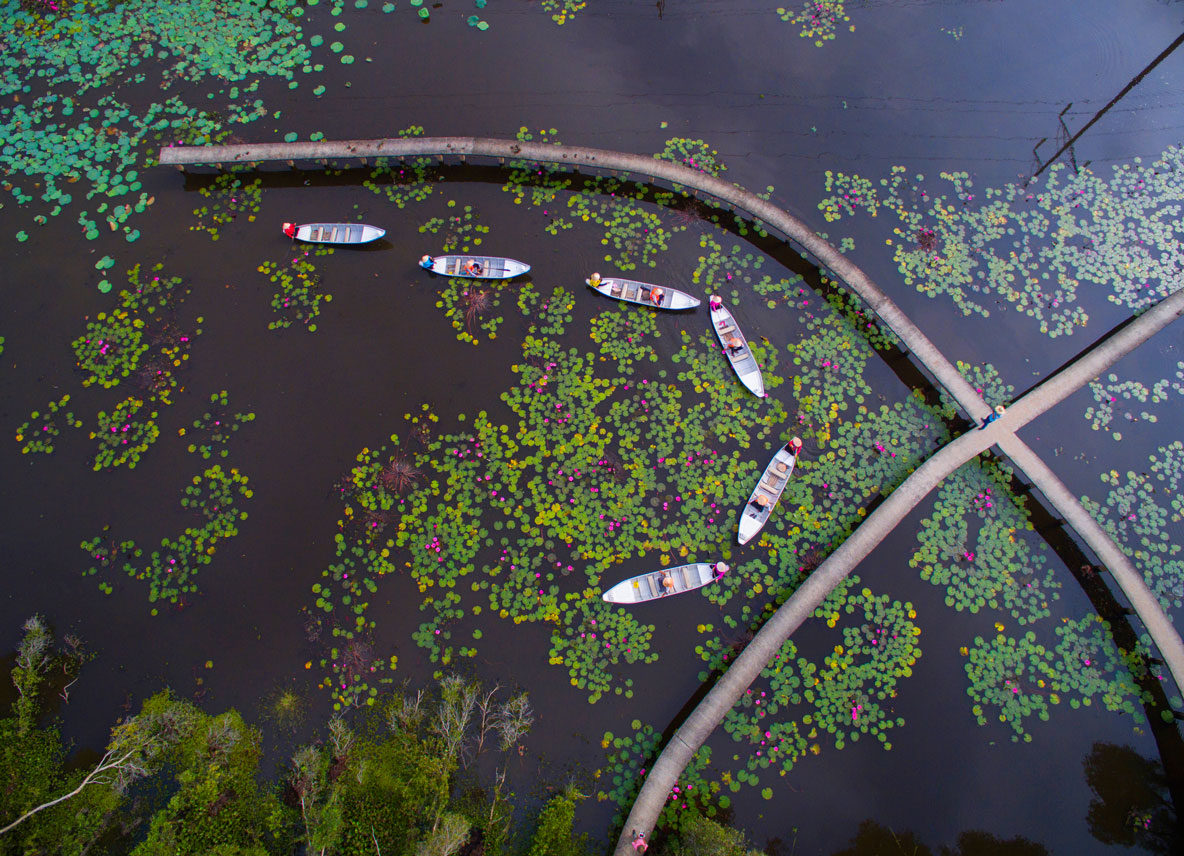 Coming to Tan Lap Floating Village, visitors themselves can enjoy nature
Continuing to move along National Highway 62 about 60km to Dong Thap Muoi area of the province, we stopped to visit Tan Lap Floating Village ecotourism area (in Tan Lap commune, Moc Hoa district) - the wet ecosystem feature. Here, you yourself can immerse in nature, listen to birdsong to enjoy peaceful relaxation moments.
Sitting on a boat going into the melaleuca forest, we were briefly introduced about the features and how to explore this tourism area by the tour guide. When inside, we tried to feel like sitting on a dinghy, rowing our hands to visit the typical melaleuca forest; then walk to admire the natural beauty, diverse flora and fauna in the area and enjoy some typical dishes of Dong Thap Muoi region such as grilled snakehead fish, mice, and so on.
Finally, our delegation came to Kien Tuong township, visited and did shopping at Binh Hiep International Border Gate./.
By Duc Minh – Translated by Duc Tam
Source: http://baolongan.vn/mot-ngay-di-phuot-o-long-an-a74421.html