Party Central Committee convenes 11th plenum
The 11th plenum of the Party Central Committee, 12th tenure, opened in Hanoi on October 7 under the chair of Party General Secretary and President Nguyen Phu Trong.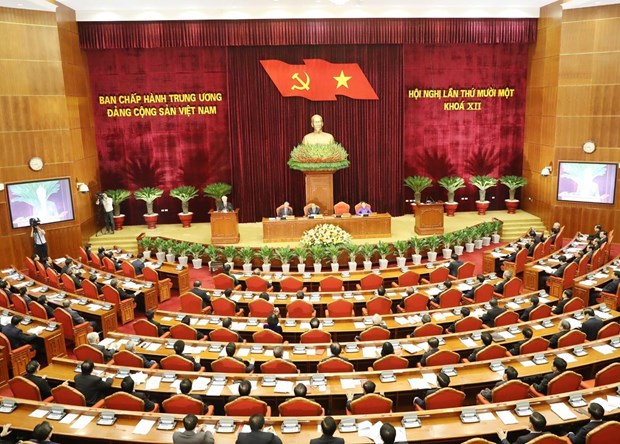 An overview of the meeting (Photo: VNA)
Under its working program, the conference will last until October 13. The Party Central Committee will discuss draft documents to be submitted to the 13th National Party Congress, including the Political Report and the report on the 10-year implementation of the Platform on national construction in the period of transition to socialism (revised and supplemented in 2011) or Platform 2011 in short.
The draft report on 10-year implementation of the socio-economic strategy for 2011-2020 and building a strategy for 2021-2030; and another reviewing five-year implementation of Party building work and enforcement of the Party statutes of the 12th term will also be tabled for feedback.
Another important content of the plenum is the socio-economic and budgetary performance in 2019-2020.
In opening the plenum, Party General Secretary Nguyen Phu Trong noted that 2020 is the last year of the 12th tenure when Party organizations at all levels will hold congresses in preparation for the 13th National Congress of the Party. Therefore, the 11th session of the 12th Party Central Committee is important in that it will provide leadership and instruction for the implementation of tasks in 2019-2020 and the organization of all-level Party congresses.
The Party leader required the Party Central Committee members and other participants at the 11th plenum to discuss the draft reports thoroughly and pool their ideas to perfect the documents and make decisions on important issues on the agenda./.
VNA