Public security forces urged to uphold core role in national security maintenance
The public security sector must carry forward its core role in maintaining national security, social order and safety in any situation, said Party General Secretary and President, Nguyen Phu Trong.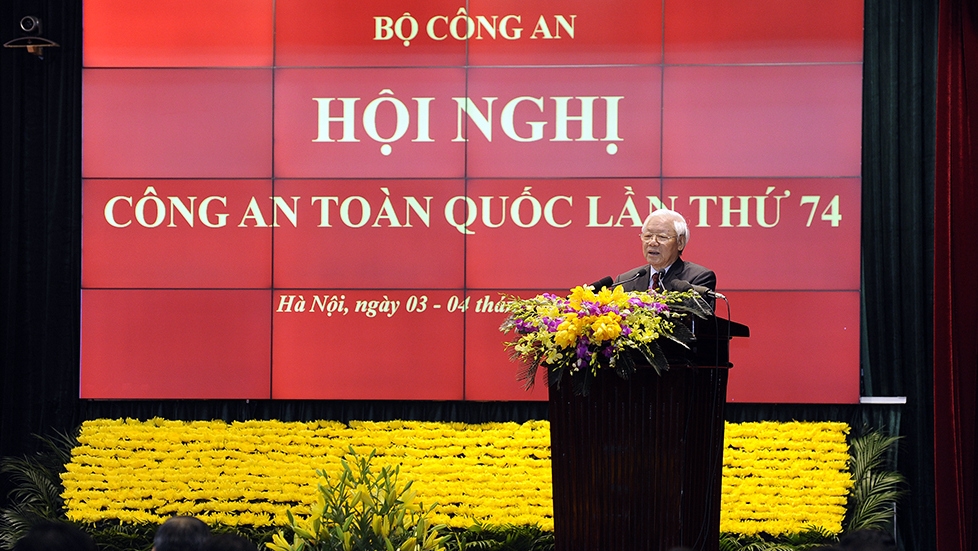 Party General Secretary and President, Nguyen Phu Trong speaking at the conference. (Photo: Duy Linh/ Nhan Dan)
This is one of the key tasks that the leader assigned to the sector while addressing the 74th national public security conference in Hanoi on January 3.
Other tasks include effectively implementing the targets set in the resolution adopted at the 12th National Party Congress and the sixth congress of the Central Public Security Party Organisation.
The public security forces should identify risks and threats to national interests, political security and social order and safety, and timely provide consultations for the Party and the State in major strategic policies, guidelines and solutions to deal with issues regarding security and safety, he said.
The leader also urged the sector to renovate its operation and take a proactive approach in preventing and countering sabotage schemes and the activities of hostile forces and terrorists. The sector must be prepared to effectively combat non-traditional security threats as well as complex emerging issues related to security and order.
He required the sector to coordinate with the competent agencies in the fight against "self-evolution" and "self-transformation," and step up international cooperation.
The Party and State leader applauded the great efforts and contributions of the sector to national achievements and honoured the officers and soldiers who have surmounted difficulties to outstandingly complete their assigned tasks.
In 2018 and during the 2016-2018 period, the public security forces have effectively performed their role in protecting national security, social order and safety, ensuring a peaceful life for the people and making Vietnam a safe destination for international friends, he said.
The forces have played an increasing role in addressing international crime-related issues and participated more deeply in regional and global security cooperation mechanisms, thereby contributing to realising the external policies of the Party and the State and building a peaceful and stable environment in the region and the world at large, the leader stressed.
However, he also pointed out a number of shortcomings in the sector, including the weak capacity of police in certain localities in keeping track of situations and handling emerging problems, in addition to poor performance in combating economic crimes and corruption in several localities, limitations in firefighting and rescue, and negative phenomena in personnel management.
Speaking at the conference, Minister of Public Security To Lam asked the participants to pool their ideas to analyse the favourable conditions and challenges in carrying out the task of protecting national security, social order and safety. He said the conference should work out directions and solutions to fulfill targets and tasks set for 2019 and the years to come./.
NDO