Shrimp exports up 5.7 percent in H1 despite COVID-19
Shrimp exports increased by 5.7 percent year-on-year in January-June to 1.5 billion USD despite the impact of COVID-19, according to the Vietnam Association of Seafood Exporters and Producers (VASEP).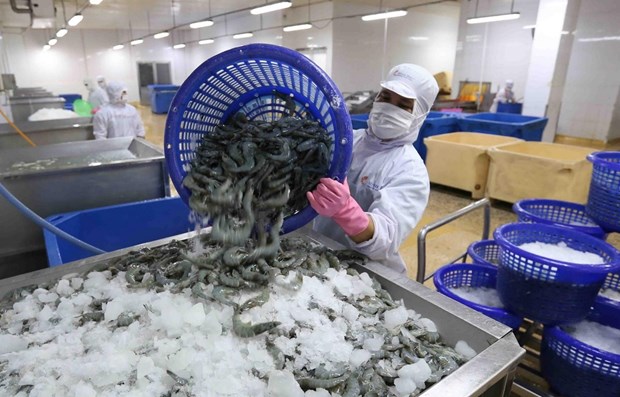 Processing shrimp for exports (Photo: VNA)
In June alone, Vietnam raked in 349.9 million USD from selling the product abroad, up 19.2 percent against the same month last year. This is the best growth since March 2020 as the pandemic is still raging worldwide.
Positive growth was seen in Vietnam's major markets – the US and China, while shipments to the Republic of Korea, the UK and Canada recorded two-digit growth.
In the US, Vietnamese shrimp enjoyed a competitive advantage since the world's major exporters India and Ecuador are suffering from heavy impact of COVID-19.
Vietnam is the third largest shrimp producer in the world. Shrimp is the biggest hard currency earner in the group of aquaculture products with the annual export turnover of nearly 4 billion USD./.
VNA