Spokesperson informs about citizen protection work, international issues
Spokesperson of the Ministry of Foreign Affairs Le Thi Thu Hang, on November 18, talked about some information related to citizen protection work and other international issues of public concern.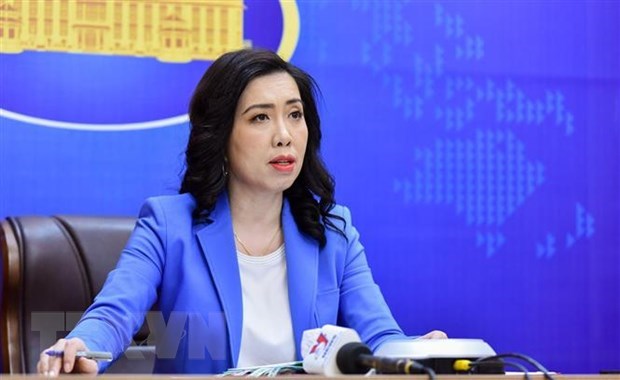 Spokesperson of the Ministry of Foreign Affairs Le Thi Thu Hang (Photo: VNA)
At the ministry's regular press conference taking place virtually on the day, Hang affirmed the achievements that the Communist Party of China (CPC) and Chinese people have made over the past 100 years are enormous and impressive.
She hoped that under the CPC leadership, the Chinese people will continue to obtain greater victories on their path of development, and make positive contributions to peace, stability and properous development in the region and the world.
Commenting on the US-China relations, the diplomat said that Vietnam pays attention to and follows developments of international relations in the region and in the world.
Vietnam wishes that China and the US will maintain cooperation and dialogue, promote their important role, make positive contributions to regional and global peace, security, stability, cooperation and prosperity, and sustain cooperation with and respect ASEAN's centrality in an evolving regional architecture.
Regarding information about Vietnamese workers in Serbia being beaten and assaulted, Hang said: "We have just contacted the Vietnamese Embassy in Romania, concurrently in Serbia, and learned that the embassy had received information from several Serbian press agencies." It is working to verify the information, firstly via contacting the workers in Serbia, labour export companies, and relevant local authorities, she added.
Initial information from the embassy showed that no Vietnamese workers were assaulted or beaten. The Ministry of Foreign Affairs has directed the embassy to continue to grasp the situation and contact local competent agencies to verify the information and take measures to protect the rights and interests of Vietnamese citizens and workers in Serbia, thereby ensuring their safety./.
VNA