Tan Hung proposes to support border planting protective forests
On August 26, Long An Forest Protection Department led by Deputy Director - Trinh Hung Cuong worked with Tan Hung district on the project of planting protective forests on border lines.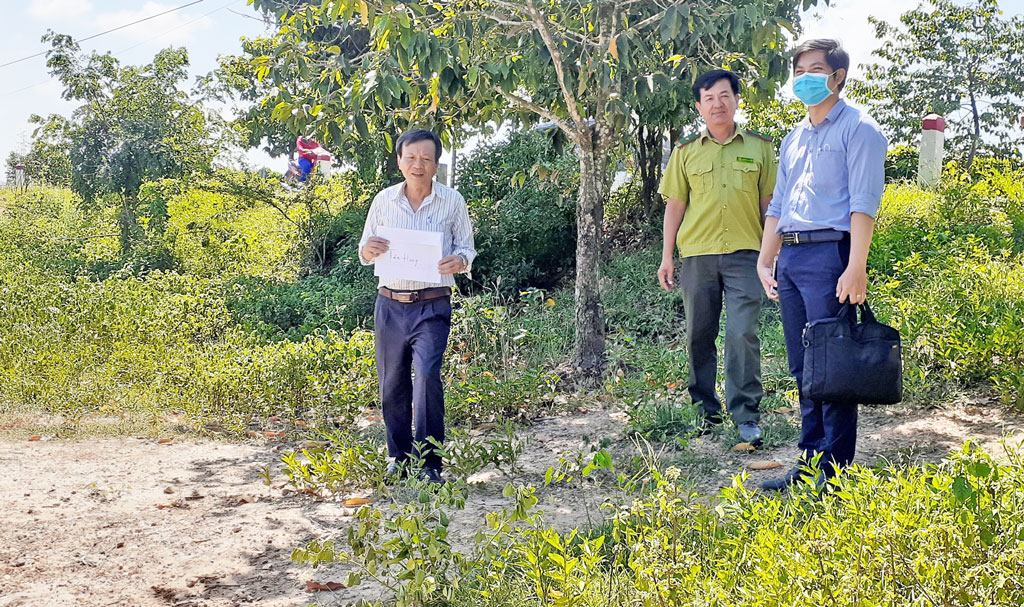 The delegation inspects the reality of the protective forest area at the border line
Vice Chairman of the Tan Hung People's Committee - Le Thanh Yen stated that the district planted three stages with the number of over 10,000 golden oak trees, apitong trees and bamboo trees from Tan Hung - Vinh Hung boundary (in Hung Ha commune) to Tan Hung - Tan Hong boundary, Dong Thap province (Hung Dien commune) with a total area of over 19.2 hectares using the provincial fund, from the end of 2018 to the middle of 2019. However, the survival rate of plants did not meet the requirements due to prolonged hot weather. Currently, the district is requesting the province to support the fund for replanting protection forests in this area.
At the same time, it is proposed to consider and support afforestation in canal 819 along Provincial road 819; Song Trang canal route, Tan Thanh - Lo Gach route; Provincial road 837B from Vinh Chau A to Vinh Buu; Ngang canal route from Vinh Buu to Vinh Dai; underground mines have been exploited in the district; it is also proposed to plant trees on population clusters and routes.
After the meeting, the team surveyed the site of protective forest plantations along the border as well as the locations proposed by the People's Committee of Tan Hung district to grasp the situation.
Deputy Director of Provincial Forest Protection Department - Trinh Hung Cuong noted the suggestions and asked Tan Hung district to specify the locations, areas and regions of afforestation. On that basis, the Forest Protection Department will coordinate with the consultant to develop a specific afforestation project to submit to the Provincial People's Committee for consideration, approval and implementation in each specific stage./.
By Van Sach – Translated by Duc Tam
Source: http://baolongan.vn/huyen-tan-hung-de-xuat-ho-tro-trong-rung-phong-ho-tuyen-bien-gioi-a101209.html