Tanker with 800 tonnes of oil sank in Philippines waters
A Philippine fuel tanker partially sank in the country's waters on February 28, authorities said, as they tried to contain a diesel spill stretching several kilometres.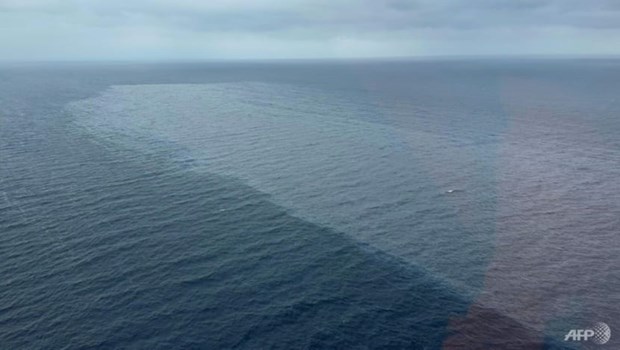 An aerial view of the oil spill in waters off Naujan in the province of Oriental Mindoro. (Photo: AFP/Philippine Coast Guard)
The Princess Empress was carrying 800,000 litres of industrial fuel oil from Bataan province, near the capital Manila, to the central province of Iloilo when its engine overheated, the Philippine Coast Guard said.
An initial investigation showed the vessel drifted towards waters off Balingawan Point on Mindoro island due to rough sea conditions until it became half-submerged.
The coast guard said it was monitoring a spill of diesel fuel, which had been powering the vessel, but had not found in the sea any industrial fuel oil from the ship's cargo.
Another vessel rescued the 20 crew members on board. The coast guard said they were in good physical condition.
The coast guard noted the spill detected near the stricken vessel was 5km long and 500m wide. An oil spill boom would be installed to control the spillage./.
VNA