Thailand declares state of emergency in Bangkok
Thailand's Prime Minister Prayut Chan-o-cha declared a state of emergency in Bangkok effective from 4:00 am on October 15 to control the escalating pro-democracy protest by demonstrators who call themselves Khana Ratsadon.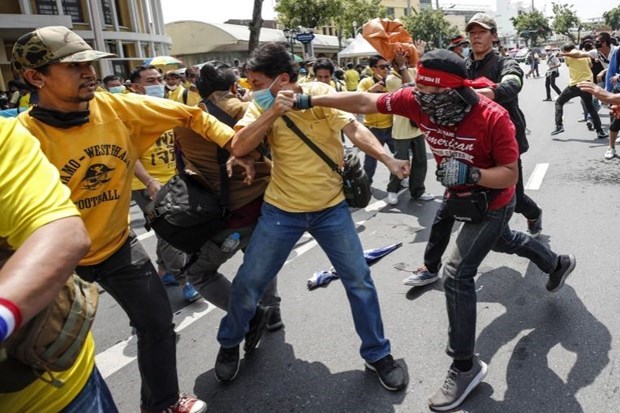 Pro-democracy protesters clash with monarchy supporters during the anti-government protests in Bangkok, Thailand. (Photo: EPA)
Shortly after the emergency decree took affect, hundreds of crowd-control police marched slowly from Phitsanulok Road to the Nang Loeng Intersection near the Government House, where the protestors have camped since October 14, to force them out of the area.
The protesters reportedly threw small objects at the officers, but eventually dispersed from the areas. At 4:55 am, police gained control of the areas in front of the Government House as well as the entire Ratchadamnoen Nok Avenue.
At daybreak, the areas around the Government House were cleared for traffic.
Protests have escalated for three months with rallyists demanding for Prime Minister Prayut Chan-o-cha to resign. They also want a new constitution and reform of the monarchy./.
VNA