Trade recovers strongly since reopening
A year since Vietnam reopened after a global pandemic, the country has seen trade recovering strongly.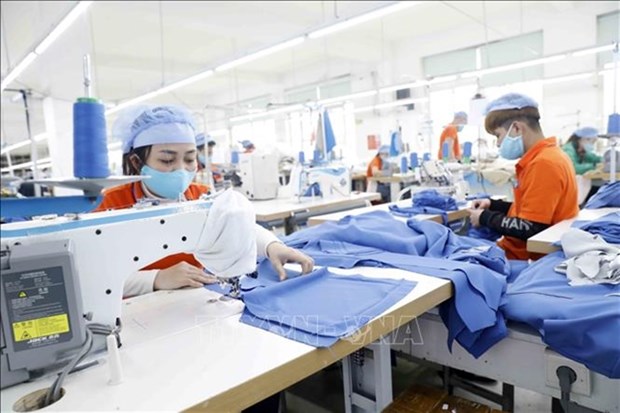 Workers at a textile company in the northern province of Bac Ninh.(Photo: VNA)
The decision, according to economists and policymakers, was a necessity to unshackle trade and industries after a prolonged period of time in which hundreds of factories were forced to close down or reduce production capacity in compliance with strong social distancing rules.
The reopening, which was made possible with a nationwide vaccination programme, has allowed the supply chain to come back, giving a much-needed boost to industries and trade as well as to the country's export sector.
Than Duc Viet, General Director of May 10, one of the country's largest textile companies, said strong social distancing measures during the pandemic significantly disrupted the company's operation and threatened its ability to maintain production at times.
He said the worst part of it was not knowing when his factory's doors could be closed.
"Our approach during the pandemic was to move as much of our operations as possible online while staying flexible to deliver on our promises with international customers," he said.
He said earlier experience in fighting the spread of the COVID-19 virus allowed the company to adapt quickly and effectively to the situation.
Nguyen Thanh Son, president of Hoa Tho Textile Group's worker union, said it was largely thanks to workers' commitment and discipline the group was able to resume production quickly. Hoa Tho Textile reported a net income of over 5 billion VND in 2022.
"While our industry has been struggling with fewer orders compared to the same period last year. We remain confident we won't have to lay off any of our 12,000-strong workforce," he said.
Vietnam's textile remained a key pillar of the economy with the largest number of workers. The sector's contribution to export has jumped from 1.96 billion USD in 2001 to 40.4 billion USD in 2021 or 12% of the country's entire export.
The sector has set a target this year to bring that figure to 44 billion USD, an 8% increase from the previous year.
Cao Huu Hieu, General Director of Vinatex, said by September 2022, the group recorded revenue of 1.18 trillion VND, 24% higher than its quarterly target. However, unfavourable factors have since hit the sector hard.
"By the end of 2022, we were hit especially hard by lower demand and plummeting sales," he said.
He added the situation will likely remain grim in the foreseeable future until purchasing power in large consumer markets such as the US, the EU and China recover.
Minister of Industry and Trade (MoIT) Nguyen Hong Dien said Vietnam's export sector managed to have a successful year, despite numerous difficulties and setbacks, largely caused by international geo-political events.
The country's import-export revenue last year was reported at 732 billion USD, maintaining a trade surplus (11.2 billion USD in 2022) for 17 consecutive years. It has put the Southeast Asia economy among some of the most robust economies in the world.
2022 was also the year Vietnam recorded 39 commodities with export values exceeding the 1 billion USD mark, four more compared to 2021. Among these, 10 commodities broke the 10 billion USD mark.
There has been also improvement in the composition with industrial and processing continuing to lead the chart, accounting for over 86% of the country's total export at 294.5 billion USD in value, a 13.3% year-on-year increase.
Tran Thanh Hai, Deputy Director of MoIT's Agency for Foreign Trade, said Vietnamese businesses' efforts to improve their standing in the global supply chain and seek out new markets have paid off. Hai said the key factor that allowed the country to economically recover since the pandemic was its successful attempt to fight the pandemic.
In addition, a number of key trade agreements including the Comprehensive and Progressive Agreement for Trans-Pacific Partnership (CPTPP), the European Union–Vietnam Free Trade Agreement (EVFTA), the UK-Vietnam Free Trade Agreement (UKVFTA) and the Regional Comprehensive Economic Partnership (RCEP) have put the country in a prime position to boost the export of many of it products. Export to the above-mentioned markets recorded a 20 % yearly increase last year./.
VNA