Vice Chairman of the Provincial People's Committee - Pham Tan Hoa attended 'Logistics Vietnam - Transformation for development' Forum
On October 19, Vice Chairman of Long An Provincial People's Committee - Pham Tan Hoa and leaders of a number of provincial departments and agencies attended "Vietnam Logistics - Transformation for Development" Forum in Ho Chi Minh City. The forum is organized by Business Forum Magazine in collaboration with Vietnam Logistics Service Association (VLA) and SEA Logistics Partners (SLP Vietnam).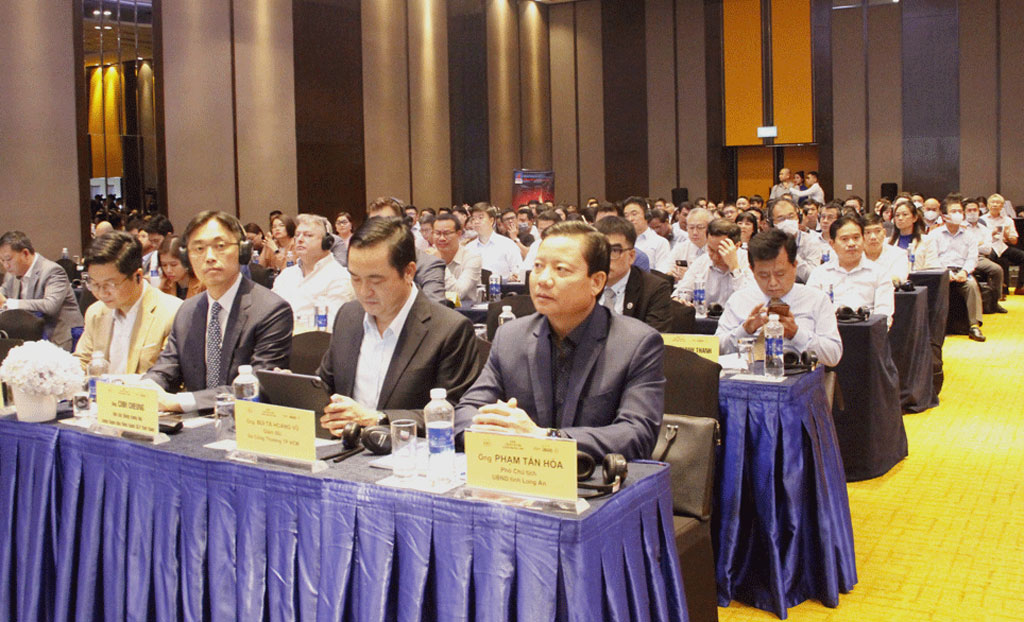 Vice Chairman of the Provincial People's Committee - Pham Tan Hoa participated in the Vietnam Logistics Forum 2022 in Ho Chi Minh City
In the first nine months of 2022, the total turnover reached 557.93 billion USD, exports reached 282.35 billion USD, an increase of 17.2%; imports reached $275.58 billion, an increase of 12.8%. In particular, the trade surplus in 9 months reached 6.77 billion USD. According to the rankings of Agility 2022, the Vietnamese logistics market is ranked 11th in the top 50 global emerging logistics markets.
According to Vietnam Logistics Business Association (VLA), currently, Vietnam Logistics market has the participation of more than 5,000 businesses. In which, 89% of Vietnamese enterprises are small and medium sized; 10% are joint-venture enterprises and 1% are 100% foreign-owned enterprises providing cross-border logistics services, with big names in the list of 50 largest Logistics companies in the world like: Kuehne + Nagel, DHL Supply Chain & Global Forwarding, DSV, DB Schenke,etc.
The rise of new transport, logistics and supply chain trends in the digital economy has helped Vietnam become a potential emerging market. In particular, the boom of e-commerce in Vietnam with big company like Shopee, Lazada or Tiki, etc has become a potential opportunity for corporations to invest and develop infrastructure for businesses to develop supply chains. Besides, Vietnamese logistics enterprises are also gradually transforming, promoting investment in modern infrastructure and warehousing, applying science and new technology, etc. to increase market share and actively participate in the global value chain.
Director of Logistics at Long An International Port – Nguyen Tan Tai said: "Today, I came here to find out more about how Logistics in the region develops and what is the trend of the world to improve services quality of Long An International Port as well as Logistics services in Long An area. Recently, Long An International Port is also trying to carry out digital transformation according to the trend of the world".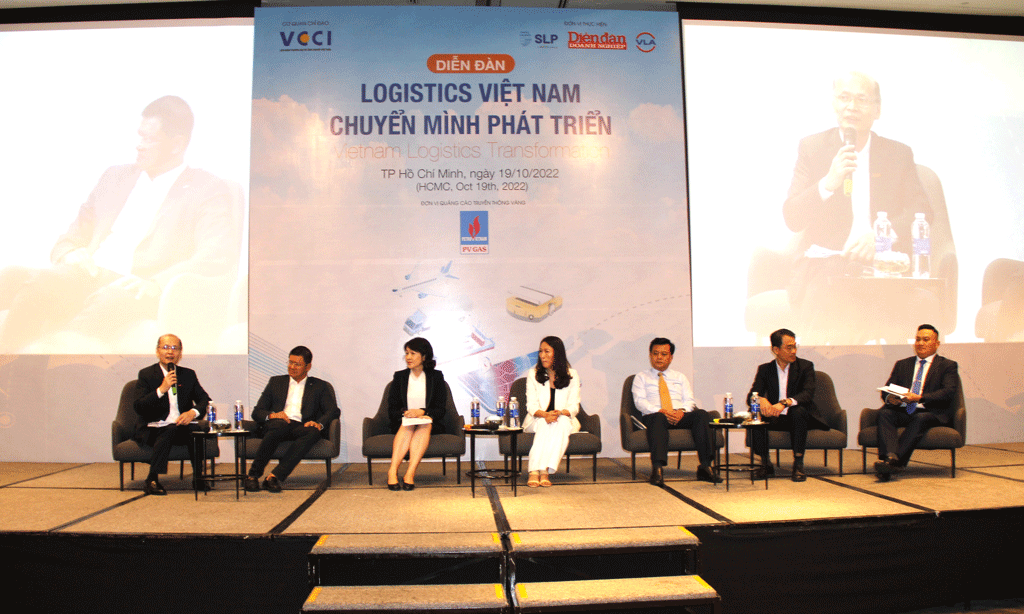 Experts participate in discussion at the forum
At the forum, experts conducted discussions on the current situation and breakthrough opportunities for the new phase of Vietnam Logistics. Accordingly, Vietnam's logistics industry is currently facing some difficulties when the supply chain is broken. The linkages between companies in the industry are mostly small and medium sized, and the ability to take advantage of opportunities also has certain limitations. In addition, the demand for logistics locations close to the inner city (HCMC and Hanoi) as well as the need to build standard logistics according to the global system is increasing day by day. The supply chain logistics system lacks integration, has not yet applied the digitization of total management, and automation in operation is still a new concept. Meanwhile, the demand for a modern logistics system combined with automation to meet the development of retailers and the e-commerce industry in Vietnam is very high.
From the above limitations, the cost of logistics services in Vietnam is still high, lack of professionalism, low automation, productivity in performing tasks has not reached advanced countries, etc, leading to reduced competition compared to other countries in international market. In the coming time, in order to turn the Logistics market from potential to reality, it is necessary to have a comprehensive policy to attract investment, improve infrastructure and administrative procedures. At the same time, it is necessary to build a synchronous and effective legal framework.
By Bui Tung - Translated by Q.Thien
Source:https://baolongan.vn/pho-chu-tich-ubnd-tinh-pham-tan-hoa-tham-du-dien-dan-logistics-viet-nam-chuyen-minh-phat-trien-a143522.html