Vietnamese, Lao, Cambodian PMs discuss cooperation in working breakfast
Prime Minister Pham Minh Chinh had a working breakfast with his Lao and Cambodian counterparts - Sonexay Siphandone and Samdech Techo Hun Sen – on the occasion of the fourth Mekong River Commission (MRC) Summit in Vientiane on April 5.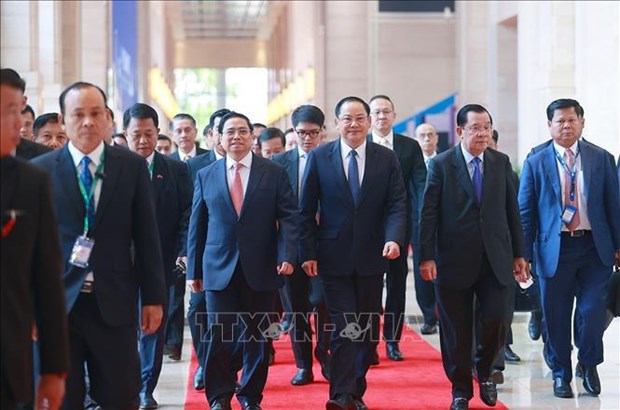 The Vietnamese, Lao, Cambodian PMs agree to enhance connectivity between the three economies. (Photo: VNA)
The three leaders briefed each other on socio-economic situation in their respective countries and compared notes on cooperation areas as well as regional and international issues of shared concern.
They shared the view that coordination in maintaining regular high-level contacts and meetings in all channels, including meetings between the PMs, helps tighten the solidarity, friendship and cooperation between the three countries.
The trio agreed to work together in implementing results gained at the high-level meeting between leaders of the three Parties in Hanoi in September 2021, and spoke highly of the organisation of many meaningful activities within the Vietnam-Laos Solidarity and Friendship Year and the Vietnam-Cambodia Friendship Year in 2022, contributing to raising awareness of the public, especially young generations, about the solidarity and friendship between Vietnam and its neighbours.
The PMs consented to enhance connectivity between the three economies and support each other in building independent and self-reliant economies of intensive, extensive, substantive and effective international integration. They agreed to further facilitate cooperation in investment, trade and business between their enterprises, encourage border trade and share experience in law building and the effective management and use of official development assistance (ODA).
They held that amid the complex and unpredictable developments of the global economy, plus the rapid development and profound impacts of digital technology and social networks, the three countries should foster cooperation and experience sharing in information technology.
Regarding regional and international issues of shared concern, Chinh and Siphandone once again congratulated Cambodia on its successful Chairmanship of ASEAN and the ASEAN Inter-Parliamentary Assembly (AIPA) last year, and noted their firm belief that Cambodia will successfully organise the 32nd Southeast Asian Games (SEA Games 32) and its upcoming 7th general election.
The three government leaders pledged to continue their close coordination in regional and international issues, and further contribute to maintaining and consolidating ASEAN's solidarity, unity and centrality, and agreed to combine sub-regional cooperation with the building of the ASEAN Community for equal, sustainable development, and to narrow development gaps and strengthen ASEAN connectivity.
They spoke highly of the consensus to organise the first Cambodia-Laos-Vietnam National Assembly Summit in Vientiane in 2023, and the 12th Cambodia-Laos-Vietnam summit on development triangle in Cambodia.
The Vietnamese and Cambodian PMs affirmed their continued support for Laos' ASEAN Chairmanship in 2024./.
VNA