20th KOCHAM charity night 2023 receives more than 12.2 billion VND
On November 16, the Korean Chamber of Commerce and Industry (KOCHAM) held the 20th annual charity night at Hotel Nikko Saigon (District 1, Ho Chi Minh City) with total donation of more than 12 billion VND.
Attending the event was Deputy Consul General of Korea in HCM City - Mr. Kwon Soon-chil, Chairman of KOCHAM Association - Mr. Choi Bun Do, leader of the People's Committee, Vietnam Fatherland Front Committee and other departments of Ho Chi Minh City and the provinces of Binh Duong, Dong Nai, Ba Ria - Vung Tau.
On the side of Long An province, Vice Chairman of the Provincial People's Committee - Pham Tan Hoa along with leaders of the Provincial Vietnam Fatherland Front Committee, Department of Foreign Affairs, Department of Planning and Investment attended the event.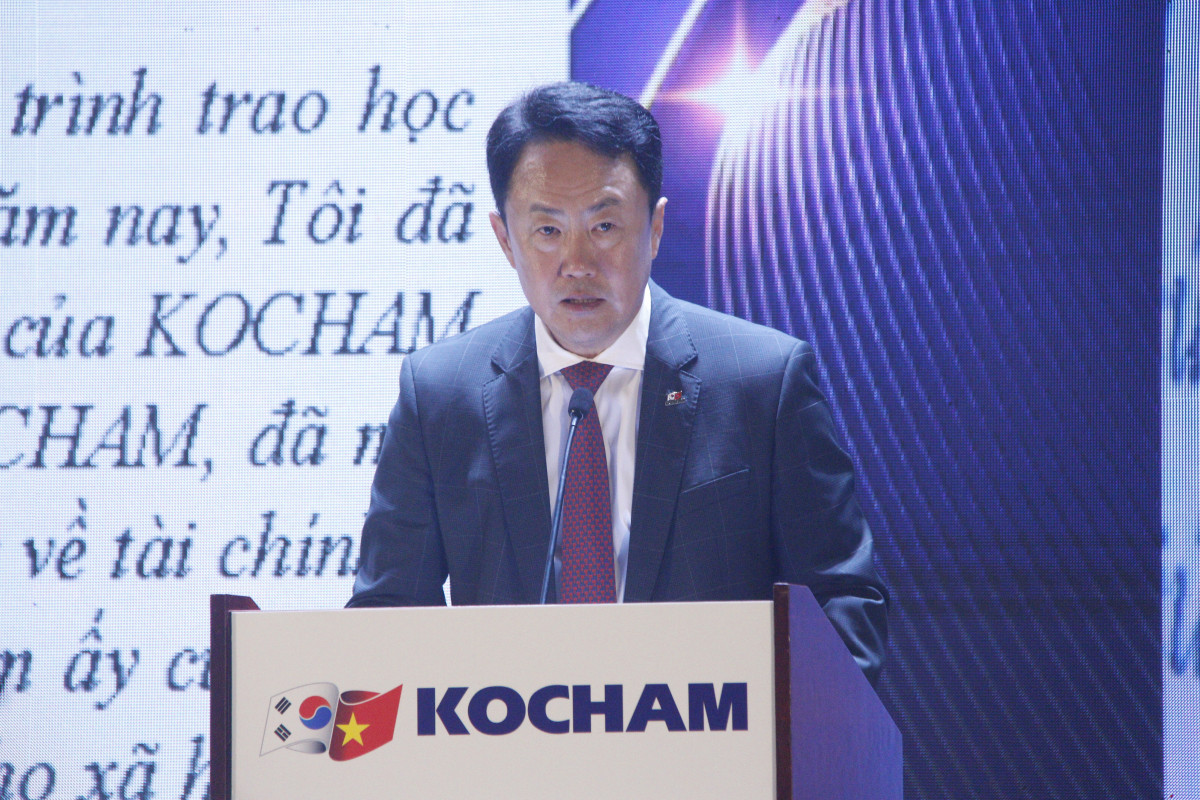 Chairman of KOCHAM Association - Mr. Choi Bun Do speaks at the event
Despite the difficulties that Korean businesses are facing due to the impact of the global economic recession from Covid-19 pandemic, this year, the 20th KOCHAM Charity Night 2023 was still being held, with 153 sponsors donating a total amount of more than 12.2 billion VND, including 7,220,200,000 VND in cash and 5 billion VND in items.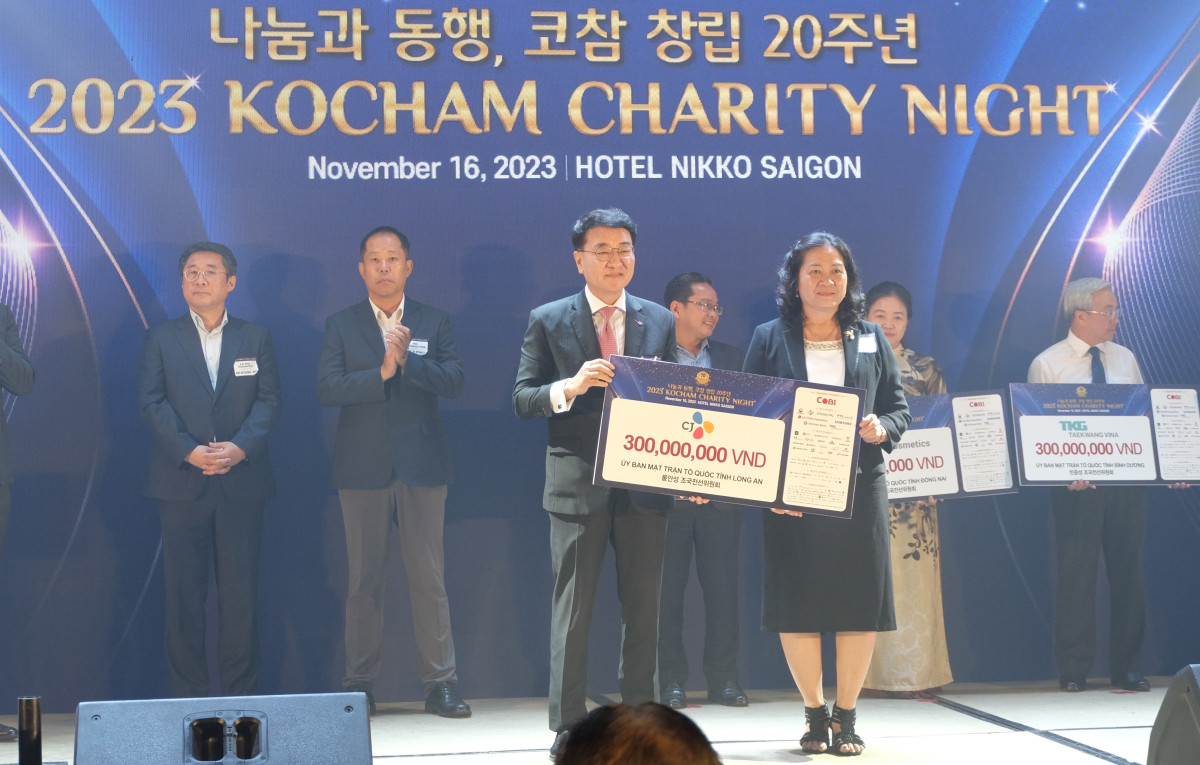 Vice Chairman of Fatherland Front Committee of Long An province - Pham Ngoc Tiep receives the donation from the representative of the KOCHAM Association
With the message of "sharing and accompanying" and the spirit of "unity can dispel difficulties", according to Chairman of KOCHAM Association - Mr. Choi Bun Do, Korean businesses, whether large or small, are all oriented towards the community, contributing together to help difficult circumstances. To do this well, in the coming time KOCHAM will promote further cooperation with the People's Committee of Ho Chi Minh City as well as the Vietnam Fatherland Front Committees in local provinces and cities.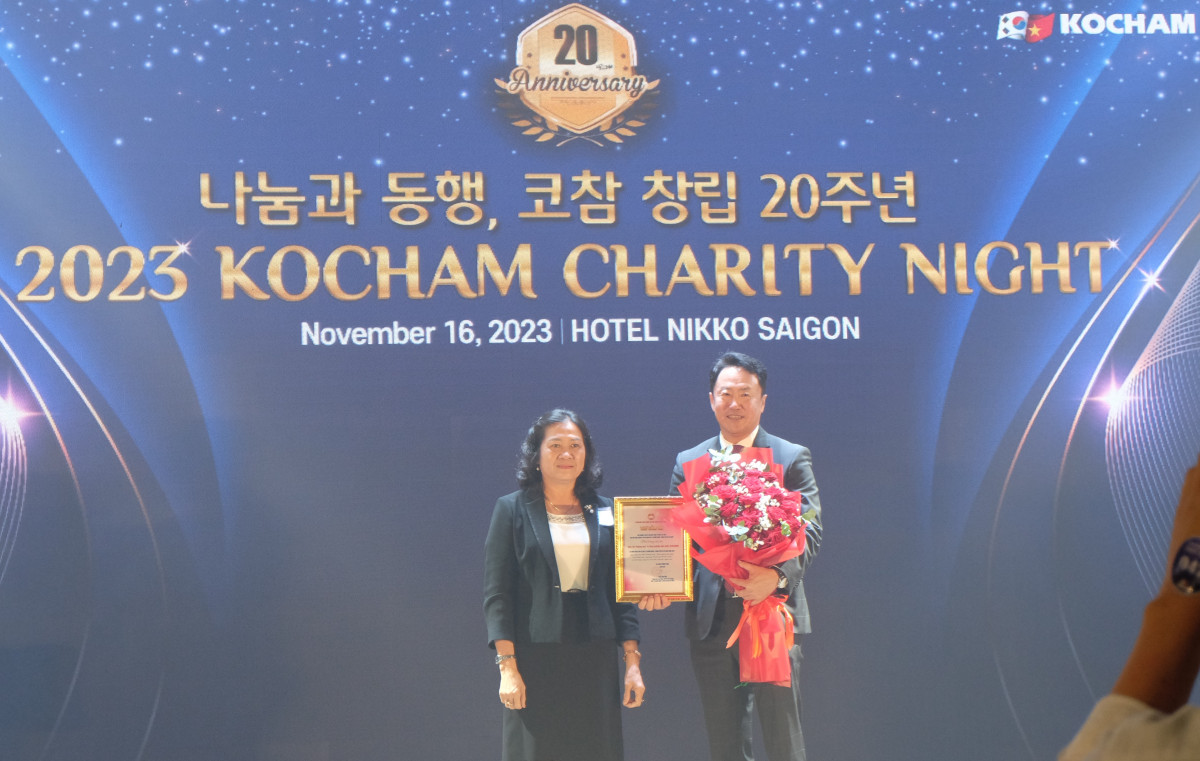 Representative of KOCHAM Association receives letters and flowers of thanks from the Vietnam Fatherland Front Committee of Long An province
Mr. Choi Bun Do further shared: "In recent years, KOCHAM has paid great attention to the program of awarding scholarships to promote education for future generations of Vietnam. This year, I heard from a student who received a scholarship from KOCHAM. She was very grateful because the scholarship partly helped her continue her studies and reduce he worry about finances. One of the missions of our entrepreneurs is to spread good things."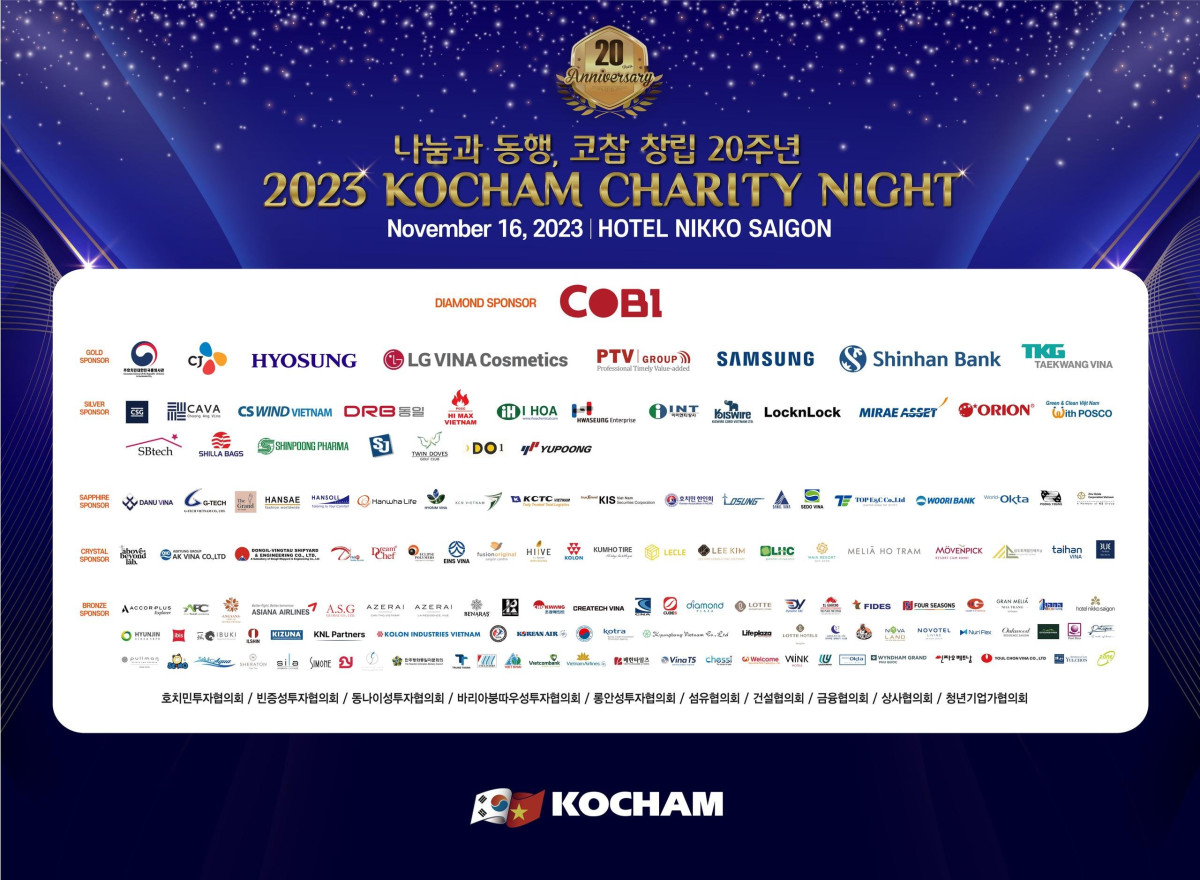 This event also marks the 20-year milestone of KOCHAM Association
KOCHAM Association was established in 2003, and now has nearly 1,000 member businesses, an organization representing more than 5,000 Korean businesses investing in Central and Southern Vietnam. In addition to supporting investment activities of Korean businesses, the association also contributes to the development of economic cooperation between Vietnam and Korea./.
By Khanh Duy - Translated by Q. Thien
Source: https://baolongan.vn/dem-tu-thien-kocham-lan-thu-20-nam-2023-quyen-gop-hon-12-2-ti-dong-a166490.html