Artworks, photos on livestock husbandry on display
More than 120 artworks and photos on livestock husbandry are on display at an exhibition held in both online and in-person forms by the Vietnam Fine Arts Museum and Li-chan Project.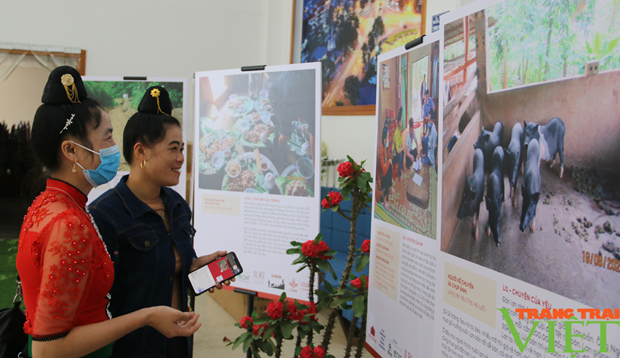 Visitors take a look at photos displayed at the exhibition themed Vietnam's livestock breeding through the eyes of artists and farmers in Son La. (Photo: trangtraiviet.vn)
The exhibition is themed Vietnam's livestock breeding through the eyes of artists and farmers. The in-person event is held in Mai Son district in the northern province of Son La until November 12.
Featuring three sections, the exhibition takes place at the time when the country's livestock husbandry sector and breeding households have been hardly hit by African swine fever and the COVID-19 pandemic.
It aims to raise public awareness of the role of livestock breeding in improving livelihoods and supporting farmers towards the realization of the Sustainable Development Goals (SDGs).
Sabine Douxchamps, Coordinator of the Li-chan Project and Country Representative of Alliance of Bioversity and CIAT in Vietnam, said this is among the first exhibitions of its kind in Vietnam.
In the event, farmers made their views on the role of livestock husbandry, and the importance of breeding, animal health care, and animal feed farming and processing through some exhibited artworks and photos using photovoice.
The livestock husbandry contributes 30 percent to the agriculture sector's economic value in Vietnam.
The Li-chan Project provides livestock-led interventions towards equitable livelihoods and improved environment in the Northwest of Vietnam. It is implemented by partners of the CGIAR Research Programme on Livestock./.
VNA