Doha Cup 2023: Vietnam's U23 football team return home with "empty hand"
Vietnam's U23 team left Doha Cup 2023 with an "empty hand" after a close loss to their Kyrgyz rivals on March 29 (Vietnam time).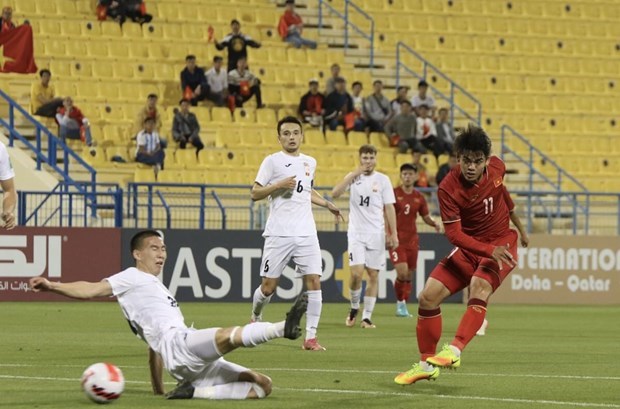 Vietnam's U23 team suffer a close loss to Kyrgyzstan. (Photo: VNA)
The match began with Vietnam's winning the ball control. In the 15th minute, Le Van Do made a score attempt but he did not succeed.
In the next minutes, the two teams had an even game with an average speed. Both sides missed all chances to score. The first haft ended without any goal.
In the second half, Kyrgyzstan put pressure on Vietnam, forcing goalkeeper Quan Van Chuan and defenders to work hard to keep the net clean.
The stalemate was maintained until the end of the last official minute, and the two teams had to enter a penalty shootout.
Kyrgyzstan showed better performance and made all five successful shots, while Vietnam's Quoc Viet was defeated by goalkeeper Artem in the final shot, resulting in Vietnam's 4-5 loss to Kyrgyzstan.
Ending the tournament, coach Philippe Troussier and the Vietnamese team neither won a game nor scored any goal.
Speaking at a press conference after the match, Troussier said he was not regretful, affirming that through the tournament, the Vietnamese players enriched their experience and sharpened their skills. The team have been on a right track to the future journey, firstly the 32nd Southeast Asian Games (SEA Games 32) in Cambodia, he said./.
VNA