Hai Son - Duc Hoa Dong Industrial Complex commenced
On June 27, Hai Son Co., Ltd. held a groundbreaking ceremony of Hai Son Industrial Cluster (IC) in Duc Hoa Dong commune, Duc Hoa district, Long An Province. Former State President - Truong Tan Sang; Secretary of the Provincial Party Committee, Chairman of the Provincial People's Council - Pham Van Ranh attended the ceremony.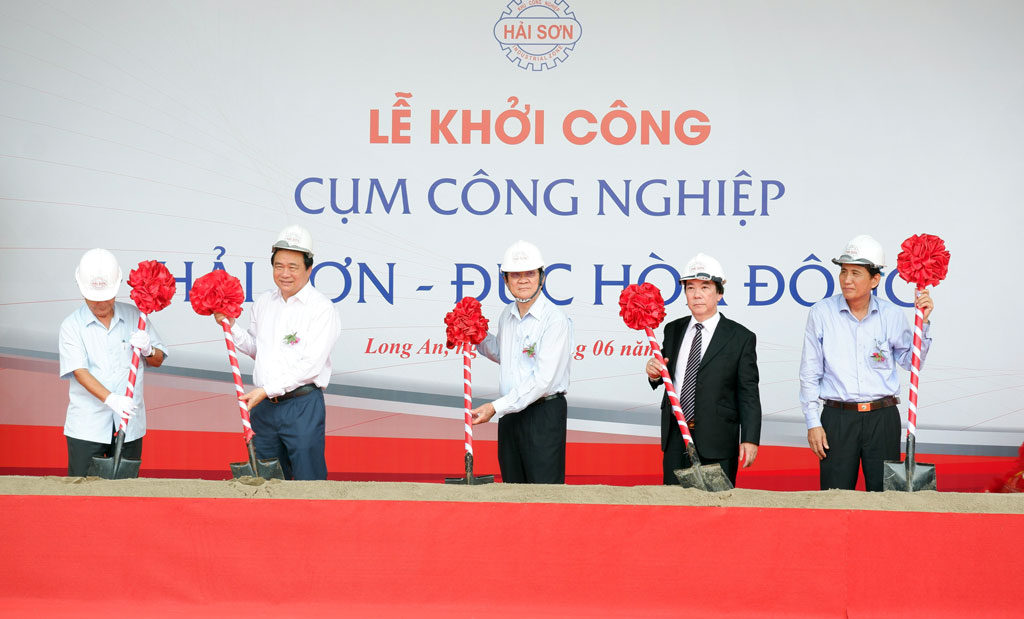 Delegates and Hai Son Co., Ltd perform the groundbreaking ceremony of Hai Son - Duc Hoa Dong IC
Hai Son Co., Ltd is one of the major investors and developers of Long An province, with a total area of 1,800 hectares, chartered capital of 2,000 billion VND. Projects that have been developed include Hai Son Duc Hoa Ha Industrial Park (IP), Hai Son Duc Hoa Dong IC, Luong Binh IC, Hai Son Long Thuong IC, Urban Residential and Xuyen A IP.
Hai Son - Duc Hoa Dong IC has a total area of 261 hectares. With the advantage of competitive price, prestige, experience, good investment infrastructure, convenient transportation location adjacent to Ho Chi Minh city, the IC attracts 55 operating businesses, reaching a turnover of 1,500 billion VND.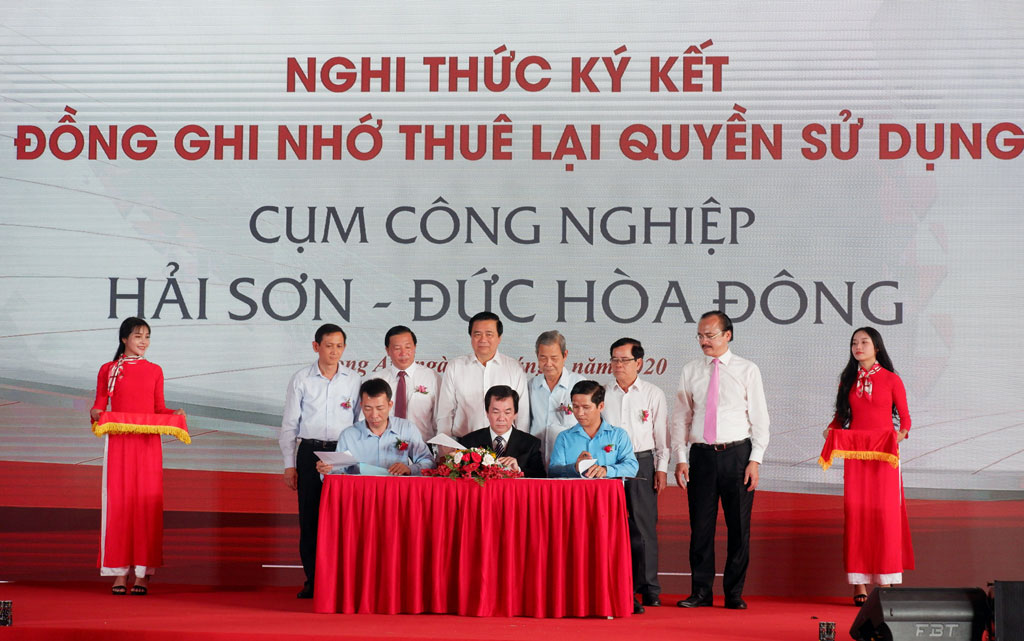 Memorandum of land sublease between Hai Son Co., Ltd. and the secondary investors is signed
At the ground-breaking ceremony, many new investors signed investment cooperation contracts with the IC. This is an important project, Hai Son Co., Ltd. hopes to contribute to the roadmap to build Long An into a bright development point in the gateway area of the Southwest region and the socio-economic development plan of the province.
In addition to contributing to the budget of hundreds of billion VND, in recent years, Hai Son Co., Ltd. has also contributed to creating jobs and restructuring the labor force in the province as well as implementing the social security activities in the locality well such as contributing for the Fund for the Poor, donating 40 gratitude houses, building 2 rural bridges with a total budget of 6 billion VND.
At the ceremony, the company continued to donate 40 houses of gratitude to the policy beneficiary family with the value of more than 2.4 billion VND and built two bridges in Duc Hoa district worth 3.5 billion VND.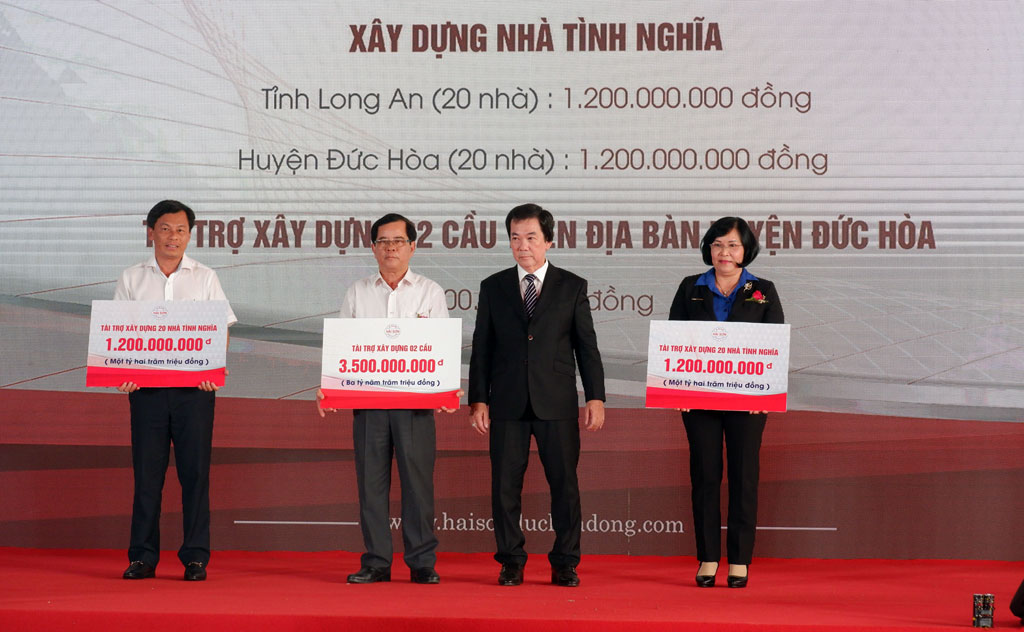 Chairman of the Board of Members of Hai Son - Trinh Van Hai Co., Ltd awards a symbolic table of support for building 40 gratitude houses with the value of 2.4 billion VND, and for building 2 bridges worth 3.5 billion VND
Speaking at the ceremony, former State President - Truong Tan Sang expressed his expectation that Hai Son Co., Ltd. will be a strategic investor to beautify Long An richer and more beautiful in the future. He also reminded that the company had always to follow the direction of localities to implement industrialization and modernization associated with urbanization in the process of operation, ensuring environmental requirements, contributing to bringing the area in the suburbs of Ho Chi Minh City becoming a vibrant industrial and urban area./.
By An Thuan – Translated by Duc Tam
Source: http://baolongan.vn/khoi-cong-cum-cong-nghiep-hai-son-duc-hoa-dong-a97768.html