Duc Hoa needs to quickly treat wrong-place waste in Hai Son and Hanh Phuc Industrial parks
On May 16, Vice Chairman of Long An Provincial People's Committee - Pham Van Canh had a survey and discussed solutions to treat waste outside the fence of Hanh Phuc and Hai Son Industrial parks (IPs) in Duc Hoa district.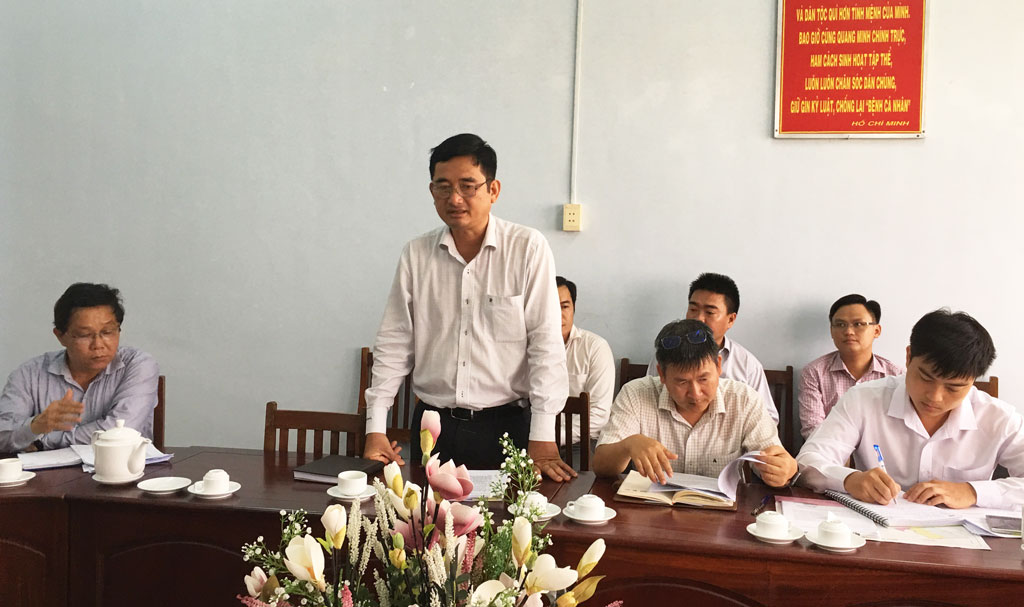 Vice Chairman of the Provincial People's Committee - Pham Van Canh proposed Duc Hoa district to handle waste soon
Representatives of the Department of Natural Resources and Environment, Department of Construction, Economic Zones Authorities, Provincial Public Security and Duc Hoa district People's Committee participated the survey.
Vice Chairman of the Provincial People's Committee - Pham Van Canh said that the current bad waste treatment of Duc Hoa district has currently affected the urban beauty and investment attraction in the IPs. He suggested leaders of Duc Hoa district, Duc Hoa Dong and Duc Hoa Ha communes should propagate and agree on the plan for each household to commit to collecting and treating domestic waste at fixed hours, avoiding disposing garbage off public roads. If households deliberately commit violations, they will be handled according to law provisions.
Particularly, industrial waste and hazardous waste were disposed in the wrong places, the district needs to coordinate with the economic zones authorities, relevant departments and sectors to focus on propaganda, force enterprises to handle according to regulations and treat penalty if they intentionally violate.
Accordingly, the delegation recorded at the Hanh Phuc IP (Duc Hoa Dong commune, along West Canal) with a length of about 300meters has a lot of domestic waste, industrial waste, plastic bottles, glass and other waste which were gathered and burnt causing odor.
Also, there is a lot of garbage dumped into big piles or thrown away, causing bad smell, unsanitary and urban beauty at the double road, leading to Hai Son and Tan Duc IPs, on the separated line of more than one kilometer.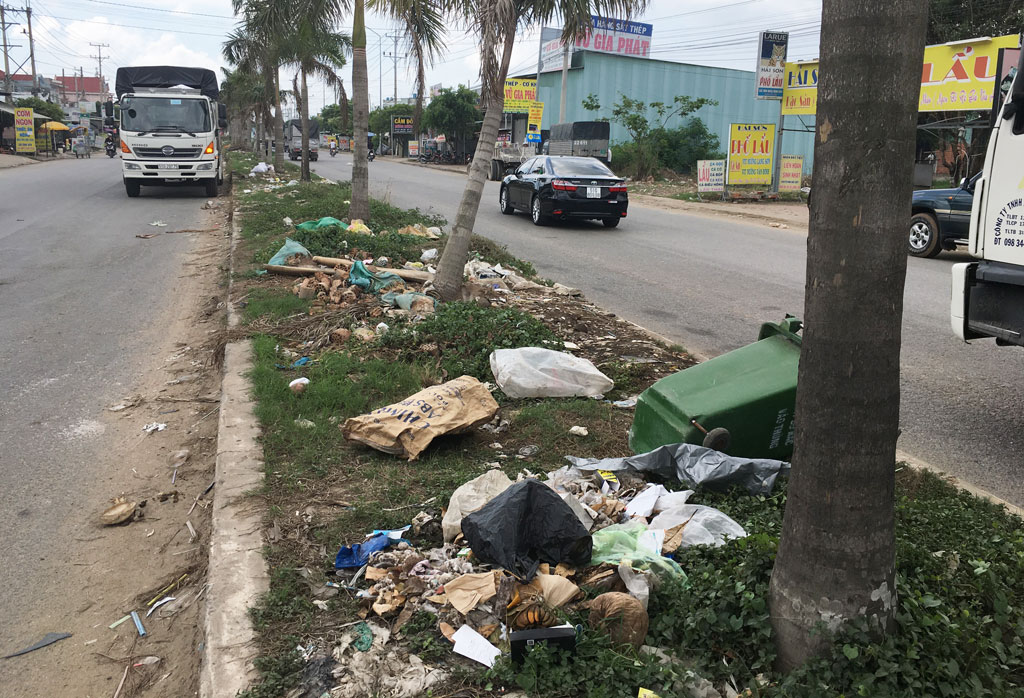 Waste collection is not in accordance with regulations on the road leading to Hai Son and Tan Duc IPs
Vice Chairman of Duc Hoa District People's Committee - Nguyen Minh Trung said that functional forces of Duc Hoa district patrolled and arrested some cases of garbage disposal in contravention of regulations over the past time. However, the situation of garbage dumping in contravention of regulations still occurs.
In order to properly handle waste, along Kenh Tay road, the district has planned and sent the force to observe 7 key points 24 hours per day to check and handle if people dispose the garbage in those places. However, in order to implement this issue, it is necessary to have fund and it was agreed by the investor of Hai Son IP Management Board to support the better waste disposal fund.
Particularly, the road leading to Hai Son and Tan Duc IPs, Duc Hoa district also builds a plan to collect garbage and plant trees, and embellish the road by planting trees. Besides, the district dierected the People's Committee of Duc Hoa Ha commune to organize propaganda and mobilize people on both sides of the road to not dump garbage into the road. If people deliberately violate, they will be treated by making a record and handle administrative violations according to regulations.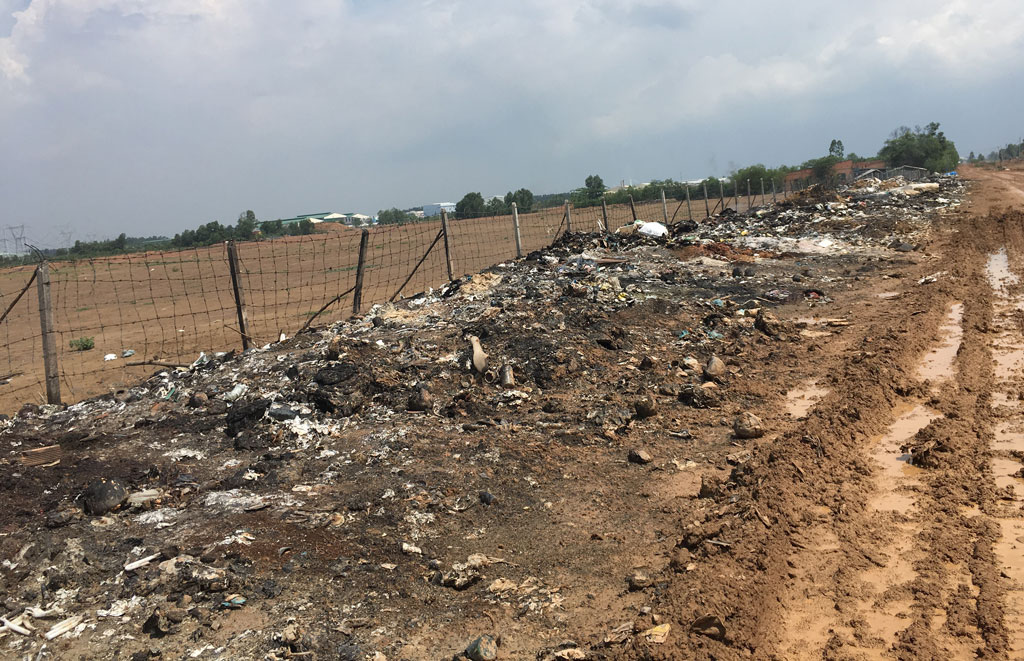 Waste is disposed without regulations and burnt at the fence of the Hanh Phuc IP along Kenh Tay road
People's Committees of Duc Hoa Ha and Duc Hoa Dong communes, where Hai Son and Tan Duc, Hanh Phuc IPs are located, informed that many solutions handling the waste are built, they focus on building civilization streets, signs, propaganda panels, and also implementing garbage collection places and garbage transshipments to handle according to regulations.
At the working session, representatives of departments and sectors also proposed many solutions to implement better waste treatment such as controlling waste output well, especially industrial waste and hazardous waste at enterprises in the IPs and ICs; enhancing to control and treat waste at motels and spontaneous markets to protect the environment./.
By Mai Huong – Translated by Duc Tam