National one-stop shop mechanism's operation in 2018 reviewed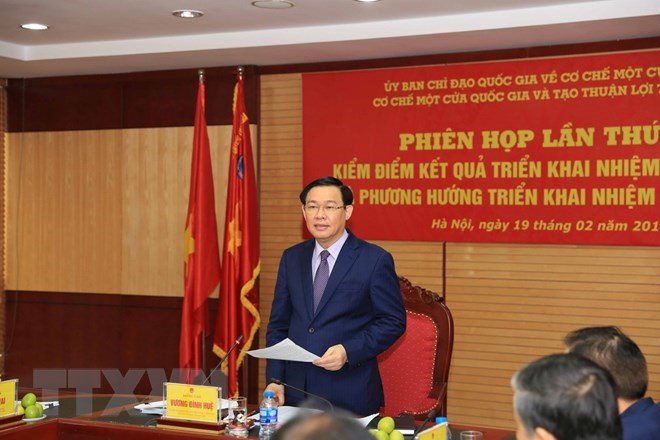 Deputy Prime Minister Vuong Dinh Hue addresses the conference (Photo: VNA)

Deputy Prime Minister Vuong Dinh Hue, who is also Chairman of the National Steering Committee on the National One-Stop Shop (OSS) Mechanism, the ASEAN One-Stop Shop Mechanism and Trade Facilitation (Committee 189), chaired a conference in Hanoi on February 19 to review the implementation of the tasks by the committee in 2018 and discuss its operation orientations for 2019.
The committee reported that by the end of January, as many as 173 administrative procedures of 13 ministries and sector had connected to the national OSS system. The system processed nearly 1.9 million records from approximately 27,000 enterprises.
The Prime Minister had requested ministries and sectors to have 139 new administrative procedures processed on the national OSS system.
By the end of 2018, ministries had completed the implementation of 106 new procedures, accounting for 77 percent of the set target.
The OSS administrative mechanism has been applied at seaports, on inland waterways, and at international airports across the country.

Finance Deputy Minister Nguyen Thi Mai said that in 2018, ministries and sectors made positive changes and breakthroughs as 100 new procedures were implemented in the last five months of the year, bringing benefits to people and businesses.
The Ministries of Transport, Industry and Trade, and Natural Resources and the Environment, as well as the State Bank have made great efforts and showed good performance in implementing administrative procedures on the national OSS system. In particular, the Ministry of Transport and the State Bank have completed 100 percent of their plan.
Vice Chairman of the Vietnam Chamber of Commerce and Industry (VCCI) Doan Duy Khuong said that the surveys conducted by the VCCI, the US Agency for International Development (USAID) and the General Department of Customs showed that businesses that have applied the process of administrative procedures on the national OSS system have come to recognize advantages from the mechanism.
The conference heard that 2018 recorded fundamental breakthroughs and changes in national and ASEAN OSS connection and trade facilitation.
However, Deputy PM Hue pointed out difficulties and limitations in implementing the work.
The coordination between units remains limited, while the progress of developing and upgrading the network's infrastructure and equipment has not kept up with the deployment, leading to an overload, he said.
He stressed the need to propose orientations related to the design and operation of the system in order to overcome inconsistencies and correct errors.
The Deputy PM also noted that trade facilitation must work alongside the fight against commercial frauds, adding that some ministries and sectors have met requirements in these fields.
He asked for more attention focused on cutting down more business conditions and conducting well-executed specialised inspections, thus making it easier for enterprises in their export-import activities./.
VNA