Pineapple's price rises, farmers in Tan Tay possess high profits
Farmers cultivating pineapple in Tan Tay Commune, Thanh Hoa district, Long An Province are happy thanks to the rocket in pineapple's price. Now, the first-class pineapple reaches the price of 10,000 VND per kilo which is twice as high as the same period of 2020. According to this price, farmers will make a profit from 3,000 to 5,000 VND per kilo.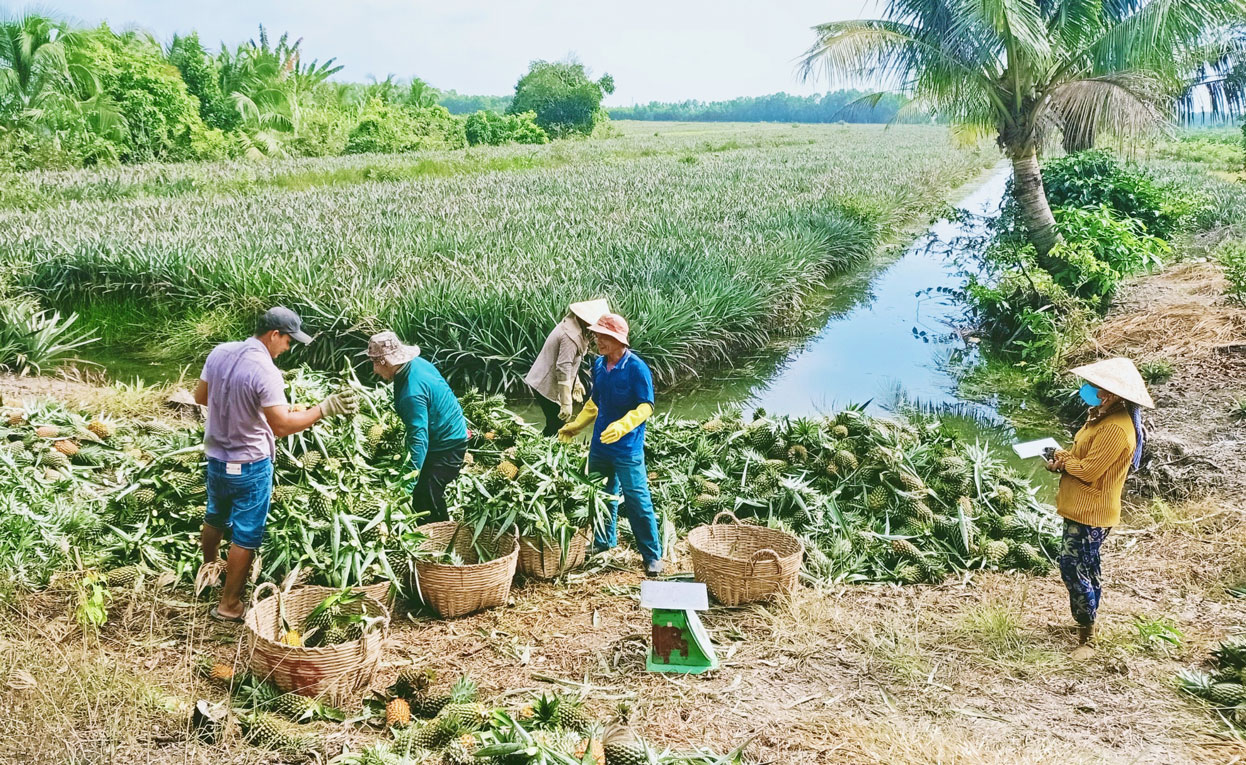 Farmers are happy by the rise in pineapple's price
Tan Tay Commune borders the pineapple-growing region of Tan Phuoc District, Tien Giang Province. Therefore, farmers have had a chance to study and bravely converted unproductive fruit trees into pineapple trees. After a short period of transformation, pineapple trees supplied people with highly economic efficiency, assisting in bringing stable income to people.
Vice President of Tan Tay Commune's People Committee - Le Xuan Hao informed that Tan Tay is a commune selected to develop into pineapple-cultivating region. Compared to other fruit trees, pineapple trees can suffer from drought, alum and salinity well, so they are very suitable for the soil conditions of the commune. Currently, the commune has about 310 hectares of pineapple trees, decreasing nearly 70 hectares compared to that of last year. Pineapple prices are high, farmers harvesting pineapples presently have stable profits.
Mr. Le Quang Du, specializing in cultivating 2 hectares of pineapple trees, said that traders have purchased commercial pineapple for 10,000 VND per kilo for high-qualified products in recent days. At this price, farmers have a profit of about 5,000 VND per kilo. On average, the productivity of pineapples in the region is 25-30 tons per hectare, if the pineapples are harvested at the right time with high prices, farmers still earn about 100 million VND per hectare except the costs, so they are very excited.
And Mr. Le Thanh Tai, specializing in cultivating 3 hectares of pineapple in Hamlet 5, Tan Tay commune is very excited because he is expected to harvest over 30 tons of pineapple in the coming days. With the selling price of 10,000 VND per kilo, he has a profit of not less than 350 million VND.
According to information from the Division of Agriculture and Rural Development of Thanh Hoa district, in order to soon develop the 600-hectare pineapple-cultivating region in Tan Tay Commune, help people to stabilize their production and life, the locality has intensified to transfer technology in farming, it regularly opens propagandist classes for agricultural promotion, prevention of pests and diseases, instructs techniques to handle scattered fruit, builds and replicates effective production models for pineapple farmers.
Farmers who specializes in cultivating pineapples assessed that the price of pineapple increased sharply in recent days because the supply was exhausted while the market demand was still large. The increase in pineapple price is the driving force for farmers to continue to invest in intensive farming, apply science - technology to production to increase productivity, output and quality of commodity agricultural products, to meet domestic and external market needs.
Head of Division of Agriculture and Rural Development of Thanh Hoa district - Nguyen Kinh Kha said that pineapple is also one of the key crops of the district besides lemon trees and yams. Pineapple has high and stable economic value. Over the past time, pineapple has helped many farmers in the district have a stable income, many households even get rich. At present, the district has built a region specializing in pineapple cultivation of 600 hectares, annual output of over 9,000 tons, supplying for domestic and export markets./.
By Minh Tue – Translated by Duc Tam
Source: https://baolongan.vn/gia-khom-tang-nong-dan-tan-tay-co-lai-cao-a107828.html