PM calls for spreading model of good people, good deeds
Prime Minister Nguyen Xuan Phuc has underscored the need to spread the model of "good people, good deeds", thus contributing to the popularisation of a national emulation campaign.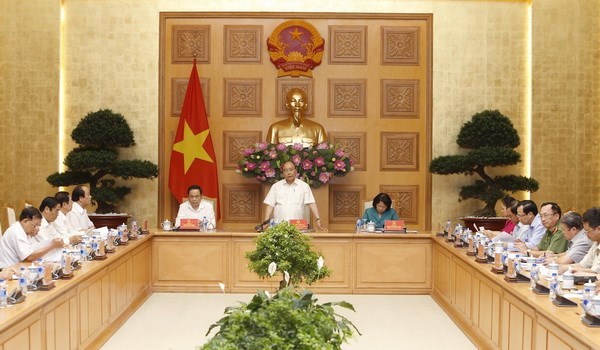 Prime Minister Nguyen Xuan Phuc is speaking at the ceremony (Source: VNA)
Chairing a meeting of the Central Council for Emulation and Commendation in Hanoi on July 11, he made the statement whilst recalling a ceremony honouring 700 outstanding examples on the occasion of the 70th anniversary of President Ho Chi Minh's appeal for national patriotic emulation on June 11.
The PM, who is also the head of the council, asked the press agencies to introduce and popularise more outstanding examples.
The council was required to discover individuals and units that have performed misdeeds purely in the quest for commendation, and report them to the PM promptly for consideration.
Ministries, agencies, and localities must perform a mass mobilisation policy to refine legal regulations on emulation and commendation, he said.
Tran Thi Ha – head of the Central Committee of Emulation and Commendation and permanent Vice Chairwoman of the council – said the committee has submitted a list of 102 collectives and 125 individuals for the PM to award and posthumously award with the title of "Hero of the People's Armed Forces".
During the first half of this year, the committee granted the PM and President's 1,200 commendation decisions.
The President conferred and posthumously conferred 1,150 titles to heroic Vietnamese mothers, 1,109 Independence Orders to martyrs' families, 1,696 Resistance War Orders and Medals to individuals, and "Hero of the People's Armed Forces" titles to 228 individuals and collectives.
The PM granted the insignia to 1,967 cases who were arrested and detained during the wars, as well as 70 certificates of merit to individuals in honour of their contributions.
At the event, Vice President Dang Thi Ngoc Thinh requested the revision of the process of recognising new-style rural areas so as to prevent the spread of undeserving achievements.
According to her, there are 48 awards honouring businesses nationwide, 30 of which have been licensed, while the remainder are in need of inspection.
Members of the council suggested paying attention to emulation campaign for innovation, especially in the startup movement.
The PM asked the Vietnam Fatherland Front and various trade unions to continue improving the quality of their campaigns./.
VNA