President's attendance at APEC leaders' meeting holds great significance: official
President Nguyen Xuan Phuc is to attend a virtual informal meeting of the Asia-Pacific Economic Cooperation (APEC) leaders on July 16, which will once again demonstrate Vietnam's sense of responsibility towards, along with its proactiveness and activeness in the APEC cooperation.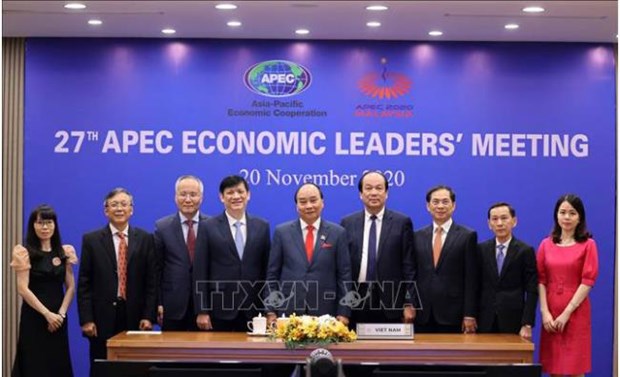 Then Prime Minister Nguyen Xuan Phuc (centre), who is now President of Vietnam, and officials pose for a photo at the virtual 27th APEC Economic Leaders' Meeting on November 20, 2020 (Photo: VNA)
Talking to the press ahead of the event, Deputy Minister of Foreign Affairs Nguyen Minh Vu said facing the COVID-19 pandemic's severe impacts on every socio-economic aspect, APEC economies have shown their proactiveness, activeness, and adaptability to this situation.
As a leading regional forum on economic connectivity, the members have continued making commitments and efforts to maintain open markets, promote trade and investment liberalisation, and support the multilateral trade system.
In response to the pandemic, APEC members have coordinated closely via flexible forms such as meeting via videoconference, opening websites to provide information about pandemic response and economic recovery, sharing experience and enhancing cooperation in social security matters, increasing financial resources for joint programmes on social issues.
They have also issued many initiatives and ministerial-level statements relevant to urgent issues like ensuring uninterrupted flows of essential goods, providing goods flow supporting services, and promoting vaccine supply chains in the region, Vu noted.
He held that via online activities and efforts to share experience and strengthen cooperation, APEC has shown its highly practical, responsible, and effective role in the COVID-19 combat and economic recovery.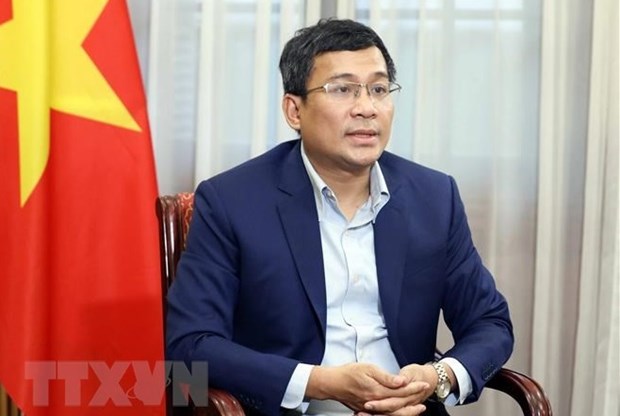 Deputy Minister of Foreign Affairs Nguyen Minh Vu (Photo: VNA)
Vietnam has been working closely with New Zealand, the host of APEC in 2021, and other member economies to contribute ideas to the forum's agendas, he went on.
The country is one of the APEC economies taking the lead in calling on more developed members to voluntarily share technology and ensure swift and fair access to vaccines at reasonable costs. It has also cooperated with other members to share experience in guaranteeing social security and creating jobs for the youth, according to the official.
As Asia-Pacific is an important region gathering major economic, trade, and strategic partners of Vietnam, President Phuc's participation in the informal APEC leaders' meeting on July 16 holds great significance in different aspects, Vu said.
Firstly, he elaborated, the theme and main content of this meeting match the priorities and attention of Vietnam as well as other members, including experiences in the pandemic response, especially boosting vaccine access, recovering economies, keeping supply chains uninterrupted, and measures to assist vulnerable groups.
Secondly, basing on the orientations and solutions issued by President Phuc and other APEC leaders, Vietnam will transform those commitments into cooperation programmes and action plans, both multilaterally within APEC and bilaterally with strategic partners, particularly the partners with large vaccine, financial, and market resources and potential.
Thirdly, as Vietnam is a dynamically developing economy and has made active contributions to APEC, as seen in the successful organisation of the APEC economic leaders' meeting in 2006 and 2017 and certain successes in the COVID-19 fight and economic recovery, its President's attendance at and contributions to the July 16 meeting will once again demonstrate the country's sense of responsibility towards, along with its proactiveness and activeness in the APEC cooperation, thereby further raising its stature and helping promote the forum's role in the global economic governance structure, the Deputy Foreign Minister added./.
VNA