Summary of mechanization model in rice sowing and transplanting
On December 2, the Sub-Department of Rural Development and Irrigation of Long An province held a conference to summarize the model of mechanization in rice sowing and transplanting at Nuoc Trong Cooperative, Thuy Dong commune, Thanh Hoa district.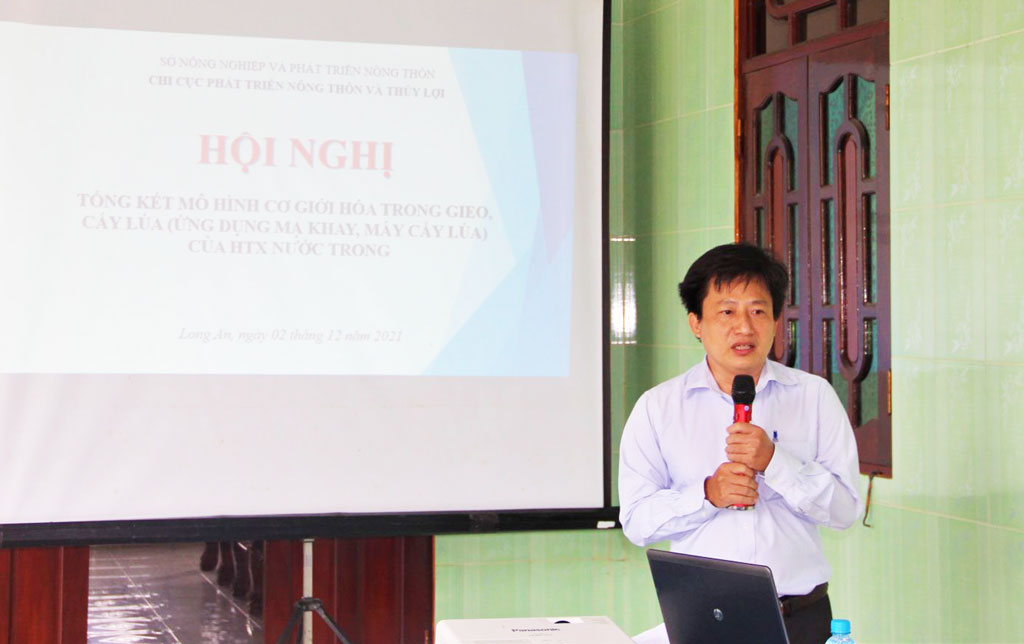 Deputy Head of Provincial Sub-Department of Rural Development and Irrigation - Le Hong Son speaks at the conference
In order to promote the application of mechanization in agricultural production, the Provincial Department of Rural Development and Irrigation coordinated with the Division of Agriculture and Rural Development of Thanh Hoa district and the People's Committee of Thuy Dong commune to choose Nuoc Trong Cooperative to implement the model with a scale of 20 hectares.
When the farmers participating in the model, they are supported 40 percent of implementation costs (not exceeding 300 million VND per model); 40 percent of the cost for transplanters, seeding systems and trays.
During the implementation process, the district agricultural sector will also organize technical training courses, regularly visit the fields with farmers and guide and remind farmers to apply the correct technical process.
Visiting the demonstration model of rice transplanting by machine
Through the actual implementation, it has been shown that the production of tray plating is mechanized, so it is proactive in sowing and taking care of the seedlings, protecting the seedlings from adverse weather conditions. The introduction of mechanization into the sowing and transplanting stages helps farmers save production costs by reducing the amount of fertilizer, pests, weeds and labor.
At the same time, the model also helps farmers access technical advances, thereby boldly applying mechanization to the fields, especially the application of transplanters in production. In addition, the model also helps farmers change their perception in rice cultivation, aiming to reduce harm to the environment and human health and contribute to creating favorable conditions for the agricultural sector to shift from inefficient manual production to mechanization and modernization./.
By Bui Tung – Translated by Duc Tam
Source: https://baolongan.vn/tong-ket-mo-hinh-co-gioi-hoa-trong-gieo-cay-lua-a126499.html