Tan An City: Groundbreaking ceremony of Hung Vuong - National Highway 62 intersection inaugurated
On January 9, Tan An city (Long An province) held a groundbreaking ceremony for constructing Hung Vuong - National Highway (NH) 62 intersection. After completion, the project contributed to completing infrastructure and removing traffic bottlenecks at this site, creating a smooth circulation, ensuring traffic safety and urban beauty. Deputy Secretary of the Provincial Party Committee, Chairman of the Provincial People's Committee – Nguyen Van Ut, former leader of the province and Tan An City attended the ceremony.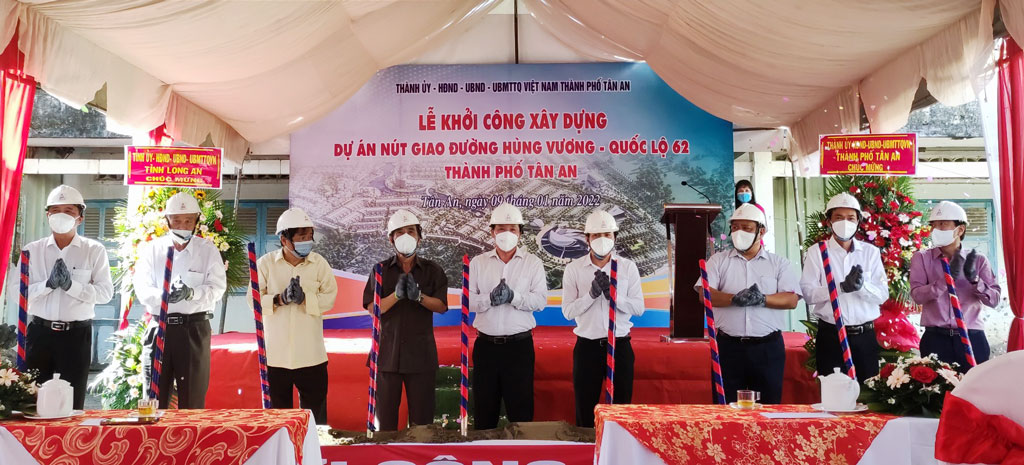 Delegates perform the groundbreaking ceremony of Hung Vuong - NH 62 intersection
The Hung Vuong – NH 62 intersection project has a total investment of over 358 billion VND from the provincial budget, it is expected to be completed in December 2022.
The project includes the following items: Part of the intersection; drainage system, lighting system and traffic signal lights; green park; underground renovation of pipeline systems, water supply systems, etc.
Chairman of the People's Committee of Tan An City - Nguyen Quang Thai proposed the City Construction Investment Project Management Unit, the construction unit and related units to closely coordinate, focus on executing the project on schedule according to the schedule, ensuring the quality of the work and safety during the construction process.
Investors, construction units, supervision consultants, so on must comply with regulations on construction investment procedures, standards, processes and technical regulations to carry out the construction of safety works assuring quality and schedule. At the same time, they regularly monitor, check and promptly solve problems arising during the construction process; ensure labor safety and environmental sanitation, in order to minimize the impact of the construction site on the living environment of people and circulation in the area.
At the same time, he also praised the spirit and responsibility of the households in the project area for having obeyed the policy, voluntarily handing over the site ahead of time to the investor and the construction unit for implementing the construction. He also hopes to continue to receive the consent of the remaining households so that the City People's Committee soon completes the project according to the planned schedule./.
By Pham Ngan – Translated by Duc Tam
Source: https://baolongan.vn/tp-tan-an-to-chuc-khoi-cong-nut-giao-hung-vuong-quoc-lo-62-a128525.html